Andrija Artukovic, 88, Nazi Ally Deported to Yugoslavia, Is Dead

The New York Times published 19/01/1988 by Ralph Blumenthal

Andrija Artukovic, a former leader of the Nazi puppet state of Croatia who was extradited from the United States to Yugoslavia, died Saturday in a prison hospital in Zagreb, where he had been condemned to death for mass murder, the Yugoslav press agency announced yesterday. He was 88 years old and had won a stay of execution on the ground of poor health.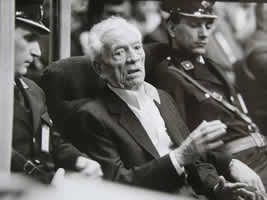 ''Convicted war criminal Andrija Artukovic died of illness,'' the press agency, Tanyug, said. It did not specify the ailment but the court had previously found him to be suffering from sclerosis, heart ailments and anemia.

Mr. Artukovic's son, Radoslav, a stockbroker in Los Angeles, said yesterday that when he last saw his father in prison in December he was down to 95 pounds and was suffering from Alzheimer's disease. He said his father ''was only guilty of being on the wrong side of World War II.''

Mr. Artukovic, a longtime resident of Seal Beach, Calif., south of Los Angeles, was the highest-ranking fascist official known to have found refuge in the United States after the war. He was the Interior Minister and then Justice and Religion Minister in the government of the Croatian fascist dictator Ante Pavelic. The postwar Yugoslav Government charged Mr. Artukovic with ordering the machine-gunning of hundreds of civilians and with responsibility for the killing of more than 700,000 other Serbs, Jews, gypsies and Croats. Charged With Killings.

As the chief justice official in the German-created puppet state of Croatia, Mr. Artukovic was accused of drafting racial laws modeled after the Nazi statutes and setting up a network of concentration camps. He was directly charged with the reprisal slayings of civilians in the village of Vrgin Most.

After his long-disputed extradition to Yugoslavia in February 1986, he was tried for war crimes and convicted after a one-month trial during which he maintained his innocence. He said he never knew of any killings and had never been to Vrgin Most. The Government postponed execution of the death sentence last April.

Mr. Artukovic's 35-year effort to stave off Yugoslav demands for his return spun an extraordinary legal chronicle that illustrated both the exhaustiveness of American judicial review and the politicization of American courts, in the opinion of some experts.