Anne Frank's Iowa pen pal tells her story

published 28/04/2012 at 11:21 PM by Aima Gaul

In September 1939, Hitler invaded Poland. Two days later, Great Britain and France declared war on Germany.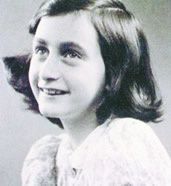 Against the backdrop of war in Europe, a grade-school teacher from the small town of Danville, near Burlington, Iowa, launched a pen-pal project between her students and children in the Netherlands. The teacher had collected names and addresses of students attending a Montessori school in Amsterdam and promoted the project as a program of "international correspondence." Among the students picking a name from the list was Juanita Wagner, 10. The name she picked: Anne Frank.

Juanita sent a letter, and, in February or early March 1940, she received a reply, one of two letters she would get from Anne, along with a photograph and a postcard of an Amsterdam streetscape. Shortly thereafter, communication between the Netherlands and America was cut off (the Nazis invaded and quickly conquered the Netherlands in May 1940), and there were no more letters.

This little-known connection between an Iowa farm girl and the Jewish girl who is perhaps the most-recognized face of the Holocaust, will be explored Tuesday at the German American Heritage Center in Davenport. Author Susan Goldman Rubin will discuss how she happened upon the connection and wrote about it in her nonfiction children's book, "Searching for Anne Frank: Letters from Amsterdam to Iowa," which was published in 2003.

Rubin's visit to the Quad-Cities is part of a months-long series of displays, events and programs about the Holocaust and Anne Frank that continues through May, coordinated by the Jewish Federation of the Quad-Cities and involving several organizations, including the German-American center at the foot of the Centennial Bridge.

Rubin's visit "is a wonderful opportunity to bring the international story of Anne Frank back to Iowa, and it is a fresh and local flavor on a story we thought we knew all about!" said Janet Brown-Lowe, the executive director of the center. "It's Iowa, it's us," added Brown-Lowe, who recruited Rubin for the visit. In addition to Rubin's talk at the center, she will lead a teachers' workshop and give a speech Wednesday at the Bettendorf Public Library.

Rubin happened upon the Iowa connection when she saw an exhibit of the pen-pal letters at the Simon Wiesenthal Center Museum of Tolerance in Los Angeles, named after the famous Holocaust survivor and Nazi hunter. In addition to the letter from Anne, there also are a letter and a photo from her older sister Margot to Juanita's older sister Betty.

There was no information about the Iowa girls, however, so Rubin began digging. She soon realized she had a story for a book and the opportunity to remember the 1.5 million Jewish children who were killed in the Holocaust. Although Juanita had died in 2001, Betty was — and still is — living in California, where both sisters had moved.

Rubin's richly illustrated book tells the stories of Juanita and her family and Anne and her family in chapters alternating between Iowa and Europe. Chapter 12 from Germany in 1944-45 reports that Anne and Margot died of typhus, an acute infectious disease characterized by fever, headache and red spots, at the Bergen-Belsen concentration camp, shortly before it was liberated by British troops.

The book doesn't end there, however.

Rubin learned that all through the war, Juanita and Betty wondered what had happened to their pen pals and that after the war, Betty — then working in a Rock Island cardboard box factory — wrote a letter to the old address in Amsterdam.

Anne's father, the only Frank family member to survive, received it and replied, describing their arrest after 25 months in hiding and telling Betty that everyone but him had died.

"This was the first inkling we had that they were Jewish," Betty says in the book.

Rubin also explains how Otto Frank got his daughter's diary and how it became a stage play. She reports that as Betty drove home from work in California during May 1956, she heard a radio report that "The Diary of Anne Frank" was a hit on Broadway and that it was the story of a young girl in Holland whose family had hid in an attic during the war.

"In an instant, I knew it was the same Anne Frank," Betty says in the book.

Remarkably, Betty still had the letters, pictures and a postcard in a shoebox, preserved through many years and many moves.

"Whatever your religious belief, you have to believe there was a divine hand in this — providence," Rubin said in a telephone interview.

Through the years, Betty told acquaintances about the letters, but no one was impressed.

Then, long after the "Diary of Anne Frank" movie came out in 1959, she happened to show them to her stockbroker and financial adviser, a Jewish man who was active in efforts to remember victims of the Holocaust.

He was "awestruck to realize he was holding a letter from Anne Frank. His hands started shaking. 'You don't know what you have here,' " Betty recalls him saying in the book.

The financial adviser contacted Swann Galleries in New York City and, in time, an auction was scheduled. When the galleries issued a news release, both Betty and Juanita were besieged by the news media. The items were sold in 1988 to an anonymous buyer, with most of the proceeds going to a nonprofit mission organization Betty had founded in 1980, and the buyer donated the items themselves to the Simon Wiesenthal Center Library and Archives.

And that is where Rubin picked up the thread of the story.

In addition to interviewing Betty, Rubin's research took her to Iowa, New York and Amsterdam. In her book, she sticks strictly to facts, using only quotes that she can attribute to sources. She does not fictionalize what day-to-day conditions might have been like in the concentration camp or what Anne might have been thinking as death approached.

"You never make up anything," Rubin said. "Nothing is more powerful than correct information if you can find it."

The Montessori school that Anne attended in Amsterdam is now called the Anne Frank School. Inside, a plaque lists the names of all the Jewish children who were sent away from the school in 1941, the names of the concentration camps where they were killed and the dates when they died. Anne Frank is just one of those 81 names. "Details like that say more than a lot of adjectives," Rubin said.