Prolific writer of popular anthropology, he courted controversy with his theory that women are innately superior to men.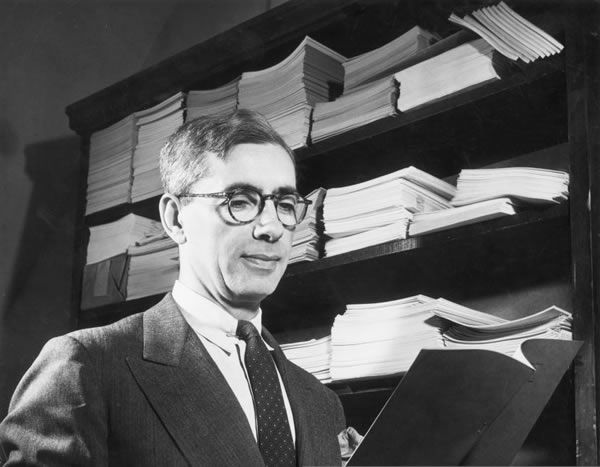 The anthropologist and humanist Ashley Montagu, who has died aged 94, was one of the most prolific writers and controversial popularisers of science of the 20th century. He was a man who was very much ahead of his time, both on questions of race and gender. Through more than 60 books and scores of essays, this crusader, with a flare for showmanship, forced many humanitarian issues into the public arena for debate.
His early work on biology and ethics challenged the accepted views about the innate aggressiveness of humankind - and won him few friends. He first came to the attention of a wider public in 1950 with the Statement Of Race, published by Unesco, in which he argued that race was a social construct, a product of perceptions about race, rather than a biological fact.
Last year, he co-authored Man's Most Dangerous Myth, a set of 24 essays that drew on expertise ranging from biology and genetics to psychology, anthropology, and education to examine the terms "race" and "IQ" and their application. The contributors included such thinkers as Stephen Jay Gould, Richard Lewontin, Urie Bronfenbrenner, Walter Bodmer and Jerome Kagan.
Recently, Montagu revised what was perhaps his most influential book, The Natural Superiority Of Women, first published in 1953, in which he asserted that men were a form of "incomplete" woman, and that women were in many ways biologically supe rior. A fifth and revised edition of this bestseller was issued in 1992.
Montagu declared "the evidence indicates that woman is, on the whole, biologically superior to man". The idea sparked an enormous controversy in pre-feminist America, and the book's success, both financially and in terms of reputation, allowed him to leave academia in 1955 for an independent career in writing, lecturing and research.
Ashley Montagu was born Israel Ehrenberg in the east end of London. His father was a tailor, a Polish-born Jewish immigrant, and his mother was from Russia. Although a declared agnostic, Montagu later acknowledged his Jewish heritage. His adopted surname was chosen after Lady Mary Montagu, the 18th-century woman of letters and feminist, and he selected the additional forenames Montague and Francis from other writers he admired.
When he was 15 years old, Montagu chose William McDougall's Introduction To Social Psychology as his prize in a literary contest. He studied physical anthropology at the universities of London and Florence. In 1927, he went to New York to do research at Columbia University under the guidance of the pioneering anthropologist Franz Boas. His studies were punctuated by periods of work in ethnology and anthropology in Italy, and physical anthropology in London.
Despite his prolific scholarly output, Montagu was never offered tenure at any of the universities where he taught - a slight he attributed, in part, to his ideas on race and gender.
His work effortlessly bridged the divide between the academic and the popular. A book he wrote with Max Levitan on human genetics was used as a standard text into the late 1970s. Others of his books stressed the impor tance of the nurturing of children during early childhood and the touching of infants, the value of intelligence, the possibility of non-aggression, the dangers of war, and the meaning of love. He wrote extensively on the nature-nurture issue, and said that all children deserved the birthright of healthy human development.
In Human Heredity (1958), Montagu referred to genetic and social heredity, arguing that people developed as a result of the interaction of both types. His view was that, in social heredity, genes manifested their characteristics as a result of their interaction with the environment; but genes could not exist independently of an environment because nature and nurture were interdependent.
Montagu said it was truly a wonder of human intelligence that mothers could be so intuitively aware of children's needs. To love and care for others was the ultimate sign of one's humanity, and women had the capability to teach all others how to be human. A humane education would enable children to develop compassionate intelligence, the intelligence that was central to the good mental health of human beings.
As a freelance writer, he wrote on subjects as varied as anthropology, human anatomy, intelligence, marriage, why people cry, and the history of swearing. There was also an account of John Merrick, the severely disfigured man of Victorian England, who became the subject of the film The Elephant Man.
Montagu was quick to attack the use of stereotypes. He railed occasionally against the cartoon depiction of neanderthal men as brutes who clubbed their women over the head, and would complain that such a depiction ignored evidence of the essential gentleness of neanderthals. Yet, as a successful pundit for early television on nearly everything human in the 1950s and 1960s, Montagu became something of the stereotypical professor in the eye of the American public - his appearance complete with white hair, owlish glasses and pipe.
His wife Marjorie Peakes, two daughters and a son survive him.
Montague Francis Ashley Montagu, anthropologist and writer, born June 28 1905; died November 26 1999