Auschwitz Trial Hears of SS Man Who Sent 12 Little Jewish Girls to Death

Jewish Telegraphic Agency published 07/04/1964

Frankfurt, Apr. 6  – A vivid description of the manner in which one SS officer, with pistol in hand, drove a dozen Jewish children to their deaths in the Birkenau gas ovens in 1943, was given to the court here today as the trial continued against 22 Auschwitz-Birkenau officers, accused of murdering many of the 4, 000,000 Jews executed at the death factory. The trial has been under way since December.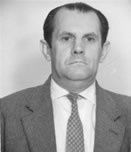 Today's principal witness was Ludwig Woerl, who said he had been transferred from another camp to the infamous Auschwitz Arrest Bloc 11. There, one day, he testified, "a dozen little Jewish girls, aged 3 to 11, came up to me, begged me to save them from the gas chambers. They said they were strong and could work and didn't want to die; couldn't help them. There was Oswald Kaduk, with gun in hand. That murderer Kaduk drove them away to the gas chamber."

Woerl pointed his fingers at Kaduk, one of the defendants. Kaduk leaped from his chair at the defense table, shouting "you lie!" The witness repeated his accusation, calling Kaduk "a pig. " Spectators yelled "Beat him to death!" It took presiding Justice Hans Hof-meyer several minutes to bring order back to the court room.

Woerl's most sensational testimony concerned Kaduk; he also implicated two others among the defendants, Joseph Klehr and Wilhelm Boger. He told of a girl prisoner who was shot to death in a room with doors closed. "I didn't see Boger shoot her, " he said, "but he was in there and no one else besides the girl. I heard two shots. The girl was dead. " He told the court that Boger had so much influence at the camp that even SS men feared death at his hands.

As for Klehr, Woerl said he had seen records showing that Klehr had killed 250 or 300 persons. "Add some zeros to those figures, and you will have a more correct figure," he said.