Leading soprano who moved freely between Romantic Italian opera, Mozart and Strauss.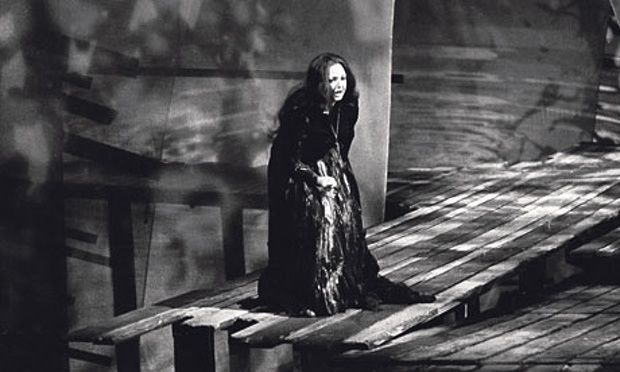 Ava June in the title role of the English National Opera's 1977 production of Janacek's Katya Kabanova, conducted by Charles Mackerras
Ava June, who has died aged 81, enjoyed a long career as a leading lyric soprano in Britain and abroad, including extended periods as a company principal with Sadler's Wells Opera and its successor, English National Opera. An invaluable member of the organisation, she embodied the company ethos throughout her unstinting service. "We were like a team," she later recalled. "We all worked very hard as very disciplined people. Our lives were shut up in what we were doing."
A proficient and highly adaptable performer, she ranged over a wide repertory, tackling a huge range of roles with success. These included her notable Madam Butterfly and her Countess in a historic 1965 production of The Marriage of Figaro under Charles Mackerras, which reintroduced copious decorations into Mozart's score, and after which the critic Desmond Shawe-Taylor described her as "high-spirited, sentimental and impulsive".
Her roles ranged from Lisa in Tchaikovsky's The Queen of Spades, to Gutrune in Wagner's Götterdämmerung. She moved freely between Romantic Italian opera, Mozart and Strauss, also performing in Beethoven's Fidelio – she sang both Leonore and Marzelline – Britten's Gloriana and even as Judith in Bartók's Duke Bluebeard's Castle. Among her later ENO assignments were the creations of two roles in David Blake's Toussaint (1977), and Countess Vronskaya in Iain Hamilton's Anna Karenina (1981).
Ava was born in Poplar, east London; her mother was a tailor, while her father worked for the whisky manufacturer Johnnie Walker. She left school at 14, finding a job as a theatrical dressmaker in London's West End. Two years later she began singing lessons with the South African contralto Kate Opperman, continuing with the redoubtable Joan Cross, herself the creator of roles in a number of Britten's operas that June would later make her own. She also studied with the dramatic soprano Eva Turner and with the baritones Denis Dowling and Clive Carey.
She joined the chorus of Sadler's Wells Opera at its Rosebery Avenue base in 1953, initially as a mezzo before changing to soprano, becoming a principal in 1957. She remained with the company until 1963, when she won first prize at the International Competition for Young Singers in Sofia. In 1970 she returned to the company, by then based at the London Coliseum, continuing as a member of the ensemble until 1983.
The soprano Anne Evans, who joined June at Sadler's Wells, describes her as "a fabulous human being. We both did Ilia in Idomeneo and she was very helpful in telling me about the role. She had an amazing rapport with the audience. She was a lovely Sieglinde, amazing as Katya Kabanova and so touching as Magda Sorel in The Consul. She was the heart and soul of the Coliseum."
Beyond her Coliseum commitments, June also sang with Welsh National Opera and the Scottish Opera. At Covent Garden, her first assignment was the Heavenly Voice in Luchino Visconti's celebrated production of Don Carlos in 1958, conducted by Carlo Maria Giulini; in 1970, she also created the role of Mrs Schomberg in Richard Rodney Bennett's Victory. Four years later, she made her first appearance in the US, in San Francisco, appearing as Ellen Orford in Peter Grimes, as well as performing in Germany and Eastern Europe.
After retiring, she continued to pass on her experience to younger ENO singers as a coach, also giving masterclasses for organisations such as the Wagner Society and the National Opera Studio. Following stints at Morley College, the Royal College of Music, Trinity College of Music and the Guildhall School of Music and Drama, in 1985 she became a professor at the Royal Northern College of Music in Manchester, where she remained for 14 years; her pupils included the soprano Mary Plazas, who became her goddaughter.
June also brought her vast experience of opera to directing, creating productions of Gounod's Roméo et Juliette, La Traviata and Nabucco for Wilmslow Opera, Cheshire, and Die Fledermaus for the Carl Rosa Opera Company. She latterly took on the direction of a choir of senior citizens for the University of the Third Age. She recorded Mrs Grose, in Britten's Turn of the Screw, under Colin Davis and can be heard on Sadler's Wells highlights recordings as Violetta in La Traviata and as Marenka in The Bartered Bride, as well as Sieglinde in a live broadcast of The Valkyrie under Reginald Goodall.
She married David Cooper, an architectural engineer, who died in 1982. Following his death, she found consolation at the London Spiritual Mission in Notting Hill Gate, where she became a regular member and soloist.
Ava June (Ava June Cooper), soprano, born 23 July 1931; died 22 February 2013