published 17/01/2013 at 15:41 GMT by David Edgar

When my grandfather, Percy Edgar, started broadcasting in 1922, his makeshift Birmingham studio was one of only two in Britain. When my father, Barrie Edgar, retired from the BBC in 1979, the corporation was broadcasting two television channels, in colour, throughout the country.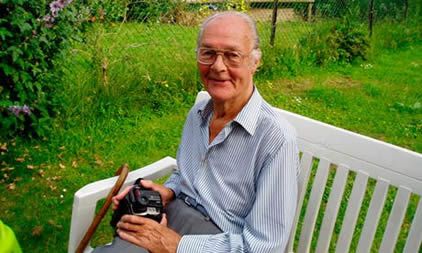 My grandfather was a music-hall performer and concert organiser who saw the potential of radio as a new method of getting entertainment to the public. My father, who has died aged 93, caught the broadcasting bug when, as a lowly assistant stage manager, he was part of a Birmingham Repertory theatre company who journeyed to Alexandra Palace in north London in 1938 to perform an Adelaide Philpotts comedy live, as the BBC's weekly drama.

His application to join BBC Television fell by the wayside when the service was suspended in 1939. After he was demobbed from the Fleet Air Arm, he applied again, and was studio manager for the first television programme to be broadcast by the postwar BBC, again at Alexandra Palace, on 7 June 1946.

His career began in an age when, in television, everybody did everything. A studio manager promoted to commentator on the 1948 London Olympics, he became head of one of two outside broadcast units, in Birmingham, where he continued to work across the full range of the BBC's output. As a child, I accompanied him to Locarno ballrooms, parish churches, racecourses, election counts, seaside theatres and big tops. No current BBC producer could boast such a CV, ranging from Muffin the Mule via Test cricket to the consecration of Coventry Cathedral.

As the BBC became more specialised, he lost a number of his favourite programmes; he felt the loss of the Christmas carols from King's College Chapel in Cambridge particularly keenly. But he continued to produce Come Dancing (on which his presenters included Peter West and Terry Wogan), Songs of Praise and, latterly, Gardeners' World. The fact that all three are still going strong (albeit, in the case of Come Dancing, in a different form) was a source of quiet pride.

Unlike his son, my father inherited his father's practical skills, from gardening to carpentry. Spotting my early passion for the stage, he built a fully functional 12-seater theatre in our back garden. In a 33-year retirement, he framed pictures for Arthritis Research UK, visited old people's homes and continued to support and encourage his family. A lifelong member of the Magic Circle, he was able to appreciate his six-year-old great-granddaughter Naia's performance with her Christmas magic kit the day before he died.

My father met my mother, Joan Burman, on the stage door steps of the Birmingham Rep, where she was seconded as an acting student in 1937. They married in 1943, by which time she was working for the BBC as an overseas radio announcer. After her death in 2005, my father moved into a residential home in Birmingham and faced the inevitable irritations of old age – unaided by his beloved pipe – with gentlemanly forbearance, humour and grace.

He is survived by me, my sisters, Sarah and Kate, six grandchildren and three great-grandchildren.