Bernard Horsfall obituary

published 30/01/2013 at 18:14 GMT by Michael Coveney

Imposing stage and screen actor whose work ranged from Shakespeare to The Bill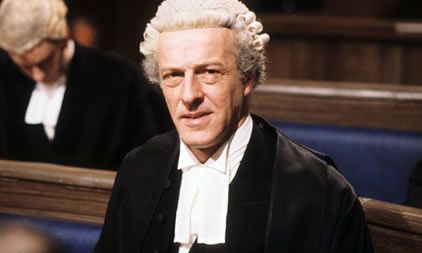 The character actor Bernard Horsfall, who has died aged 82, appeared in television, films and on the stage for more than half a century. Tall, imposing and authoritative, he appeared in many of the major television series from Z Cars and Dr Finlay's Casebook to Casualty and The Bill, and in Doctor Who took no fewer than four roles.

In 1968 he played Lemuel Gulliver in The Mind Robber, where he was encountered by Patrick Troughton, the second Doctor, in the Land of Fiction. The following year he returned as a Time Lord in The War Games. In 1973, with Jon Pertwee now donning the time-traveller's cape, he played the Thal chieftain, Taron, in the six-part Planet of the Daleks. And finally, he was another Time Lord, Chancellor Goth, in the 1976 story The Deadly Assassin, famously battling with Tom Baker's Doctor inside the Matrix and holding him under water. This sequence drew complaints from the campaigner Mary Whitehouse, and was edited out of the repeat showings.

His many film roles included Campbell in the sixth James Bond movie, On Her Majesty's Secret Service (1969), starring George Lazenby, and General Edgar in Richard Attenborough's Gandhi (1982) with Ben Kingsley. He had an extensive, distinguished stage career, too, playing the Ghost to Richard Burton's Hamlet at the Old Vic in 1953 and the Player King to Roger Rees's with the Royal Shakespeare Company in 1984, first in a series of prominent roles with the company in Stratford-upon-Avon and London in the late 1980s.

Horsfall was born in Bishop's Stortford, Hertfordshire, and always claimed he was a 25th-generation descendant of William the Conqueror. The son of an opera singer, Margaret Horsfall, nee Norton, and her RAF officer husband, Charles, Bernard grew up in Hindhead, Surrey, and Wisborough Green, West Sussex. Always drawn to the outdoor , adventurous life, he left Rugby school early to visit his favourite uncle, Jack Norton, in Canada, and took a job cutting down trees. Jack had been a first world war pilot, flown with TE Lawrence in Palestine and had run the Vancouver Symphony Orchestra.

Returning to London, Bernard trained as an actor at the Webber Douglas Academy and was soon in rep, at Dundee in 1952, at the Old Vic, the old Nottingham Playhouse in the mid-1950s (in a company that included Graham Crowden, Joan Plowright and Denis Quilley) and at the Birmingham Rep under John Harrison at the end of the 60s.

He met and married the actor Jane Jordan Rogers while she was appearing at the Bristol Old Vic, and made his mark in movies such as The Steel Bayonet (1957), a second world war adventure featuring an unknown Michael Caine, and Guy Green's The Angry Silence (1960) in which Attenborough played a strike-breaker. His notable television work after Doctor Who included a performance as Melford Stevenson, QC, in a documentary drama about Ruth Ellis, the last woman hanged in Britain. Later well-known as a judge, Stevenson was the barrister who defended Ellis. He had a leading role as the doctor, Philip Martel, in the highly successful Channel Islands wartime drama, Enemy at the Door (1978-80).

At the RSC in 1984, Horsfall was part of a great season that, in addition to Rees's Hamlet, included Kenneth Branagh as Henry V (Horsfall played a wonderful ageing hooligan of a Pistol) and Antony Sher as a speedy, spidery Richard III. He also appeared in Pam Gems's Camille, with Frances Barber, when Ron Daniels's RSC production transferred to the Comedy Theatre, London, in 1985.

Back at Stratford, he was, says the director Terry Hands, "the epitome of warmth" as a genuinely funny Old Shepherd (his young sidekick was Simon Russell Beale) in The Winter's Tale in 1987 with Jeremy Irons as Leontes, and he also played the title role in Cymbeline (in a red dressing gown) and a brutally authoritarian Capulet in the Romeo and Juliet of Mark Rylance and Georgia Slowe.

This period coincided with a family move from London to the Isle of Skye, where Horsfall rambled over mountains and became a dedicated crofter, producing fruit and vegetables.

His renown as a wise and generous actor led to him becoming a natural father figure in any company he joined. Jonathan Kent cast him as Ventidius in Dryden's All For Love at the Almeida in 1991, and he expertly discharged the great suicide speech; James Laurenson and Diana Rigg were Antony and Cleopatra. In 1993 at the Birmingham Rep, he was described as "scurrilous, lofty and urbane" as Volpone. His last major film was Mel Gibson's Braveheart in 1995, and in 1998 he played a witty and touching Sir Patrick Cullen in Michael Grandage's revival of Shaw's The Doctor's Dilemma at the Almeida and on a National Theatre tour.

He was another dignified old shepherd, Corin (doubled with Hymen, god of marriage), in the revival by Grandage of As You Like It at the Sheffield Crucible in 2000 that propelled Victoria Hamilton into the front rank. Grandage said that the older Horsfall got, the younger his outlook; he was always keenly interested in environmental matters.

He is survived by Jane; their daughters, Hannah, an occupational therapist, and Rebecca, a theatre director and novelist; five grandchildren; and a sister. His son, Christian, died last year.

Bernard Arthur Gordon Horsfall, actor, born 30 November 1930; died 28 January 2013

This article was amended on 7 February 2013. The original referred to the Doctor Who character Taron as a Thai chieftain. This has been corrected.