published 03/01/2013 at 18:26 GMT by Gerald Masters

My wife, the dancer and choreographer Brenda Averty, has died aged 79. In the late 40s and early 50s, she danced with the Sadler's Wells company in many ballets and operas at the Wells and the Royal Opera House, including Giselle (1948) and Carmen (1950).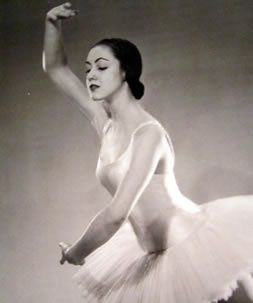 She was part of the company for the premiere of Frederick Ashton's Cinderella in 1948, with Moira Shearer in the title role, and also starring Ashton, Robert Helpmann, Beryl Grey, John Cranko and Kenneth MacMillan, who was Brenda's riend. During her time with Sadler's Wells Theatre Ballet, with postwar budgets tight, she shared ballet shoes with Margot Fonteyn (with the added benefit that Brenda would "break in" the shoes).

She left the company in 1953 to expand her experience of the dance world, working in musicals including South Pacific. In 1958, she was invited by Dame Ninette de Valois to go to Ankara to start the Turkish Opera and Ballet from a nucleus of graduating students at the conservatoire run by former dancers of the Royal Ballet. She spent two years creating an ambitious and confident company with a growing repertoire. On her return in June 1960, she was involved in choreographing the dances for An Arabian Night – the opening production of Associated-Rediffusion's enormous new purpose-built TV studio within the Wembley Studios complex in north London.

The impresario Harold Fielding made Brenda his ballet mistress for West End shows including Half a Sixpence, The Music Man and Sail Away (which she re-choreographed for its Australian premiere in 1963 under the direction of Noël Coward).

Brenda was born in Tottenham, north London. Her mother played the saxophone in an all-female big band while her father was an oboist and saxophonist performing regularly in pit orchestras in London and provincial theatres. Brenda began dancing lessons at around the age of 10 and eventually was offered a place in the Sadler's Wells school. She was accepted into the company in her teens. To keep her weight down, she began smoking 40 cigarettes a day, a habit she continued all her life. When the company made their second famous tour of the US, in 1951, she was still young enough to need a chaperone.

Brenda and I married in 1959 and on the birth of our son, Dru, in 1965, she decided to give up the theatre. Many tried to cajole her back, but she never returned. She made sure Dru, who wanted to follow a career in music, had her full support and help, and he is now a TV and film composer whose credits include The Apprentice and the drama series Silk.

She is survived by Dru and me, and two grandchildren, Martha and Mischa.