Mastermind of the Great Train Robbery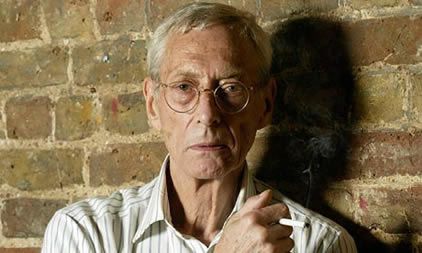 Bruce Reynolds said he never regretted the course he had taken in life – 'it was all part of making out that I was someone'
In the early hours of 8 August 1963, beside a railway line in Buckinghamshire, Bruce Reynolds and 14 other men halted the Glasgow-London night express at Bridego bridge, broke into a Royal Mail coach and, in a swift and perfectly executed operation, departed with £2,631,684 in used banknotes.
Reynolds, who has died aged 81, was the mastermind behind the Great Train Robbery. Then aged 31 and recognised by villains and detectives alike as a member of London's criminal elite, he had long dreamed of pulling off the "big job", the career-defining crime that would unequivocally establish his fame and fortune. He achieved the first aim, as the robbery received massive media coverage and remained in the public consciousness for decades; but, once his £150,000 share of the loot had gone, he found that his reputation was about all he had left.
Scotland Yard detectives knew that only a small number of criminals were capable of carrying out such an audacious robbery and most of those involved were quickly arrested. Reynolds, whose fingerprints had been found on a sauce bottle at the gang's hideout, proved more elusive. With his wife, Frannie, he bought a mews cottage in Kensington, central London, where he stocked up with luxuries purchased by friends from Harrods and from Christopher's in Jermyn Street, where he had a regular order for a dozen bottles of Veuve Clicquot champagne. Nine months after the robbery, shocked by the draconian sentences handed out to his friends, he slipped out of London on a false passport, bound for Mexico.
For the four years that he was on the run, mostly accompanied by Frannie – who changed her name to Angela – and their young son, Nick, Reynolds lived the high life, renting a penthouse flat in Mexico City and taking trips to Acapulco and Las Vegas. At Christmas 1964, he was joined in Mexico by his fellow train robbers Buster Edwards, who had not yet been caught, and Charlie Wilson, who had escaped from Winson Green prison. Montreal, where Wilson had settled with his family, was Reynolds's next stop, but a plan to replenish funds by robbing a shipment of Canadian dollars had to be dropped when he felt he was attracting police attention.
It was time to move on again, to Vancouver, the south of France and then back to London and the mews in Kensington. By now, Reynolds's share of the proceeds of the train robbery was almost spent and he was actively seeking criminal work. Aware that the Flying Squad, in particular Chief Superintendent Tommy Butler, an old foe, was putting pressure on his friends and associates to reveal his whereabouts, he moved to Torquay in Devon with his wife and son. It was there, as he lay in bed in a rented hilltop villa whose views reminded him of the French Riviera, that Butler arrested him in November 1968.
Reynolds did not come from a criminal background. He was an only child, brought up in Putney, south-west London, and later Gants Hill, in the north-east of the city. His father worked at the Ford plant in Dagenham and his mother was a nurse. She died when Reynolds was four. Her death marked the beginning of a disrupted childhood for Reynolds: his father remarried, to a woman who showed Reynolds no affection, and he was evacuated to Suffolk at the outbreak of the second world war.
Reynolds longed for adventure, but at 14 his hopes of joining the Royal Navy were dashed because of his poor eyesight. He worked as a messenger boy in Fleet Street. Weekends were spent with the De Laune cycling club in south London and he took a job with the cycle manufacturer Claud Butler in Clapham. It was while working there that he met a young man nicknamed Cobby, a rebellious youth who introduced him to petty crime.
Reynolds found this alternative way of life exciting and soon the pair of them were breaking into shops and factories. By the time he was 17, he was in Wormwood Scrubs, awaiting allocation to borstal. As his crimes got more serious and the prison sentences longer, Reynolds formed alliances with many of the men who would form the nucleus of the Great Train Robbery gang.
In 1962, Reynolds and his gang seized £62,000 in a security van robbery at Heathrow airport. They were disappointed, having expected more than six times that amount. The same year, their attempt to rob a mail train at Swindon was aborted and they came away with only £700. But trains were now in Reynolds's mind and, obtaining inside information about the movement of cash to and from London, he began to plan the robbery that would mark the pinnacle of his criminal career.
When he appeared at Buckinghamshire assizes in January 1969, Reynolds pleaded guilty to his part in the Great Train Robbery and was sentenced to 25 years' imprisonment. By then, the prison system had been rocked by the escapes of his friends Wilson and Ronnie Biggs, as well as the spy George Blake and others. The train robbers were held in maximum security in a specially built unit at Durham.
Reynolds found prison very hard and, as his marriage collapsed, he focused his attention on maintaining his relationship with his son through extensive correspondence, and on working towards release. He came out on parole in 1978 but found great difficulty adapting to a world that had changed while he was inside. In the mid-80s he was caught up in a small-scale amphetamine conspiracy and went back to prison for three years.
The popularity of criminal memoirs in the 1990s brought new opportunities and Reynolds wrote The Autobiography of a Thief in 1995. Interest in the robbery did not fade and he was frequently called upon for media appearances. He had become reconciled with his wife and was proud of his son's career as a diver in the Royal Navy and his later success as an artist and musician with Alabama 3. Reynolds was delighted when Alabama 3 recorded the song that had been widely sung in British folk clubs while he was on the run – Have You Seen Bruce Richard Reynolds?
He expressed remorse over the violence inflicted on the train driver, Jack Mills, during the Great Train Robbery, but said he never regretted the course he had taken in life. "It was all part of making out that I was someone. But what I really liked about being a thief was that every week you might find El Dorado," he said.
His wife predeceased him. He is survived by his son.
​Bruce Richard Reynolds, criminal, born 7 September 1931; died 28 February 2013