Complete Identity of Franco-israeli Views Reported by Premier Eshkol

Jewish Telegraphic Agency published 13/07/1964

Paris, Jul. 12  – Premier Levi Eshkol summed up the results of his stay here with the statement that "relations between France and Israel are as firm and strong as ever before." He told the Jewish Telegraphic Agency, prior to his departure, that his visit had been a "highly satisfactory" one which "has still further bound together our two countries."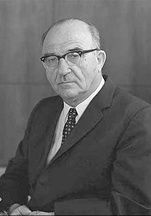 "I take back with me the assurance of France's friendship for Israel and its President's understanding for our problems," he added. He also told a press conference that relations between France and Israel were "excellent" and that he had found a "complete identity of views on all subjects which were discussed."

He also disclosed that he had "great hopes" that plans for Franco-Israeli scientific cooperation in oceanography, arid zone and solar energy research would "bear rich fruit for both countries."

He said that a 10-man scientific commission of five Israeli and five French scientists planned to initiate such cooperative efforts, and would probably meet in September in Paris to map out the joint programs. He added that France's political assistance and support was no less important to Israel than French aid in the military field. He also praised France's "understanding" of a number of other important Israeli problems.

Shortly before the Premier's departure, the French Foreign Ministry released a statement declaring that France and Israel had "decided to examine the possibility of instituting scientific cooperation between French and Israeli research in the fields of oceanography and development of arid zones."

The communique said that "certain reports have appeared concerning conclusions reached by Premier Eshkol and Science Minister Gaston Palewski. Authorized circles in Paris confirm that the Israeli Premier has been in contact with the French Minister of State for Scientific Research. It has been decided to examine the possibility for instituting cooperation between French and Israeli research workers in the fields of oceanography and development of arid zones."

Defense minister stresses solidarity, pledges aid in'hour of need

At a dinner Thursday night, tendered by French Defense Minister Pierre Messm the Minister proposed a toast in which he stressed "the solidarity" between French and Israeli armies; He also said that France admired Israel for the renaissance of the count and for the way in which the Israelis had shown they knew how to protect their freedom. hinted that France would be at Israel's side in another "hour of need."

In his reply, Premier Eshkol toasted Franco-Israeli friendship, recalled the friendly hand which France had given Israel in its "hour of need," and expressed Israel everlasting gratitude. A score of French generals and senior members of the French Defense Ministry were present as were Eshkol aides and Ambassador Walter Eytan.

The Premier also discussed, at a press conference of Israeli correspondents, Jewish and Zionist situation in France which he called "encouraging." He said he had found "considerable change on the part of French Jewish leaders toward Zionism and Israel."