published 18/03/2012 at 23:41

According to Germany's Demjanjuk decision, even serving as an accessory to murder is a punishable crime.

In 1986, John "Ivan" Demjanjuk was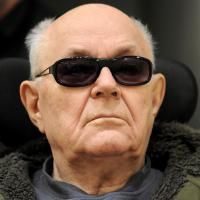 deported from the US to Israel to stand trial for committing murder and acts of extraordinary violence against humanity during the years 1942 and 1943. Dozens of Israeli Holocaust survivors identified Demjanjuk as "Ivan the Terrible," a notorious prison guard at the Treblinka extermination camp.

Between November 1986 and April 1988 a special tribunal made up of Supreme Court justice Dov Levin and Jerusalem District Court judges Zvi Tal and Dalia Dorner heard the case, which was open to TV crews and took place in Jerusalem's International Convention Center.

Clearly, an effort was made to publicize the proceedings, which, like the 1962 Adolf Eichmann trial, was used as a means of confronting the horrors – and the moral lessons – of the Holocaust.

Like Eichmann, Demjanjuk was found guilty under the Nazis and Nazi Collaborators (Punishment) Law of 1950 and sentenced to death by hanging – the second case of capital punishment in Israel's history.

But Demjanjuk appealed and in 1993 the Supreme Court, sitting as an expanded five-man panel of judges, overturned the lower court's decision. Justices Aharon Barak, Menachem Elon, Meir Shamgar, Eliezer Goldberg and Avraham Halima – basing themselves in part on new evidence that became available after the disintegration of the Soviet Union – ruled that a reasonable doubt remained as to whether or not Demjanjuk was in fact Ivan the Terrible.

Holocaust survivors and others brought at least 10 petitions demanding that Demjanjuk be tried for lesser war crimes while serving as a guard in other concentration camps including Sobibor and Majdanek.

But the attorney-general and the Supreme Court decided to let Demjanjuk go based on legal technicalities.

Holding another trial would, they argued, violate the principle of double jeopardy that prevents someone from being tried again after being acquitted for similar offenses.

Also, since it was unclear whether Demjanjuk would be convicted based on the evidence available, and another acquittal would deal a major blow to the public sentiment, it was preferable to avoid another trial altogether.

While the Jewish state passed on the opportunity to convict Demjanjuk, it was Germany of all places that decided to pursue the matter, eventually convicting the Ukrainian in May 2011 for helping to murder 28,000 Jews as a guard at the Sobibor extermination camp.

However, Demjanjuk received a meager five-year sentence that Yoram Sheftel, Demjanjuk's defense attorney during his trial in Israel, noted at the time was equivalent to the punishment one received for burglary.

Demjanjuk died outside prison walls in a German retirement home while waiting for his appeal to be heard. Understandably, many – particularly Holocaust survivors – were disappointed by Demjanjuk's ability to avoid justice.

Indeed, the Demjanjuk case underlines the limits of justice. As the Supreme Court justices noted in their 1993 decision: "Judges, who are only human, cannot reach perfection, and it is only right that they judge on the basis of what is placed before them, and on that basis alone."

But even within the framework of justice all is not lost. The German court's conviction of Demjanjuk sets an important precedent, notes Efraim Zuroff, a veteran Nazi-hunter who heads the Simon Wiesenthal Center in Israel. In the past it was necessary to prove responsibility for a specific death to convict a Nazi war criminal.

According to Germany's Demjanjuk decision, even serving as an accessory to murder is a punishable crime.

Zuroff, who spoke to The Jerusalem Post from Prague, estimates that about 4,000 Nazis and their helpers served in one of the four "death factories" – Treblinka, Chelmno, Sobibor and Belzec – or in the Einsatzgruppen death squads. Around 2 percent, or 80, remain alive, about half of whom still fit enough physically to stand trial. The Simon Wiesenthal Center is offering a 25,000 euro award for information leading to their capture. The hunt goes on, while adhering to the limitations of justice.