Eileen Nearne The scatterbrained spy who helped win the war

published 29/10/2010 at 10:36 PM by Terri Judd


Eileen Nearne endured torture at the hands of Nazi interrogators, refusing to reveal any details of her operations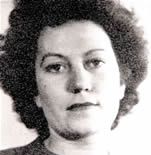 One of Britain's most-decorated female spies was initially dismissed as "scatterbrained" and "not very intelligent" by her superiors, documents released for the first time today reveal. When Eileen Nearne was buried last month, details of the 89-year-old's heroism came to light. One of a select number of Special Operations Executive (SOE) agents, she was parachuted into France in 1944 as a radio operator codenamed Rose, transmitting vital intelligence until she was captured. She endured torture at the hands of Nazi interrogators, refusing to reveal any details and eventually managing to escape. She was later awarded the French Croix de Guerre and the MBE for her "cool efficiency, perseverance and willingness to undergo any risk".

Known as Churchill's Secret Army, the SOE was set up in 1940 to encourage and facilitate espionage and sabotage behind enemy lines. Two years later Winston Churchill gave his approval for women to be sent into Europe after it was argued that they would be less conspicuous than men. Yet files released by the National Archives today revealed that the young Miss Nearne's superiors were anything but impressed with her after her two-week training course. In a scathing report just weeks before her deployment, they wrote: "She is not very intelligent or practical and is lacking in shrewdness and cunning. She has a bad memory, is inaccurate and scatterbrained. She seems keen but her work was handicapped by lack of the power to concentrate.

"In character she is very 'feminine' and immature; she seems to lack all experience of the world and would probably be easily influenced by others. "She is lively and amusing and has considerable charm and social gifts. She talks a lot and is anxious to draw attention to herself, but was generally liked by the other students." The report, dated 26 January 1944, continues: "It is doubtful whether this student is suitable for employment in any capacity on account of her lack of experience." Yet Miss Nearne defied all expectations, managing to send back key information via the Wizard network. In another newly released filed she wrote of her arrest at Bourg-la-Reine on 25 July: "I had just sent a message when through the window I saw the Gestapo arrive. I had just time to burn the message and to hide the radio set. They searched the house and found the set. They also found the one-time-pad. They asked me questions about my code. I told them lies?.They put me in a cold bath and tried to make me speak but I stuck to the story."

Miss Nearne was sent to Ravensbruck concentration camp, where she refused to do prison work despite having her head shaved and being threatened with being shot. She eventually managed to escape during the night in April 1945 as she was being moved from a camp in Markleberg. She said: "About 11 o'clock we were passing through a forest and I managed to jump out and hide behind a tree and there I met my two French friends." After hiding out, evading capture by the Gestapo by convincing them she was a French volunteer and finding shelter in a church in Leipzig she met up with the Americans on 15 April. They however refused to believe she was a British wireless operator and accused of being a German agent.

An American intelligence report, marked secret, and dated 2 May 945, reveals details of the interrogation and concludes: "Subject creates a very unbalanced impression. She is often unable to answer the simplest questions, as though she were impersonating someone else. Her account of what happened to her after her landing near Orleans is held to be invented." Yet when she returned home, the glowing recommendation for her MBE stated: "For five-and-a-half months she maintained constant communication with London from this most dangerous area, and, by her cool efficiency, perseverance and willingness to undergo any risk in order to carry out her work, made possible the successful organisation of her group and the delivery of large quantities of arms and equipment."

The archives also revealed that upon her return home she tried to get a job as a beauty therapist and was, according to her superiors "anxious to learn facial massage and beauty treatment". Miss Nearne spent her later years living quietly in Torquay and never mentioned her wartime activities. When her body was discovered in September this year, it was believed she had been dead for some time. It was only when council workers searched her flat for details of her next of kin that they found the papers that revealed her SOE heroism.