Ewald-Heinrich von Kleist: Last known survivor of the 1944 plot to assassinate Adolf Hitler

published 16/03/2013 at 16:59 by David Childs


Arrested by the Gestapo, he survived by pretending to be 'young, stupid and unpolitical'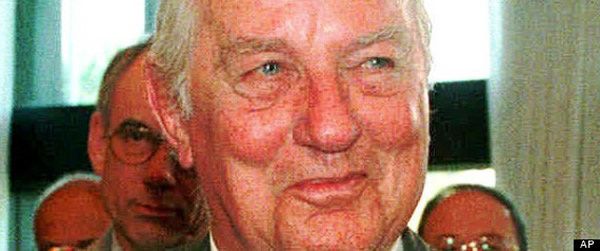 Ewald-Heinrich von Kleist was the last known surviving plotter of Operation Valkyrie, the 1944 attempted assassination of Adolf Hitler. The plot failed, with dire consequences for Germany and the conspirators, but became celebrated as a heroic episode of anti-Nazi German resistance during the Second World War. "We had to try something," von Kleist recalled in 2004. "The things being done by those criminals in Germany's name were simply appalling."

Von Kleist was born into an aristocratic Prussian family that had sired a lengthy line of cultural, diplomatic and military leaders. His birthplace was the family seat at Schmenzin in the province of Pomerania, East Prussia. His father was Ewald von Kleist-Schmenzin, a lawyer and large-scale landowner who had an ambivalent attitude to the pre-Hitler Weimar republic.

As a conservative he preached the idea of monarchy and Christian ideals. He supported the German National People's Party, which opposed women's rights, was anti-Jewish and which formed part of the coalition with the Nazis in 1933. Yet he ended up being arrested and held briefly in May, and again in June of that year. The so-called "Night of Long Knives" in June 1934, when Hitler moved against his own brown-shirted SA and its leader Ernst Röhm, as well as other critics of his regime, strengthened the Von Kleist family's conviction that Hitler was the wrong man to lead Germany: "It was absolutely clear that the state had become a murderer," Von Kleist recalled years later.

Amid growing European tension, in 1938 Ewald Snr was sent to London by the military intelligence chief, Admiral Canaris, and General Beck – who became one of the leading figures in the assassination plot – with a mission to make the British government aware of the resistance to Hitler and to persuade it to abandon appeasement. If the British were seen to be willing to use force, the opposition in Germany would have the support that it needed among Germany's High Command to move against the Führer. Sadly, his mission failed.

In 1940, at 18, Ewald-Heinrich joined the Wehrmacht as an infantry officer. He was wounded on the Eastern Front early in 1944. Recuperating, he received a telegram recalling him to his unit. He assumed he would be required to resume his duties, but when he arrived, he received an unexpected request: to carry out a suicide mission to assassinate the Führer. The telegram had come from Colonel Claus Graf Schenk von Stauffenberg, leader of the planned coup.

Von Kleist asked for 24 hours to think it over. Like his father he had never had any love for Hitler. He had been initiated into the plotters' circle by fellow officer Graf von der Schulenburg, who was close to Stauffenberg.

After a discussion with his father, he agreed to the mission. Kleist and his men were scheduled to show Hitler new uniforms that had been tested at the front. He planned to set off explosives hidden in his briefcase. He believed that he might have been able to escape alive, even if the briefcase exploded in his hands. But like earlier attempts, the plan was abandoned, as Hitler put off the scheduled uniform demonstration.

When that plot failed, Operation Valkyrie was embarked upon. This was the attempt on 20 July 1944 to assassinate Hitler by detonating a bomb-laden briefcase left by Stauffenberg at Hitler's eastern headquarters. The bomb went off but failed to kill Hitler. Ewald-Heinrich was carrying out various tasks at the plotters' HQ, tasked once Hitler was dead with overseeing the arrest of officers and officials loyal to him in the city.

His father was among those arrested the next day. He was convicted at the notorious "People's Court" and guillotined at Plötzensee Prison in Berlin on 9 April 1945. Ewald-Heinrich was also arrested and questioned by the Gestapo – he survived the interrogation, he said, by playing "the role of being young and stupid and unpolitical." He spent four months in Ravensbrück concentration camp but, remarkably, the case against him was dropped for lack of evidence.

With the help of a higher officer he was sent to Italy on a fictitious secret mission. Just before the end of hostilities he led his unit against the advancing Americans and was taken prisoner. In March 1945 Schmenzin surrendered to the Red Army; the inhabitants were expelled and the village became part of Poland.

After the war Von Kleist made his home in Munich, where he went into publishing. In 1952 he founded the independent the Society for Military Studies, and the European Military Studies magazine in 1954.

In 1962 he established the annual Munich Security Conference on international security policy, which he led until 1998. Backed by BMW, the defence company Krauss-Maffei Wegmann, Barclays and other concerns, in 2013 it attracted the US vice-president Joe Biden, Russia's Foreign Minister Sergej Lawrow, Nato General Secretary Anders Fogh Rasmussen and EU Commission President José Manuel Barroso. Since 2009 there has been an annual Ewald von-Kleist Award for services to peace and conflict resolution; the first recipient was Henry Kissinger.

Ewald-Heinrich von Kleist-Schmenzin, soldier and publisher: born Schmenzin, Pomerania, East Prussia 10 July 1922; married 1960 Gundula Freude (one son, one daughter); died Munich 8 March 2013.