Fashion Rules: how tablets fit in to Kensington Palace's latest exhibition

published 29/07/2013 at 12:38 BST by Stuart Dredge

Customised version of Paper app helps visitors design their own versions of royal dresses worn by the Queen, Princess Margaret and Diana, Princess of Wales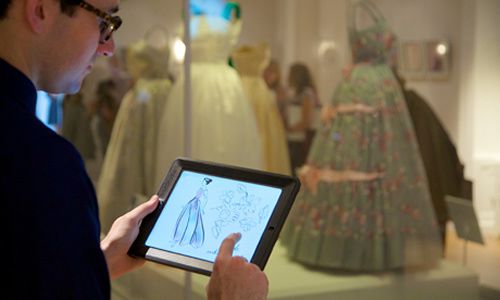 The Fashion Rules exhibition at Kensington Palace has its own iPad app for visitors. Photo: Historic Royal Palaces
As a technology journalist, I'm much more used to staring at whizzy apps than sparkly dresses. The latest exhibition at Kensington Palace in London combines both, with dresses worn by the Queen, Princess Margaret and Diana, Princess of Wales, and a tablet app to help visitors design their own.

The exhibition is Fashion Rules, which opened in July and will run until summer 2015. The app is a customised version of Paper by US startup FiftyThree, created specifically for the exhibition, and running on iPads placed in the galleries where it's being held.

"We wanted to avoid at all costs simply 'bunging technology' into the space," says Tim Powell, digital media manager at Kensington Palace, explaining that Fashion Rules marks the first time the building has had Wi-Fi available in an exhibition space.

"We wanted to help people to truly engage with the narrative of the exhibition. And this is the first time we've had people pushing content out from an exhibition space, being able to share it."

Powell says that Paper was the first app that sprang to mind when planning the interactive element of the exhibition, which displays dresses worn by the Queen in the 1950s, Princess Margaret in the 1960s and 1970s, and Diana, Princess of Wales in the 1980s.

The Fashion Rules version of Paper is pre-populated with dress outlines, leaving visitors to choose from themed palettes for each era, and digitally colour the garments in.

They can then email their picture to themselves, and (if they want) also share it on the official Fashion Rules Tumblr blog, where images are checked by the Palace's team before being posted.

In other words: no dresses decorated with genitalia graffiti or anti-royal slogans. "We haven't had anything bad posted yet, but we have to have that moderation layer in," says Powell.

For now, the Fashion Rules version of Paper can't be downloaded from iPad's App Store, which means it can only be used on the tablets within the exhibition. That's a deliberate decision on the part of Kensington Palace and FiftyThree.

"What this allows you to do is look at a dress and draw it, in order to create something beautiful that you can take away with you and show to your friends," says Powell.

"In a sense, what's important about it for me is that it's specific: it's about that dress and you creating something in that space. If you used the app somewhere else, it would just become more of a colouring-in book."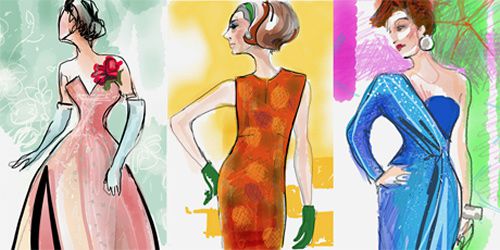 Some dresses coloured in using the Fashion Rules app. Photo: Historic Royal Palaces
How has the app gone down with visitors? It's early days, but Powell notes that there are often crowds around the iPads and the staff who are demonstrating the app, with some creative results already shown on the Tumblr.

"We have family fun-days, which will now include a session doing illustrations on iPads, and colleagues in education are really excited about it too," he says.

"We have formal GCSE and A-Level fashion sessions, and part of that will be fashion illustration using the app. Colleagues were coming in even while the app was in development with ideas about what they might be able to use it for."

The use of a tablet app to complement an exhibition is also a big step forward for Powell's digital media team, which is well established at the Palace, but also traditionally restricted in its scope.

"Over the last few years, we've had a digital team in place right from the very start when an exhibition is being planned, up to two years before it actually opens," says Powell.

What's been lacking at Kensington Palace – which as a Grade I-listed royal palace isn't the easiest place to shove more cables into the walls for connectivity – is the infrastructure to add interactivity to the actual exhibitions.

"So we've been focused on cool viral stuff to get people here, and encouraging people to share content afterwards. Very marketing/comms focused, rather than augmenting the exhibitions themselves," says Powell. "This is very exciting, and long wished-for."