From the archive, 27 March 1950: Professor Harold Laski - an appreciation

published 27/03/2012 at 07:30 BST

Originally published in the Manchester Guardian on 27 March 1950: The sudden death of Professor Laski removes one who combined with unusual charm of personality a diversity of intellectual gifts bestowed on few.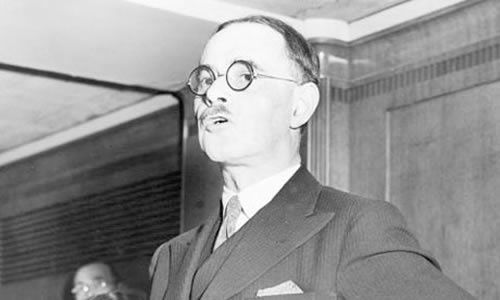 Professor Harold Laski addressing an audience while Labour party chairman. Photograph: Picture library
The sudden death of Professor Laski removes one who combined with unusual charm of personality a diversity of intellectual gifts bestowed on few. As scholar, teacher, publicist, and man of affairs he made his influence felt on several different planes of thought and action. He was almost equally at home in England and America: and, while he numbered among his friends leading figures in the public life of both, he was never too preoccupied to devote time and energy to the personal problems, whether of pupils, colleagues in the Labour movement, and academic life, or victimised workers which his unfailing kindness caused to be laid before him.

His vivacity, quickness of judgement, and swift indignation at any hint of injustice sometimes occasioned collisions between him and slower minds: but no man was more generous in seeking reconciliation. It is difficult to say whether the causes which he served to the end with unflagging enthusiasm or the countless individuals who had learned to look to him for help and encouragement will feel his loss most deeply.

Laski's contributions to political thought will be more fairly judged a generation hence than they can be today. His brilliance as a teacher was visible from the first moment that he opened his mouth. Armed with a few lines on half a sheet of notepaper he could hold his hearers spellbound. He was equally at home with academic and less sophisticated audiences, and was as skilful in eliciting the best from individuals as in inspiring large gatherings. The secret of his power was simple. It was genuine unforced affection for human beings and a delight in sharing his knowledge with them.

Two recent examples are vivid in the writer's mind. The first was a visit paid by Laski to an obscure American college founded to secure equal educational opportunities, irrespective of colour and political creed, for all attending it. He could have lectured for five times the fee at any one of a dozen well-known universities. It was characteristic of him that he should prefer to devote his few weeks of leisure to an effort to help a struggling institution to find its feet. His reward was a gratitude on the part of its students expressed in terms not far short of adoration.

The second occasion was his appearance during the recent election at a meeting which, after addressing the same evening several others, he just managed not to miss. He was so obviously a sick man that the chairman thought of sending the audience home and later regretted that he had not done so. But once Laski had arrived no one would have gone; and he contrived, though in evident distress, to make a speech which, if it lacked something of his usual fire, was eloquent and persuasive.

He was not of those – a large and influential band – who regard the omission from the beatitudes of the maxim "Blessed are the discreet" as a regrettable oversight. There were occasions in his career when an excess of zeal on the side of the light betrayed him into utterances welcomed by his critics and - what he minded more – embarrassing to his friends. But if impetuosity is a fault it is a more pardonable one than a self-regarding prudence. The world would not be a worse place if more men were equally reckless in sacrificing their personal convenience, leisure, and health to the service of a cause.