German Court Concludes Hearing in Israel of Nazi Camp Survivors

Jewish Telegraphic Agency published 10/02/1965

Tel Aviv, Feb. 9 (JTA) – The first hearing in Israel by a West German court receiving testimony in a Nazi war crimes trial ended here today in an Israeli courtroom under the Israel national emblem and in the presence of an Israeli magistrate.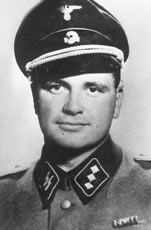 The court officials, consisting of the judge and trial attorneys, flew to Israel from Dusseldorf to hear evidence against 10 former personnel of the Treblinka murder camp. The unique hearing, which began Sunday, was decided on because two Treblinka survivors, Mrs. Bronca Sucko, and Yaacov Domb, were unable to go to Dusseldorf because of ill health. Both are receiving medical treatment.

Mrs. Sucko testified that Kurt Franz, the Treblinka commandant, whipped a Jewish boy to death. Asked by the West German judge, H. Bach, what else she remembered of her Treblinka experiences, she could only reply; "I remember bodies. I remember the horrible stench of burning bodies."

Domb described his "dreadful memories" of the camp where "arch butcher" Franz and his aides "caused so many deaths in so small a camp." An estimated 700,000 Jews were murdered in the camp between July 1942 and November 1943. He described the commandant's huge dog, who, he said, was trained to bite victims in particularly painful places.

Judge Bach asked the two witnesses a number of additional questions. However, the five defense attorneys who accompanied him seemed so overwhelmed by the horrors described by the witness that they did not ask many questions. The court returned to Dusseldorf to proceed with the trial, which began last October 12. Another 21 witnesses are scheduled to testify.