Germans Weigh More Charges for Nazi Guards

published 05/10/2011 by Nicholas Kulish

Berlin — German officials are considering filing charges against former Nazi death camp guards after a legal precedent set in the John Demjanjuk trial appeared to make it far easier to win a conviction more than 66 years after World War II ended.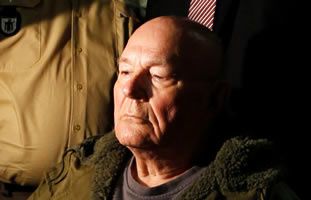 The authorities are busy scouring hundreds of cold case files, raising the prospect of an eleventh-hour reckoning for former Nazis now in their 80s and 90s.

"I hope that we can make it through all the files within a year," Kurt Schrimm, the head of the Central Office for the Investigation of Nazi Crimes in Germany, said Wednesday in a telephone interview.

Mr. Demjanjuk, 91, was convicted in May by a German court of being an accessory to murder in 28,060 cases, the number of people who died during the time when he was a guard at the Sobibor camp in Nazi-occupied Poland.

Prosecutors in Munich did not present evidence that Mr. Demjanjuk had committed a specific crime. Instead, the case was based on the theory that if Mr. Demjanjuk was working at an extermination camp, his function as a guard automatically made him an accessory to the murders committed there.

It was the first time prosecutors had made such a legal argument in German courts.

"No individual guilt was proven, how on such and such a day, this or that person was killed," Mr. Schrimm said. "We stepped onto virgin territory, and the court in Munich validated us."

As a result, employees at the central office have begun looking through files for additional cases that could be prosecuted against guards at extermination camps and members of "Einsatzgruppen," or mobile SS killing squads. The Associated Press first reported the reopening of the dormant investigations.

Acting so many years after the war, justice officials are trying to move quickly to determine whether there are additional Nazis and their collaborators who can be prosecuted. It was unclear how many cases the new endeavor might yield, given the time that had passed, but Mr. Schrimm said they were going through hundreds of files.

The decision was welcomed by Efraim Zuroff, the Simon Wiesenthal Center's chief Nazi hunter. "The Demjanjuk conviction has created the possibility to prosecute perhaps as many as several dozen Holocaust perpetrators who served in the most lethal Nazi installations and units, and basically spent as much as two years carrying out mass murder on practically a daily basis," Mr. Zuroff said.

Mr. Zuroff said he met with Mr. Schrimm in mid-August to discuss the implications of the Demjanjuk trial for further prosecutions of Nazi cases.

Mr. Schrimm said that investigators were pursuing other avenues in their search for additional Nazi war criminals, with trips planned to Russia, Belarus, Greece and Brazil. "As long as the possibility of finding additional perpetrators is there, our work continues," Mr. Schrimm said.

Mr. Demjanjuk was a retired autoworker living in Ohio when his past as a guard was uncovered. His case first attracted worldwide attention when he was identified wrongly as the notorious Treblinka guard known as Ivan the Terrible. Mr. Demjanjuk is in a nursing home in Germany awaiting his appeal of his conviction.