Gloria Stuart dies at 100 Titanic actress
Stuart was a leading lady in 1930s films, then gave up acting and turned to art. Her role in 'Titanic' earned her an Academy Award nomination.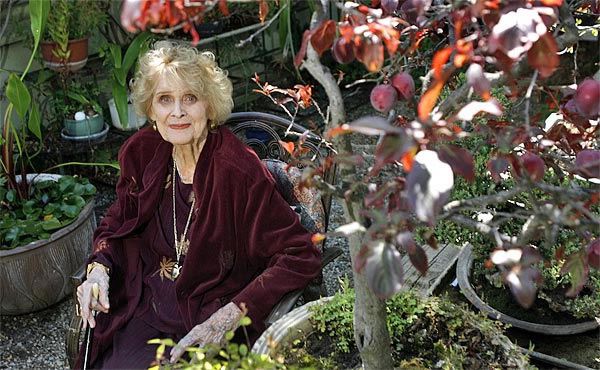 Gloria Stuart, a 1930s Hollywood leading lady who earned an Academy Award nomination for her first significant role in nearly 60 years — as Old Rose, the centenarian survivor of the Titanic in James Cameron's 1997 Oscar-winning film — has died. She was 100.
For the record : Gloria Stuart: The obituary in the Sept. 28 LATExtra section of Gloria Stuart, the actress who became an artist and fine printer, said that her artwork is in the collection of the J. Paul Getty Museum in Los Angeles, among others. Her work is collected in the Getty Research Institute, not the museum.
Stuart, a founding member of the Screen Actors Guild who later became an accomplished painter and fine printer, died Sunday night at her West Los Angeles home, said her daughter, writer Sylvia Thompson.
Stuart had been diagnosed with lung cancer five years ago.
"She also was a breast cancer survivor," Thompson said, "but she just paid no attention to illness. She was a very strong woman and had other fish to fry."
In July the actress was honored at an "Academy Centennial Celebration With Gloria Stuart" at the Samuel Goldwyn Theater in Beverly Hills.
"She was a charming and beautiful leading lady in the '30s, and I never understood why her career didn't go further at that time," film historian and critic Leonard Maltin, who interviewed Stuart on stage at the event, told The Times on Monday.
As for Stuart's high-profile comeback in "Titanic": "She was thrilled by the attention that that performance brought her and really wanted to win that Oscar. I thought she hit just the right notes in that performance. She was wry and engaging."
As a glamorous blond actress under contract to Universal Studios and 20th Century Fox in the 1930s, Stuart appeared opposite Claude Rains in James Whale's "The Invisible Man" and with Warner Baxter in John Ford's "The Prisoner of Shark Island."
She also appeared with Eddie Cantor in "Roman Scandals," with Dick Powell in Busby Berkeley's "Gold Diggers of 1935" and with James Cagney in "Here Comes the Navy." And she played romantic leads in two Shirley Temple movies, "Poor Little Rich Girl" and "Rebecca of Sunnybrook Farm."
But mostly she played what Stuart later dismissed as "stupid parts with nothing to do" — "girl reporter, girl detective, girl nurse" — and "it became increasingly evident to me I wasn't going to get to be a big star like Katharine Hepburn and Loretta Young."
After making 42 feature films between 1932 and 1939, Stuart's latest studio contract, with 20th Century Fox, was not renewed. She appeared in only four films in the 1940s and retired from the screen in 1946.
By 1974, "the blond lovely of the talkies" had become an entry in one of Richard Lamparski's "Whatever Happened to" books.
Writer-director Cameron's $200-million "Titanic" changed that.
Stuart played Rose Calvert, the 100-year-old Titanic survivor who shows up after modern-day treasure hunters searching through the wreckage of the sunken ship find a charcoal drawing of her wearing a priceless blue diamond necklace.
Stuart's performance as Old Rose frames the 1997 romantic- drama that starred Leonardo DiCaprio as lower-class artist Jack Dawson and Kate Winslet as the upper-class young Rose.
In "Gloria Stuart: I Just Kept Hoping," her 1999 autobiography, Stuart said that after reading the script, "I knew the role I had wanted and waited for all these many years had arrived! I could taste the role of Old Rose!"
Cameron told The Times in a 1997 interview that he chose Stuart because he was "looking for a pro from the '30s or '40s, someone probably retired, maybe off the Hollywood radar for awhile."