Gwyn Hanssen Pigott obituary

published 11/07/2013 at 17:55 BST by David Whiting

Potter who worked in Australia, Britain and France, and created a new language for ceramics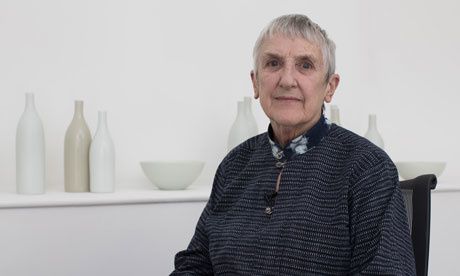 Gwyn Hanssen Pigott at the opening of her solo exhibition at Erskine, Hall & Coe in London in June 2013. Photograph: Michael Harvey/courtesy of Erskine, Hall & Coe
Gwyn Hanssen Pigott, who has died aged 78, was Australia's most distinguished potter. Because she had learned much of her craft in England, training with some of its best-known figures, and had set up her first studio in London, she achieved honorary status as an important British artist as well. The association with Britain has been rekindled in a memorable series of exhibitions in the UK over the past 20 years, and it was while visiting London for the latest of these that she suffered a stroke.

Hanssen Pigott created a new language for ceramics through her famous still-life groupings of pots, some extended into larger assemblies of pieces: bowls, bottles, beakers, jugs and cups displayed in carefully orchestrated arrangements. They were sculptural artworks, but used the most basic language of pottery forms, of everyday objects. Her roots as a functional maker were always clear, and owed much to her first teacher, the pioneering potter Ivan McMeekin, and her early admiration for Song dynasty Chinese pottery.

Born Gwyn John in Ballarat, Victoria, she discovered the beauties of oriental pots at the National Gallery of Victoria while a fine art student at Melbourne University. She was greatly influenced by Bernard Leach's A Potter's Book. Hearing about McMeekin, she succeeded in becoming apprenticed to him at his Mittagong studio in New South Wales. She was immersed in a creative philosophy that embraced the processing of raw materials, the rhythms of throwing on the wheel, and wood firing, all aspects that she carried with her in what she described as "a very graceful potting life".

In 1958, keen to build on this knowledge, she travelled to Britain to work with a succession of noted potters including Leach, Michael Cardew and Ray Finch. It was while she was with Finch at his Winchcombe workshop that she cycled 25 miles to my father Geoffrey Whiting's pottery in Worcestershire, arriving late in the evening and unannounced. Her energies were clearly devoted to her new passion, and to a studio movement only just burgeoning. In 1960 she and her husband, Louis Hanssen, set up a workshop in a basement in Notting Hill, London, where she produced well crafted tablewares for outlets including Heal's and Primavera, and she made useful contact with the potter Lucie Rie, which helped to inject a crisp modernity into her work.

In 1966, after the end of her marriage, Hanssen Pigott established a pottery at Achères, in the Loire valley, where she made handsome domestic ware in rich, muted glazes, as well as elegant, thinly potted porcelain and stoneware pieces that were premonitory of her later work. In 1973, she returned to Australia and subsequently created a studio in Tasmania with her second husband, John Pigott. She experimented further with wood firing, enjoying the varied surface effects of pots brushed by kiln flame. In a few years she was concentrating on porcelain alone, working with the chromatic combination of cool celadons and warmer orange and ochre surfaces.

By the late 80s, during which time she had residencies in Adelaide and Brisbane, the forms were stripped down to essentials, and the pots soon arranged in spatially nuanced configurations. Her admiration for the painter Giorgio Morandi was a particular catalyst. Hanssen Pigott loved the intensity of Morandi's gaze, his ability to make commonplace utility objects into something poetic. She enjoyed his focus on negative space, the pauses and intervals in his carefully staged groups. Hanssen Pigott translated such ideas into the studied poise of her increasingly ambitious, often lengthy, clusters of pots – pieces that were refined, quiet and superbly finished, and that intelligently explored relationships of shape, colour and tone. The effect was painterly as well as sculptural.

By the time she had moved in 1989 to Netherdale, in the sugar cane country of Queensland, her international reputation was being consolidated by extensive travelling and teaching, and by solo shows in countries including Britain, Australia, the US, Germany, Canada, Switzerland, Japan and Italy.

In London she was given beautifully presented exhibitions at Galerie Besson, Tate St Ives, and finally at Erskine, Hall & Coe. In 2002, shortly after moving to her last studio, at Ipswich in Queensland, she was awarded the medal of the Order of Australia; this was followed by a rare retrospective at the National Gallery of Victoria where, 50 years earlier, she had first fallen in love with ceramics.

She was energetic and lively in personality and prodigiously gifted, technically and intellectually; no one was more engaged with the language of clay or the wider visual world. As she said of the luminous translucency of her mature work: "The way the pots transform in light is something special to me because this reflects what we are as human beings, ordinary but with the possibility of joy."