Hair Hitler storm : Fury at TV shampoo ad starring Adolf Hitler

published 26/03/2012 at 17:35

During the controversial TV ad, the Fuhrer is seen giving a vitriolic speech - dubbed over with a high-pitched voice telling men to buy Biomen shampoo.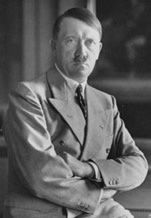 A Turkish TV commercial which appears to show Adolf Hitler urging male viewers to use a shampoo for "real men" has sparked international outrage.

During the controversial advert, the Fuhrer appears in a black and white film giving one of famously vitriolic speeches.

But his German diatribe is dubbed over with a high-pitched voice, which demands in Turkish, "Why are you using woman's shampoo if you're not wearing a woman's dress?

"Now there's the hundred percent men's shampoo Biomen. A real man uses Biomen."

The video then cuts to a picture of the shampoo bottle with the on-screen message, "Real men use Biomen."

Critics have called the 12-second commercial "repulsive" and "deeply offensive".

Abraham H. Foxman, director of the US-based Anti-Defamation League, said in a statement released by the group: "The use of images of the violently anti-Semitic dictator who was responsible for the mass murder of 6 million Jews and millions of others in the Holocaust to sell shampoo is a disgusting and deplorable marketing ploy.

"It is an insult to the memory of those who perished in the Holocaust, those who survived, and those who fought to defeat the Nazis.

"This video is just the latest example of the use of Holocaust imagery in some countries to sell commercial products, which has contributed to the trivialization of and desensitisation to the unparalleled horrors of the Holocaust.

"There can never be any justifiable purpose for using the images of Hitler, Nazis or any other depiction of the Nazi killing machine to sell products or services."

The Turkish Jewish Community said in a statement: "We follow with sadness and regret the use of Hitler figure in the Biomen Men Shampoo advertisement, which was brought to the screen in recent days

And Turkish newspaper Hürriyet also described the advert as irresponsible and tasteless.

Despite widespread criticism, the shampoo ad is continuing to run on Turkey's state television network.