Half of young Britons fail to name date of First World War

published 04/11/2012 at 08:10 AM GMT by Jasper Copping

More than half of young Britons are unable to name the years the First World War started and ended, according to a survey which highlights a "shaky" grasp of even basic details about the conflict.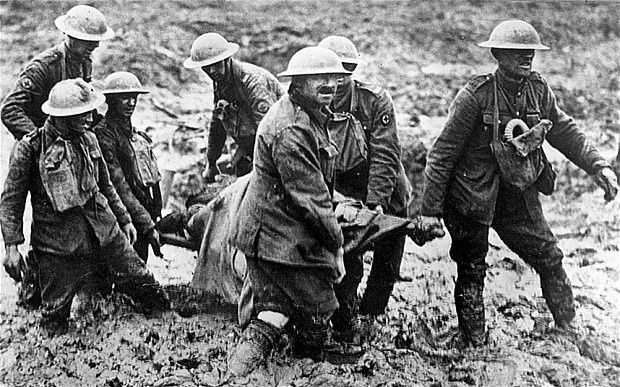 Only 46 per cent of respondents aged 16 to 24 were able to identify 1914 as the year war broke out, while just 40 per cent correctly stated that peace was reached in 1918.

The poll was conducted for British Future, a non-partisan body dedicated to exploring issues of national identity.

It says that the findings showed a lack of knowledge about the Great War and demonstrated the need for schools to improve their teaching of the subject.

The survey has been released ahead of Remembrance Sunday next week, which will see hundreds of thousands of Britons taking part in commemorations at the Cenotaph, in central London, and at smaller services across the country.

The poll also found that 12 per cent of young people believed that Waterloo, which was fought between Britain and her allies and France in 1815 as part of the Napoleonic Wars, was a First World War battle.

Eleven per cent said the Battle of Bosworth Field was part of the conflict, when it was actually fought in 1485 as part of the Wars of the Roses.

And 13 per cent incorrectly suggested that the Battle of the Bulge – which took place in the Second World War during the winter of late 1944 and early 1945 – was part of the Great War.

Only a quarter knew that Passchendaele was a First World War battle. The clash, which took place between July and November of 1917 and was also known as the Third Battle of Ypres, claimed 325,000 Allied and 260,000 German casualties.

One of the major Allied offensives of the war as the British attempted to break the deadlock on the Western Front, it has since become infamous, not only for its catastrophically high death toll, but also for the appalling muddy conditions, pictured right, in which it was fought.

The poll also revealed that the contribution made by other countries to the British war effort was not widely known by young people.

Around 60 per cent of those interviewed were unaware that Australia, Canada and India had helped by sending men to fight alongside the British forces.

Only 24 per cent said, correctly, that Kenya had also provided many troops.

Thousands of soldiers from what was then British East Africa served in the King's African Rifles during a campaign against German forces in the area, with many more serving in carrier and labouring units.

Thirteen per cent incorrectly stated that Turkish troops had fought alongside Britain.

In fact, the country, then part of the Ottoman Empire, was allied to Germany and was invaded by Allied forces during the Gallipoli campaign of 1915.

One in 10 of the age group believed that fewer than 10,000 British and Commonwealth troops died in the conflict.

In fact, twice that number were lost in the first day of the Battle of Somme alone. The true figure for total British and Commonwealth casualties from the conflict was 1.1 million.

While the proportion of correct answers increased in older age groups, there were still some extensive gaps in knowledge.

Across all age groups incorrect responses to the question of when the First World War started and ended ranged from 1800 to 1950 for the start and 1910 to 1960 for the end date. However, the poll did indicate that there was an interest in the conflict.

Of the young age group, 48 per cent said they had visited their local war memorial, while across different age groups, 59 per cent of respondents said that they had done so.

Sunder Katwala, director of British Future, which is calling for flags to fly at half mast and bells to ring on Remembrance Sunday in November 2014 – the centenary year of the outbreak of the conflict, said: "People's knowledge of even the basic facts about World War One is very shaky.

"When most people have forgotten about the Commonwealth troops from Australia, Canada and India it shows us that we really should learn more about our history.

"We've found that it's not just children, but their parents too, who don't know some of the most basic facts about World War One, about the thousands of troops from Kenya and India who fought for Britain, and even the year the war started.

"The centenary in two years' time is a huge opportunity for schools and museums to do more to help our kids and all ages learn more about our nation's history.

"Remembrance helps us to learn about our shared history, that includes people across faith and ethnic backgrounds. There's no point in a shared history if we forget about it.

"This is a great opportunity for museums and schools to trace back our nation's history using tales of our great grandfathers or other relatives. Learning more about the First World War helps us understand more about how Britain has evolved into the nation is it today."

The YouGov poll involved a total of 3,000 people.