Hearing on Skakel appeal focuses on lawyers
published 08/02/2011 at 09:14 PM

Vernon (AP) -- Kennedy cousin Michael Skakel blasted prosecutors and his former attorney during a court hearing Tuesday and insisted on his innocence in his most extensive comments since he was sentenced after his murder conviction in 2002.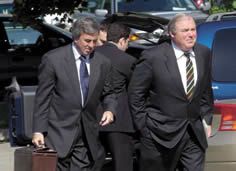 Skakel, a nephew of Robert Kennedy's widow, Ethel Kennedy, spoke by video conference from prison at Tuesday's hearing in Rockville Superior Court on a motion by prosecutors who say his new attorneys may have a conflict of interest as they appeal his conviction.

Skakel's new appeal claims his trial attorney, Greenwich's Michael "Mickey" Sherman, was incompetent. Prosecutors say because his current attorneys represented him on earlier appeals, they may be prevented from advancing claims that they also were ineffective.


The new attorneys deny that argument.

Skakel, sentenced to 20 years to life in prison after being convicted of beating a teenage Greenwich girl to death with a golf club, said prosecutors "want me here for the rest of my life for something I didn't do." He said the fact that retired prosecutor Jonathan Benedict, who tried Skakel, showed up for the hearing "speaks volumes."

"They have disparaged me for the past 10 years, deprived me of my liberty and my child, my freedom, my good reputation, and I don't understand their motivation in trying to take my attorneys from me," Skakel said. Benedict declined to comment after the hearing. The judge said the state was not trying to take Skakel's attorneys from him. Skakel, who appeared heavier than when he was in court a few years ago for an earlier appeal, also harshly criticized Sherman. Skakel said he was shocked once he obtained new attorneys after his conviction to realize "how absolutely incompetent Mr. Sherman was in everything he did."

Sherman next month begins serving a sentence of a year and a day in prison for failing to pay his taxes. "I trusted Mickey Sherman," Skakel said. "He's in jail." Sherman has said he did all he could to prevent Skakel's conviction on charges he killed his neighbor Martha Moxley in 1975 in Greenwich.

The judge did not immediately rule. Under questioning by the judge, Skakel said he wanted to keep his attorneys, Hubert Santos and Hope Seeley, but would be willing to consult another attorney for advice on the matter. He suggested he could consult his cousin Robert F. Kennedy Jr., an attorney and longtime supporter. "I just want my attorneys to represent me in this heinous situation I find myself in," Skakel said. Skakel said he was eager to be released from prison so he could see his son. He grimaced and occasionally threw his hands up as he spoke.

"I ask God every day what is going on here," Skakel said, adding that he had "very little hope and faith" in the criminal justice system. Prosecutors said they plan to defend the appeal in part by arguing that Skakel's attorneys should have raised the issue of Sherman's competence earlier. They said Skakel's current attorneys would not be able to cite their own errors. Skakel said he understood the difficulty of his current attorneys advancing claims that they were wrong. "Nobody wants to admit they're wrong," Skakel said, citing the example of his prosecutors. "That's human nature."