Holocaust Memorial Day: survivor stories

published 28/01/2013 at 11:00 AM GMT by Sophie Wilson

Holocaust Memorial Day marks the 68th anniversary of the liberation of Auschwitz-Birkenau, the largest Nazi concentration camp. Three women share their stories and the precious mementos that survived the Holocaust with them.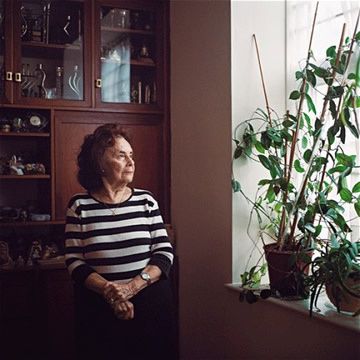 Lily Ebert, 83, (above) was 14 when the Nazis invaded her town of Bonyhád, Hungary. She was sent to Auschwitz with her mother and four of her siblings, staying there for about four months before moving to an ammunitions factory. In April 1945 she was liberated by Allied Forces. She lives in London.

My mother gave me a gold pendant when I was about four. It is the only thing I have from when I was a child, and against all the odds it survived with me through camp, slave labour and a death march. I wear it every day.

After Germany invaded Hungary, in March 1944, Jewish people had to wear the yellow star. Then you couldn't go out after 6pm. Every day came another restriction. When they said we had to give up our jewellery, my brother put my gold pendant in the heel of my mother's shoe.

 A few weeks later they put us in a ghetto, in the poorest part of the country. One day in July we had to go to the station. Cattle trucks were waiting for us. They put 70 or 80 people in one truck. They put in two buckets, one for water, one for human waste. The door closed and our journey began.

I don't think that anybody could imagine what it was like. You had no place to move, you had babies who had no milk, you had no food, the smell, the heat… It is indescribable. A few people, maybe the lucky ones, died. Every so often they opened the door to take out the dead and they gave us a pot of water. A day before we arrived my mother said maybe we should change shoes. I don't know why, but we did.

After five days they opened the doors and said, 'Quick, quick you have to go down.' We had to go and stand in fives. This German man was there with his shining boots and with one movement of his hand he said to go right or left. Old people, children, babies were sent to the left and young people to the right. The people sent to the left were taken straight to the crematorium. That was the last time I saw my mother, younger sister and younger brother. [Lily's father had died in 1942.]

My other two sisters and I were taken to a big place. They cut our hair. They said, 'Undress, leave everything outside, put it nicely together. When you get out from the shower you will find everything there.' When we came out from the shower all they had left us was our shoes.

We saw fire coming out from a chimney, and there was this terrible smell, and we asked the people who were there already, 'What is that? Is it a factory?' and they told us, 'No, that is not a factory that is where they burn your parents and the children who they came with.'

We did not believe it. But very quickly we saw it was true. It was an upside-down world where good was bad, bad was good, where you had no food, where they didn't treat you as humans. A few people who could take no more went and touched the electric fence.

In a way it was a comfort that my sisters were with me but when it came to the selections [to go to the gas chambers] we were afraid that they would take one of us. I knew that if they took me, they wouldn't survive. Because I was the eldest I looked after them as much as I could.

With time, my shoe heels got worn out. So every day I put the pendant in the piece of bread we got, and like that the jewellery survived. I think it was the only gold that went into Auschwitz and came out with its original owner. If somebody there had wanted to give me a little piece of bread for it I would have been very happy to change it because bread was life. Today I would not part from this jewellery for all the money in the world.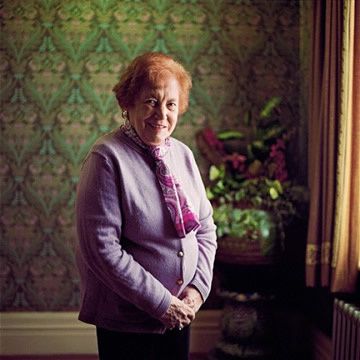 Sabina Miller, 90, was born in Warsaw. In 1940 the Nazis ordered her family into the ghetto. She escaped and moved to the provinces. After working on a farm, she hid in the woods. She then took on various identities, before reaching Germany to work on a farm. She lives in London

I had a wonderful childhood. We were a family of four children, father and mother. Dad had a business in wholesale, Mummy helped him. In June 1939 I remember they gave me a cardigan and a brown skirt for my birthday. I wore it all the time.

In September war broke out. Being Jewish, we had to move into the ghetto. I got sick with typhoid and was unconscious for 18 days. When I came to I didn't have my parents anymore. I don't know what happened to them. I kept saying that my mother had gone to her parents outside Warsaw; it seems I didn't want to accept she was dead. It was lack of clean water. People were dying like flies.

My elder brother hired a Polish man to take me and my little brother out of the ghetto to an aunt who lived in the provinces. Then I heard that some Jewish girls were being taken to work on a farm. I was coming up to 20. I wanted to work because I didn't want to be a burden to my aunt.

It was very tough work. I was one of the lucky ones because the man who stood over us liked us to sing for him. He taught us a very anti-Semitic song and as it happens I used to sing very well. He heard me and he said, 'No, you don't bend down to pick up everything, you can lead the choir.' So I walked up and down while they picked potatoes.

Another man, the farm overseer, knew that we were going to be taken to a camp. He said, 'Please run, I don't want to have you on my conscience.' So a girl I'd got friendly with, Ruszka, and I went up to the woods. Everybody knew that the Germans didn't go into the woods because they were frightened of the partisans. We knocked on one door and the farmer said, 'I know of a hole where you can hide where there used to be partisans.'

He showed us where it was; we had to slide into it. We went round to farms to beg for bread in the evenings. One farmer said, 'Look, you're coming together, you're too obvious. Please come one girl, one day; two days later, the other one.' And that's what we did. We were there for a few months. One day Ruszka didn't come back. I don't know what happened. I asked around where we used to go and they said they hadn't seen her.

In one home the mother said, 'Would you like to go on forced labour for my daughter and she will go to an aunt to hide?' I said yes. They gave me a coat and some clothing, and some shoes I couldn't put on because my feet were frozen, so they gave me boots from the girl's brother, which were twice my size.

I always wanted to go to Germany, it was my dream. I no longer had a home and being sent to Germany as a Polish slave labourer would have ensured my survival. But in Warsaw a doctor looked at my feet and said, 'No, you can't go to Germany to work, we'll send you home. I said, 'No, at home we're very poor. Send me to a hospital,' and that's what he did. Eventually, though, after some time in Warsaw prison and three interviews with the Gestapo I was sent to Germany to work.

I was never able to trace any of my family. I haven't got a single photograph. I had a little wash bag in the hole but it was taken. My cardigan (pictured above) is the one thing I have from my past. It is my link to my parents. I will pass it on to my daughter.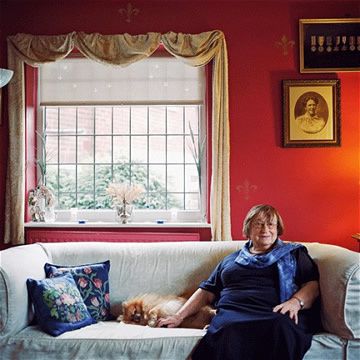 Iby Knill, 89, grew up in Bratislava, in the former Czechoslovakia. After the Nazis invaded, her parents smuggled her into Hungary, where she worked for the Resistance and in 1942 was tortured as a political prisoner. She was sent to Auschwitz. In July 1944 she volunteered to travel as a nurse with a slave labour transport to an armaments factory in Lippstadt. While marching to Bergen-Belsen she was freed by Allied Forces. She lives in Leeds.

In June 1944 I was working as a nanny in Székesfehérvár, in Hungary. I was a political prisoner on parole. I had met a young man, Gaspar, a film producer, and he'd said, 'If you marry me then you are a Hungarian citizen.' So we had fixed that we were going to get married on 12 June.

On the evening of 5 June I went to visit a couple who had a daughter about my age. There was an air-raid so we couldn't go out of the house. During the night Germans with weapons pulled up and loaded up all the [Jewish] people and took them to a brickyard. In the morning 3,000 people were gone. We were told to take warm clothes and food. I was just in what I stood up in, a summer dress and ridiculous high-heeled sandals.

In one part of the brickyard they had evacuated all the Jewish patients from the hospital. I had some nursing experience so they were only too glad of any help. On the evening of 11 June a doctor told us that the next day we were going to be taken away. He gave us cyanide capsules to use if things got too bad. Two doctors, an elderly couple, actually took them that night.

We were put in the last two wagons. On the morning of 12 June 1944, instead of getting married, I was going to Auschwitz. It took five days to get there. When we arrived we were told to leave the old, the sick and the children in the wagon.

I linked arms with a dental technician, a nurse and two doctors – one of whom put a scarf on her head so that you didn't see her prematurely grey hair – and we just jumped out of the wagon and marched up to Dr Mengele. We were singing the Hungarian national anthem. He thought it was hilarious and waved us through. The five of us sticking together, I think, is what saved us because we supported each other.

We were then taken into a big hall and told to strip. A man in stripy pyjamas was going around with pliers opening people's mouths and seeing if there were any gold teeth. Somehow or other I didn't get tattooed; we never found out why. From there we went into another hall. Your hair was shaved everywhere, not just on your head.

You were told to keep your shoes. And there I was in a camp with high-heeled cork shoes with red snakeskin straps. We were showered and given a garment; it stank because it had been disinfected.

We were then taken to the next part of the camp, Birkenau, because Auschwitz was full. There were huge wooden huts there and they put about 500 in each hut, so close together that you had to sleep like spoons. The Capos [prisoners given special privileges by the SS] drew chalk lines to show how much space you had.

Once a week you were taken to be showered, but the place where you were showered and the gas chamber were the same place, and you didn't know when you were going to be gassed or when you were going to be showered.

Between the big huts there was a line of wooden boxes and they put buckets inside them to relieve yourself. Men in striped pyjamas came to empty the buckets and that's how we got any news.

I found out while I was there that my mother was in Auschwitz because she sent a message. But we never met there. [Iby's mother also survived the war.]

When I returned to Bratislava in September 1946 to get married – to a British officer – my mother gave me my father's watch chain (above). I had it made into a bracelet. It has been on my arm ever since. In the autumn of 1944 my brother [who also survived the war] had seen my parents being marched to the station to the wagons that would take them to Auschwitz.

My brother tried to join them but my father said, 'No, get away.' He pulled out of his pocket a handkerchief, knotted in the corner, and threw it towards my brother. In the knot was my father's watch chain.

My father was gassed in Auschwitz on the last occasion they used the gas chamber in October 1944. The watch chain is a direct link to him. It's quite simple, not ornate. It was always there, part of Father.

The Woman Without a Number, by Iby Knill, is published by Scratching Shed Publishing, £13.99

To sign a pledge which invites people to build a bridge in their communities, visit the Holocaust Memorial Day website, hmd.org.uk