Israel, London, New York Commemorate 27th Anniversary of Warsaw Ghetto Uprising
published 04/05/1970

JERUSALEM, May. 3 (JTA) – Israel marked the 27th anniversary of the Warsaw Ghetto uprising today and memorialized the slaughter of six million Jews by the Nazis in World War II. Schools and all places of entertainment were closed. All traffic came to a halt at eight a.m. for two minutes of silence. Parades and rallies were held and thousands of Israelis attended memorial meetings throughout the country.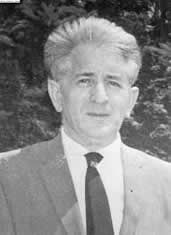 At Jabotinsky Hall in Tel Aviv, Dr. David Wodowinsky, a former ghetto fighter, dropped dead of a heart attack after delivering an impassioned memorial address. He had been commander of the Zionist Revisionist fighters in the Warsaw Ghetto a quarter century ago. (The Association of Polish Jewish ex-Servicemen held a Warsaw Ghetto memorial meeting in London today. Dr. S. Freisner. chairman of the group, declared that "the ghetto fighters stood alone. The help given them from the outside by the Polish population was insignificant. The battle of the Warsaw Ghetto was a battle for the dignity not only of Polish Jews but the whole of Jewry." Dr. Freisner's remarks appeared to be in reply to the official Polish version which sought to convey the impression that the ghetto uprising was the deed of Polish patriots who were only incidentally Jews and that Poles had spilled their own blood to save Jews.)

(Thousands of Jews from the New York metropolitan area marked the 27th anniversary of the Warsaw Ghetto uprising. Mayor John V. Lindsay and Governor Nelson A. Rockefeller proclaimed today as "Warsaw Ghetto Day." New York's Times Square was turned into Warsaw Ghetto Square and at Hunter College there was a solemn candle lighting ceremony beside a symbolic wall to commemorate the heroic uprising by the beleaguered Polish Jewish fighters. As hundreds of commemorate candles for the Warsaw martyrs and the six million Jews who died in the holocaust were lit at Hunter College, participants led by Cantor Zwi Aroni, chanted the traditional "Mole Rachmin," a prayer for the dead.

At Manhattan Center, some 3,000 delegates from Jewish organizations combined observance for the victims of the Nazi terror with the 32nd annual conference of the Council of Organizations of the United Jewish Appeal of Greater New York Israeli Cabinet Minister Aryeh Dulczin and William Rosenwald, New York chairman of the Israel Emergency Fund, were principal speakers. Survivors of the Aushwitz, Bergen-Belsen, and Mauthausen concentration camps joined in lighting candles for the six million Jews. Gov. Rockefeller's proclamation stated that those "who participated in those momentous days of struggle wrote a new page in the history of man's struggle for freedom.")