Jewish Woman Rescued from "mefkure" Tells How Germans Shelled Ship
Istanbu, Aug. 21 (JTA) – A miracle is about to occur at the American Hospital here. Eighteen-year-old Veronica Ladislaus, a Jewish refugee rescued from the "Mefkure," will have her baby, and the doctors predict that both mother and child will live. This is a wonder, for only two weeks ago Veronica survived one of the war's most wanton slaughters. She was saved when the Germans shelled and burned the Turkish refugee ship, the Mefkure, and then machine-gunned the swimmers.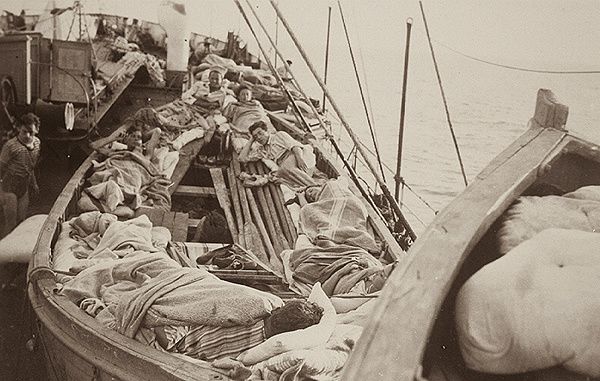 This is Veronica's story. She and her husband lived in Budapest. He had a good job for a youth of 22. They were both champion swimmers. They were young, in love and happy. But they were Jews. So when Himmler's blacklead Schutzstaffel took over Hungary they were doomed. For him, because he was strong, the prospect was hard labor and death; for her, because she was young and lovely, enforced prostitution and death.
Veronica is not coherent on how she reached the port of Constanza, Rumania. She and her husband travelled like gypsies through the Balkan uplands and reached it finally. There were three tiny ships there, the Bulbul, the Morino and the Mefkure, built like Dutch shoes and lacking passenger facilities. The refugees poured in until 1,100 were crammed into the three ships, which perhaps could have accommodated 100 in reasonable comfort for the last lap of the escape across the Black Sea. They were warned. Rumanians whispered, "the Germans are watching you." Stevedores told them, "the Germans will never let you reach Turkey."
But they set out, perhaps the most pathetic little fleet that has ever floated on any sea. They set out at midnight, the 200-ton Mefkure first, the smaller ships following, loaded with Hungarian and German refugees. Dawn came and with it they saw three specks upon the sea behind, slowly approaching, tracking them like a wolf pack after its prey. By dusk it was plain that the trackers were 30-motor German patrol boats.
It came at midnight. First a flare burst over the refugee fleet, its bare, stark whiteness exposing each ship, each mast, each person. The patrol boats opened up. The Mefkure was closest, so they opened up against her. They lobbed cannon shells into her until she caught fire. They ripped her open with 20 mm bullets. The Turkish motor ship burned. Between 40 and 50 of her passengers dived overboard. They were fighting for a chance to live. The others had been incinerated.
Phillip and Veronica were in the water. It was only seven miles off the Turkish coast, but the Germans sought them out with searchlights and machine guns ripped the sea. Their friends died. Phillip cut the life belts from the dead bodies and gave them to his wife. Many times she missed death. A propeller churned inches from her head. Bullets out a phosphorescent path alongside her. Still she survived and swam and floated. When down came, the "Bulbul" picked them and four others up. The Germans had gone. Veronica was landed at the little port of Igeanda, just barely on Turkish territory. From Igeanda, she travelled by oxcart. Today she is in the American hospital and her baby is due within a week.