Konrad Kalejs : Target for Nazi hunters

published 03/01/2000 at 16:10 GMT

To the people of Catthorpe in Leicestershire, Konrad Kalejs is a quiet old man who could sometimes be seen strolling around their quiet English village last year.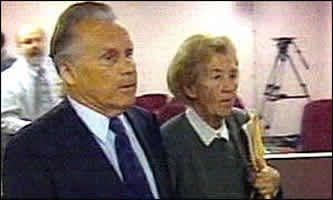 But to Nazi hunters, he is a former senior member of a death squad behind the killing of thousands of Jews during World War II. Mr Kalejs, who is facing deportation back to Australia, was born on 26 June 1913, in Riga, Latvia. At the age of 22 he became a cadet in the Latvian Army Academy and four years later became a lieutenant in the Latvian army.

In 1940, following the signing of the Molotov-Ribbentrop Pact, the Russians overran Latvia, and Mr Kalejs joined the Red Army. But a year later the Soviets were pushed out by the Nazis during Operation Barbarossa. According to the evidence presented at a 1994 US deportation hearing, Mr Kalejs deserted his Red Army comrades and joined a pro-Nazi force called the Latvian Auxiliary Security Police.

The unit was also known as the Arajs Kommando after its leader Viktors Arajs, who was convicted by a German court and sentenced to life imprisonment in 1979 for committing wartime atrocities.

Nazis targeted Jews and gypsies

According to the US Justice Department, from July 1941 until at least June or July 1944, Mr Kalejs was a company commander and first lieutenant in the Arajs Kommando. The Nazis' policy in the occupied Baltic states was to murder all Jews, gypsies and communist commissars. After the Wehrmacht swept through an area, a mobile SS killing crew would follow shortly, hoping to catch victims unaware.

These mobile killing units were called the Einsatzgruppe or, in Latvia, the Einsatzkommando.   According to the US Government's expert witness in the case against Mr Kalejs, Dr Raul Hilberg, a renowned Holocaust scholar and professor of political science at the University of Vermont, the Einsatzkommando assigned to Latvia had just 170 members. So it relied on bands of local collaborators, such as the Arajs Kommando.

As company commander, Mr Kalejs would have been one of six or seven officers below Arajs and would have had at least 100 men under his direction. Dr Hilberg said according to German documents, the Einsatzkommando with the Arajs Kommando and similar local groups murdered 29,000 people (90% of them Jewish) before 10 August 1941. A few months later, in order to make room in Riga's Jewish ghetto for the thousands shipped out of Germany, 27,800 Jews were shot in the woods near Riga in the space of three days.

By January 1942, only 4,000 of the 70,000 Jews who were in Latvia at the beginning of the war were still alive. The Arajs Kommando working with the Einsatzkommando was responsible for more than half of these killings.

Concentration camp duty

The Arajs Kommando also joined the SS in "anti-partisan activity", a cover for arresting and murdering civilians. In addition, the Arajs Kommando, served as guards at the Salaspils concentration camp where inmates died primarily from inhumane conditions or being shot while trying to escape. The Arajs Kommando was charged with guarding work details and preventing escapes at Salaspils, Latvia.

Mr Kalejs has always denied the accusations and says he was a farm labourer during the war. What is not in doubt is that in 1945 Mr Kalejs moved to Denmark and five years later went to Australia as a refugee. He worked for the Australian Immigration Service, gaining citizenship in 1957.

He moved to the United States in 1959, and built up a successful property business, but in late 1984 the US Justice Department set its sights on him after being allerted to the allegations against him.

From country to country

In 1994 he was deported to Australia after a US court declared he had been a "key officer" in the murder of thousands of innocent people. In 1995 he fled from Australia to Canada, but he was also deported from there two years later after a ten-month inquiry found he was implicated in the murder of 30,000 Jews in a Nazi slave camp.

He is thought to have moved to the UK in June last year and was traced two weeks ago by a US television team. Catthorpe Manor in Leicestershire, where Mr Kalejs has been staying, is run by the Latvian Welfare Fund as a home for elderly Latvians. The large property, set in wooded grounds with its own tennis courts and social club, caters for more than 100 elderly people in peaceful, luxurious surroundings.

Mr Kalejs will no doubt be making the most of the luxury because - as he admitted to a Sunday newspaper - he has no chance of peace for the time being.