Lord Campbell of Alloway obituary

published 16/07/2013 at 17:10 by Anne Keleny


Lawyer whose skills saved lives in Colditz. A small black-bound exercise book with squared pages, covered in notes in a tiny, slightly forward-slanting hand, all in pencil, bears testimony to Alan Campbell's war. The young lawyer used his five years incarcerated in Colditz Castle between 1940 and 1945, and his legal knowledge, to save lives. The casebook (now in the archive of the Imperial War Museum in London) records the details of 42 tussles between the German authorities and fellow prisoners of war held at the castle known as Oflag IVC (or 4C).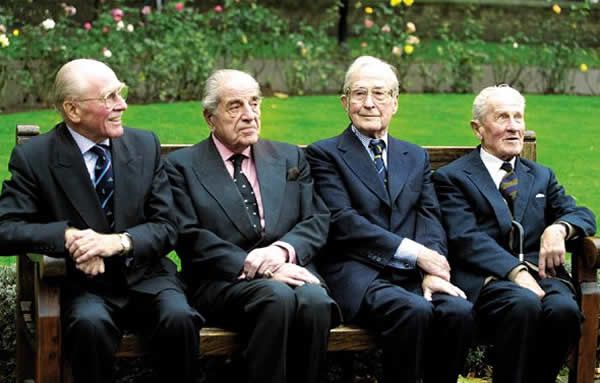 Among those grateful to Campbell were an American colonel and 13 Czechoslovak officers serving with the British Royal Air Force who had been sentenced to death, and whom the powers on high in Hitler's Reich were determined should not be reprieved. Campbell's role is praised in a Top Secret document circulated by MI9 in March 1945 and released recently.

"The magnificent defence put up for each officer by Lieutenant Alan Black Campbell" enabled leniency by the resident judge at the German Supreme Appellate Military Court at Leipzig, the document says. The judge, it adds, "went on to pay a very great tribute to him and said that he was only sorry he was unable to meet him."

The court, having heard Campbell's defence, presented at Leipzig by a local lawyer, set aside the convictions of the Czechs, deemed to have committed treason by flying with the RAF, because their invaded country was considered part of the Reich. The American, Lt Col WH Schaeffer, sentenced to be executed for obstructing a German officer, had with Campbell's help achieved one last appeal hearing, and was saved by the liberation of Colditz, which came on the day the hearing was due, 16 April 1945.

Campbell, known as "Black", paid tribute to "the integrity and humanity of that Court which implemented the concepts of Public International Law and Natural Justice", noting that it appeared "members of the Court were put under intolerable personal pressure to reject all appeals" – by the SS chief Heinrich Himmler – and that an order existed from Hitler, given after the Allied bombing raid on Dresden, 30 miles from Colditz, on 13 February 1945, that about 20,000 British prisoners of war should be shot at dawn.

The cases were presented at Leipzig by a Dr Naumann, in Campbell's words "a good and kind local lawyer", practising in the town of Colditz, who had been a POW in the First World War. Western prisoners were allowed to choose an advocate from among their fellows. Campbell made sure that copies of his arguments went into the pockets of representatives of the Swiss Protecting Power who visited under the Geneva Convention.

Campbell's legal skills also helped to mitigate or even avoid punishments for some of the more popularly celebrated escapers and prison-guard-baiters about whom the various books and films, TV series and documentaries have been written. These included Peter Tunstall, whose name occurs repeatedly in the casebook, against the word "retrial", and Dominic Bruce; both had created disruption.

But Campbell's legal arguments, composed by discussion with the accused and witnesses in out-of-the-way parts of the labyrinthine castle, could take his mind off his own predicament only part of the time. An officer with the Royal Artillery Supplementary Reserve, Campbell had been captured in northern France in the summer of 1940, one of the 34,000 British troops abandoned there as France fell and Britain evacuated from Dunkirk.

He had endured a gruelling forced march to Germany and was sent to Laufen, then Colditz and Spangenberg, from which he tried to escape, then back to Colditz. Of the escape attempt from Spangenberg he wrote in verse: "Two false alarms, a terse farewell / Good luck, goodbye, go up the dell / As freedom's toil was all but done / First wire, then wall, then dry moat won / A sentry on the drawbridge run / Saw the loose rope and fired his gun./Before there was a chance to flee / Out rushed the guard and covered me."

He imagined himself and his fellow prisoners as chess pieces removed from the game, and as well as the legal notes kept under floorboards with escape equipment, he composed more than 30 poems of love, reflection and longing, published in 1953 and reissued, revised, in 2004. The name he gave to the legal summaries, "Colditz Cameos", is also the title he used for his volume of encapsulated human passion from behind bars.

In "Mood Madness" he describes "These bars and fetters, locks and casements / These high-walled courtyards ranged in wire / Engender bitterness and hate / Incensed Tantallian desire", while in "Prison Life" he writes: "The stress of prison life is strange / Each human keyboard has a range / an octave high, an octave low, of which an untried man can't know / until some new restraint imposed / upsets the balance in repose."

The insights he gained were to colour the rest of his life. He made up for having had to cool his heels in youth with a vigorous public career that continued into his nineties, becoming the oldest sitting member of the House of Lords, and one of its most frequent attenders, still appearing and speaking a few weeks before his death.

That career took off with his work as a barrister before the short-lived Industrial Relations Court of 1971-74; he advised and warned the governments of Heath, Wilson, Callaghan, and Thatcher. He was a recorder of the Crown Court (1976-89), and was made a life peer as Lord Campbell of Alloway (the title alludes to Scottish family connections) in 1981.

Thereafter he sat as a Conservative peer on Lords' committees, including the committee for Privileges and Conduct and the committee on Murder and Life Imprisonment, and was on the Parliamentary Joint Committee on Human Rights until 2003. In Lords debates he would cut through mealy-mouthed rhetoric on subjects such as Guantanamo Bay. In July 2003 he asked, on the question of potential coercion of inmates by the US authorities: "Is it correct that these men are denied access to an advocate of their own choice?" In the last year of his life he spoke on subjects including the EU budget, housing benefit, North Korea, and measures to eradicate polio.

Alan Robertson Campbell grew up in Kent and London and was educated at the Ecole des Sciences Politiques in Paris, and Trinity Hall, Cambridge, before being called to the Bar in 1939. From war's end he practised as a barrister on the Western Circuit, taking silk in 1965. Among many positions, he was a consultant on industrial espionage to the Council of Europe from 1965-1974 and President of the Colditz Association until it was wound up in 2006. He wrote many publications, mainly on restrictive trade practices, industrial relations and European law, but never returned to the theme of Colditz, and never went back.

Alan Robertson Campbell, lawyer and author: born 24 May 1917; ERD (Emergency Reserve Decoration) 1996; cr 1981 Lord Campbell of Alloway; married 1946 Diana Watson-Smyth (divorced 1953; one daughter), 1957 Vivien de Kantzow (died 2010), 2010 Dorothea Berwick; died London 30 June 2013.