Lord Fraser of Carmyllie obituary

published 24/06/2013 at 18:59 BST by Brian Wilson

Conservative minister and Scottish lord advocate who oversaw the investigation into the Lockerbie bombing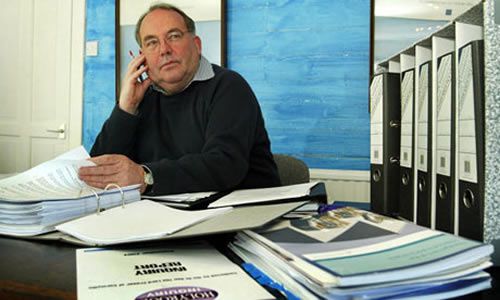 Lord Fraser of Carmyllie presided over the inquiry into the costs of building the new Scottish Parliament building at Holyrood. Photograph: Maurice McDonald/PA Archive
Lord Fraser of Carmyllie, who has died suddenly at the age of 68, belonged to a diminishing breed of Scottish Tory politicians, deeply rooted in his own community, committed to public service and well regarded across the political divide. He held ministerial office under Margaret Thatcher and John Major, mainly in Scotland but latterly as minister for energy. A Queen's counsel, Fraser became lord advocate, the senior Scottish law officer, in 1989 and inherited responsibility for inquiries into the Lockerbie bombing.

He was intimately involved in the collection and assessment of evidence before issuing warrants for the arrest of two Libyans, one of whom, Abdelbaset al-Megrahi, remains the only individual convicted of the most heinous crime in Scottish legal history. Megrahi's conviction in 2001 came after a trial under Scottish law that was held in the Netherlands.

In 2005, Fraser appeared to encourage critics of the conviction when he described one of the key witnesses, the Maltese shopkeeper Tony Gauci, who had identified Megrahi, as "not quite the full shilling" and "an apple short of a picnic". However, both publicly and privately, Fraser retained an absolute belief in Megrahi's guilt – and indeed that of his co-accused.

One of Fraser's most persistent critics was Dr Jim Swire, whose daughter was a victim of the atrocity and who became a campaigner for Megrahi's release. This eventually goaded Fraser into likening Swire's advocacy of the convicted terrorist to "Stockholm syndrome" and added: "He may be good at medicine but it doesn't follow that he is any good at law." Swire retorted that he sought only "truth and justice".

Peter Fraser was the son of a Church of Scotland minister who worked in the missionary field. His early years were spent in Zambia and South Africa before returning to take up a scholarship to Loretto school in Edinburgh after his mother died and his father became terminally ill. He retained a strong Christian faith throughout his life.

Fraser studied law at Gonville and Caius College, Cambridge, before taking a Scottish-law qualification at Edinburgh. In 1969, he was called to the Scottish bar and began a successful legal career that included stints as lecturer in constitutional law at Heriot-Watt University and as standing junior counsel to the Foreign and Commonwealth Office in Scotland. After an unsuccessful candidacy in Aberdeen North in October 1974, he entered the Commons in 1979 on the back of the Scottish Nationalists' collapse, which followed their decision to vote with Margaret Thatcher's Conservatives for the downfall of the Labour government. Fraser was one of the Tory beneficiaries, taking the South Angus seat with a majority of less than a thousand.

In 1982, having become a QC, he was made solicitor general for Scotland and remained in office virtually continuously for the next 15 years. The only brief intermission resulted from the loss of his seat, by then Angus East, to the Nationalists in 1987 as their fortunes revived and the decline of the Scottish Conservative and Unionist party accelerated. Fraser was promptly elevated to the Lords.

He was generally on the left of the Tory party, liberal on social issues and sympathetic to devolution. This reputation made it relatively easy for him to continue as a central figure in Scottish public life following the Tories' loss of office in 1997, and he was repeatedly called on by administrations of varying hues to preside over a range of commissions and inquiries.

The highest-profile of these was the inquiry established by the then first minister, Jack McConnell, into the huge costs involved in building the new Scottish Parliament building at Holyrood. In a memorable summary of the evidence he heard, Fraser observed that "the ancient walls of the Canongate echoed only to the cry of 'It wisnae me.'"

Fraser's report concluded that "castastrophically expensive decisions" had been taken without ministerial approval. His focus on "risks to the public purse" created by a procurement system that did not limit costs arising from design changes served as a stark warning to future managers of comparable projects.

Having completed his ministerial career with responsibility for energy in the old Department of Trade and Industry, Fraser also found a demand for his services in the private sector. He was a longstanding director of Total UK, the London Metal Exchange and Ram Energy. His most active interests were in the Caspian region and he fostered close associations, through friendship societies, with Kazakhstan and Azerbaijan.

Fraser was also a member of the commission appointed by David Cameron to examine the workings of the European court of human rights and to advise on a possible bill of rights.

A gregarious figure who had a wide enough hinterland to keep his political activities in perspective, and possessed of a nice line in self-deprecating humour, Fraser is survived by his wife Fiona, whom he married in 1969, their son and two daughters.


Peter Lovat Fraser, Lord Fraser of Carmyllie, politician and lawyer, born 29 May 1945; died 22 June 2013