Nazi Official Heinrich Muller Found Buried in Jewish Cemetery in Berlin

published 06/11/2013 at 23:37 by Michael Karpienski


Almost seventy years after the crater had been created, just as the Germans thought they had finally come to terms with everything and sealed up all of the horrors and harrowing acts committed during the dreaded Nazi regime, they were shocked to learn that a most venomous corpse was discovered in one of the last places one would look, a Jewish cemetery.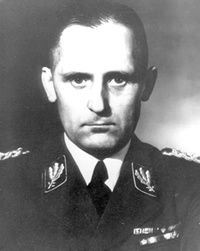 Heinrich Muller, whom is considered by many to be the sole architect of the Holocaust, has been found buried in the very dirt and soil of the earth, next to his victims. He was discovered in the Jewish cemetery "Mitte", in one of the hippest areas in the heart of Berlin.

Muller, the chief of Hitler's Gestapo, was considered one of the prominent Nazi officials to have evaded capture or certified death at the closing of World War II. Holocaust historians say that Western investigators searched endlessly for Muller since 1945, and reports placed him anywhere from Czechoslovakia to the Soviet Union or even Brazil, according to published reports.

And now this discovery of Muller's final destination has really shaken things up. Professor Johannes Tuchel, head of an association that watches over memorials to German resistance fighters, claims to have discovered a document which states he was killed, more or less on May 1, 1945; immediately buried in a provisional grave near the Nazi Air Force ministry, and later reburied in a mass grave in the Jewish cemetery in the heart of Berlin, reports The New York Times.

Though the claim lacks forensic verification, it was reasonable enough to raise a tide of anguish, rage, and dismay in the exact place where such volumes of violence, blood, and treasure have been experienced.

Reports from this recent discovery echo through the walls of Germany, like dark and brooding tones from a time that almost passed. Efraim Zuroff, chief Nazi hunter of the Simon Wiesenthal Center, was incredulous when hearing the news by telephone. "I can't think of a worse desecration of a Jewish cemetery than to bury Heinrich Muller there," he said.

An estimated 70,000 civilians and soldiers are believed to have been killed in the final three weeks of the war in Berlin. In the following months after, each city district organized nonprofessional teams of gravediggers to collect corpses and bury them in mass graves, Professor Tuchel said, according to The New York Times.

He added that there were 16 such graves containing an estimated 2,7000 bodies in the Mitte Jewish cemetery, which is the resting place of the 18th-century philosopher Moses Mendelssohn but was not used for burials after 1829, reports The New York Times.

Muller was one of the few Nazi commanders who imagined and created the Holocaust during the nightmarish historical conference at Wannsee lake in Berlin in January of 1942.

Mr. Zuroff, a doctorate in Holocaust history, considers Muller to be "one of the leading lights of the Third Reich." He's struck with real surprise that investigators who were on Muller's trails in the 1950s and 1960s did not know what Professor Tuchel said he had uncovered.

The professor discovered evidence that a gravedigger, Walter Luders, had spoken with local police in West Germany in 1963, revealing that he had buried Muller, and was even interrogated.

Mr. Luders presented a photo, which was identical to the corpse, and it was understood that Muller was burred in August of 1945 in the Jewish cemetery of East Berlin.

The West Germans never asked the East Germans, so therefore no course of action resulted.

Nothing more after this had materialized in the investigation. It is believed that this was because the cemetery, located in East Berlin, shared no evidence with West Berlin of what in fact had happened. This resulted in news being dissolved before it ever reached anyone.

Mr. Zuroff said of the reported discovery: "This would solve a very perplexing mystery, if it's true. But again, I'd feel a lot better if there was forensic evidence."

The cemetery was handed over to the Jewish community in 1948 in now a place where Jews are remembered and thought of in one of Berlin's most popular areas. Berlin, Germany's capital has always been a place of veritable tumult.

The unburied story that was unveiled, noted Deidre Berger, head of the American Jewish Committee in Germany, expresses, "how little respect there was for human lives," reports The New York Times.

"It is not possible even in death to disentangle the victims from the perpetrators," she said.