Nazi suspect set to leave

published 03/01/2000 at 16:12 GMT

An alleged war criminal staying in a British old people's home has been served with a deportation notice after police discovered they did not have grounds to arrest him.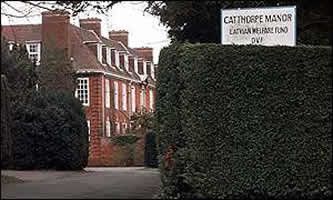 The Home Office's decision to deport 86-year-old Konrad Kalejs to Australia, where he has citizenship, comes as a blow to the Simon Wiesenthal Centre, which hunts perpetrators of the Holocaust.

A spokesman for the Jerusalem-based centre, Dr Efraim Zuroff, told BBC News Online it was a "missed opportunity".

Conservatives have demanded a full Commons statement from Home Secretary Jack Straw. His shadow, Ann Widdecombe, said the decision not to try Mr Kalejs in the UK was "extraordinarily muddled".

But Lord Greville Janner, former secretary of the Parliamentary War Crimes Group, said the government had taken "firm and swift" action.

Earlier, Australia's Minister of Justice, Amanda Vanstone, said Mr Kalejs was free to return there and would be dealt with as innocent until proven guilty.

A Metropolitan Police spokesman said: "Since 30 December officers from the Met's Organised Crime group have made inquiries into the matter and made comparisons with information in the possession of the Australian authorities, and there are at present no grounds for the Metropolitan Police to affect an arrest."

Mr Straw had been urged by the Simon Wiesenthal Centre to hold Mr Kalejs in the UK and prosecute him.

Mr Kalejs, originally from Latvia, is accused of being part of a paramilitary police force which collaborated with the Nazis' Jewish genocide in Latvia in World War II.

He denies having been a member of the notorious Arajs Kommando unit, which actively participated in the mass murder of at least 30,000 civilians, primarily Jews, and calls his accusers "liars and story-tellers".

Mr Straw has come under increasing pressure from campaigners to arrest Mr Kalejs under the 1991 War Crimes Act during his stay at the Catthorpe Manor retirement home in Leicestershire.

Police were alerted to his presence by the Simon Wiesenthal Centre, where there is disappointment about the deportation plan.

'This is a missed opportunity for the British justice system' Simon Wiesenthal Centre's Dr Efraim Zuroff

Dr Zuroff said: "This is terrible because the only chance to bring this man to justice was in Britain or in Latvia.

"If he returns to Australia he will benefit from the country's lax attitude towards Nazi war criminals.

"This is a missed opportunity for the British justice system and I am very upset and disappointed - especially since I just sent the home secretary an appeal urging him to prosecute this man."

Mr Straw had the power to hold Mr Kalejs in the UK but only if an arrest warrant had been issued.

'Most unwanted, wanted man'

Lord Greville Janner, said: "I regret that there is, at present, insufficient evidence to warrant prosecution. In the circumstances Jack Straw is absolutely right to get rid of this man from Britain as soon as possible.

I am leaving this country as soon as I can. I have learned my lesson. The police cannot hold me Konrad Kalejs

"He has already been deported from the United States and Canada and forced out of Australia - he is the most unwanted, wanted man in the world.

"Britain must never become a haven for war criminals and the consequences of this man's actions will follow him wherever he goes."

Mr Kalejs earlier said: "I am leaving this country as soon as I can. I have learned my lesson. The police cannot hold me."

He believes he will be safe in Australia. The country has previously ruled that there was not enough evidence to prosecute him.