published 09/01/2013 at 21:50 GMT

Alasdair Milne had the perfect credentials for the job of BBC director general but the corporation was never far from controversy during his tenure.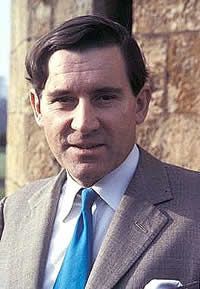 Born in India on 8 October 1930 to Scottish parents, Milne was educated at Winchester and New College, Oxford, and did his national service as a second lieutenant in the Gordon Highlanders.

He was seen as a high-flyer and a future director general very soon after he joined the BBC in 1954 as one of two general trainees chosen from 1,100 applicants.

He moved into television after a brief spell in radio, and by the time he was 30 he was editor of the Tonight programme. He went on to produce That Was The Week That Was and The Great War.

Milne left the BBC in 1966 to be an independent producer but he returned in 1968 as BBC Scotland controller, a post he held for four years.

He then became television's director of programmes and managing director of television, before being appointed to succeed Sir Ian Trethowan as the BBC's 10th director general in 1982.

Libel case

But Milne's time as director general was marked by clashes with Margaret Thatcher's Conservative government.

The criticisms began even before he had officially taken over in July. Conservative back-benchers were among those to accuse the BBC of lack of patriotism during the Falklands conflict.

Then in January 1984, a Panorama programme, Maggie's Militant Tendency, led to a libel action from two Tory MPs and a damages pay out of £500,000.

The BBC later wrongly used a TV-AM interview with Princess Michael of Kent and the corporation also had to pay out more than £1m after a libel action brought by a Harley Street slimming specialist against the programme That's Life.

In August 1985, while Milne was on holiday in Scandinavia, the BBC governors took the decision - after an approach by Home Secretary Leon Brittan - to ban a Real Lives programme which included an interview with a former IRA chief of staff.

BBC and ITV journalists came out on strike. Milne resented the ban, and said later that it had done an immense amount of damage. The programme aired later with slight amendments.

There was more trouble when the Observer made more widely known that certain members of staff were subject to security vetting. The rules were promptly relaxed.

In March 1985, Milne came under pressure when the licence fee for the next three years was set at less than the BBC wanted.

But the fee survived the scrutiny of the Peacock Report the following year. It also agreed that the BBC should not take advertising, but did recommend the selling-off of Radios 1 and 2.

Three months later there was more criticism for the BBC from Conservatives, this time over the way the BBC publicised WWI series The Monocled Mutineer as a true story.

Then a play about the Falklands War was shelved. The author maintained that it was because it showed Mrs Thatcher in a favourable light. The BBC said it was because it would go out too near an election.

In October 1986 the Conservative Party chairman, Norman Tebbit, produced a dossier claiming reporter Kate Adie's TV reports on the US bombing of Libya the previous April had been biased towards Tripoli. Milne accused Mr Tebbit of apparently trying to intimidate the broadcasters.

Milne came under more pressure when a man died rehearsing a stunt for Noel Edmonds' The Late, Late Breakfast Show and the lack of safety precautions were criticised by an inquest.

He also faced questions over the decision to sell the Langham building, opposite Broadcasting House, and build a new centre at White City.

Late in his tenure, there was controversy over the decision to ban, for security reasons, a programme about the Zircon spy satellite, amid more reported pressure from the governors.
'Pushing boundaries'

At the end of January 1987, when the governors and the board of management met at Television Centre, the Chairman, Marmaduke Hussey and the vice chairman Lord Barnett, saw Milne and - so its generally believed - gave him an ultimatum to resign for personal reasons or be sacked. Milne quit.

Some critics thought the BBC was trying to do too much under Milne by expanding local radio and going into breakfast and daytime television, and that programmes were going down market.

But he felt the corporation had an obligation to compete fully over the whole spectrum of broadcasting.

And in his time, he strongly defended the BBC's independence and it flourished creatively, with the launch of breakfast television, Newsnight and EastEnders, and the Live Aid concert broadcast.

In May 1987 he was given the Cyril Bennett Award by the Royal Television Society as a personal salute from the television profession, with judges describing him as a man who always dared and pushed out boundaries.

Milne wrote an account of his BBC career, which was published in 1988.

In later life, he concentrated on fishing and shooting in his beloved Scotland, although there was more controversy in 2004 when he accused female TV executives of dumbing down the corporation with too many lifestyle programmes.

His wife Shelia, whom he married in 1954, died in 1992. He is survived by two sons and a daughter.