Rose Elizabeth Bird (1936–1999)

published 14/12/2011 at 11:00 by Sara Zeigler


Rose Bird, who served as the chief justice of the Supreme Court of California from 1977 to 1986, was a frequent target of political debates over the ideological role of the judiciary and the proper use of judicial power. In almost every job she held, she played a pioneering role, being the first woman ever to hold the position. Like most pioneers, Bird was subjected to a disproportionate level of pubic scrutiny and criticism. Her importance as a judge is a reflection not so much of her actions but of the reaction of others to decisions that raised few questions when made by her male predecessors and colleagues.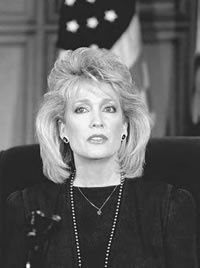 Bird was born on 2 November 1936 in Arizona. Her mother was the influential parent—Bird had only limited contact with her father, who died shortly after her parents separated when Bird was five years old. The family, consisting of Bird's mother and her two older brothers, then moved to New York. Anne Bird provided her daughter with a model to follow, working to support her family without assistance and encouraging both sons and daughter to pursue college degrees. Bird's own activism began as early as high school, with work in student government and as a volunteer for the Adlai Stevenson campaign. Campaigning for an uncharismatic Democrat in a largely Republican area gave Bird an early taste of working against the odds. Indeed, fighting the odds would characterize her professional and personal life, as Bird struggled to overcome sex discrimination to be accepted at work and to engage in a twenty-five-year battle with cancer that first appeared in 1976.

Rose Bird attended Long Island University on a full scholarship, graduating in 1958 with a major in English. She deferred her admission to the graduate program in political science at the University of California, Berkeley, choosing to work for a year and save money for living expenses. After entering graduate school, Bird received a Ford Foundation grant for a oneyear internship with the California legislature. She accepted this internship, which melded nicely with her goal of becoming a journalist, with a focus on politics and foreign policy.

The internship experience convinced Bird that she would make a greater impact as a lawyer than as a political scientist or journalist. She shifted her course of study to law, transferring to Boalt Hall, the law school at Berkeley. There, she met Edmund G. (Jerry) Brown, who would later be elected to the office of governor and would then appoint Bird to the state Supreme Court.

Rose Bird's legal career began with a clerkship for the Nevada Supreme Court in 1965. She was the first woman ever to serve the court in that capacity. Upon completing her clerkship and returning to California, Bird sought a position in the public defender's office and, after several rejections, was hired by Donald Chapman, head of the Santa Clara Public Defender's Office. Bird described her colleagues' reaction to Chapman's decision in an interview: "They thought a woman would be a killjoy. They were afraid they wouldn't be able to continue their Friday afternoon get-togethers. Whoever won a case during the week would buy a bottle and they'd sit around and tell their war stories. They thought if a woman was present, they couldn't swear" (Medsger 1983, 14).

Although the fears were not realized—Bird participated in the Friday "meetings" and bought bottles—the fear reflects the problems she faced in operating in a male-dominated profession. It was not simply a matter of proving her competence. She also had to confront the fear (and often, the reality) that the presence of women would change the working environment.

Bird was a highly effective criminal defense attorney and, in the early 1970s, was employed by Stanford Law School to team-teach clinicals to law students. She was an extremely popular instructor and was frequently lauded by students for her teaching ability. Despite her success in her practice and in her academic career, Bird left both posts in 1974, hoping to open a private practice. Shortly thereafter, she volunteered to help her old law school friend Jerry Brown with his gubernatorial campaign. Upon Brown's victory, he appointed Bird to serve as his secretary of agriculture. She was the first woman ever to hold a cabinet-level position in the California state government.

It was during her service as secretary of agriculture that Bird was first diagnosed with breast cancer, in 1976. She underwent a mastectomy but declined radiation and chemotherapy, opting instead for exercise and dietary changes. She shifted to a strict vegetarian diet consisting mostly of raw foods. Bird's doctors disapproved and predicted that she would survive less than two years. Although she did suffer a minor recurrence in 1977, that episode was followed by a twenty-year remission. Bird also ignored the usual injunction to reduce stress in her life. Instead, she increased it dramatically by accepting Brown's nomination of her for the position of chief justice in 1977.

The nomination itself was controversial. Brown's relationship with the judiciary was tense—he publicly stated that "judges were lazy and didn't deserve a raise" (Medsger 1983, 9). Bird's position in Brown's cabinet, her former role as a public defender, and her utter lack of judicial experience convinced many judges that Brown's purpose in appointing Bird was to provide himself with a voice and seat on the court. Bird faced significant opposition. Nineteen of the eighty deputy district attorneys in Santa Clara came out against her nomination. A number of Republicans in the state legislature were vocal opponents. Roger Mahoney, who would later become archbishop of Los Angeles, wrote a letter decrying her emotional instability. Oddly, the major state law enforcement groups remained silent, although they would later lead efforts to recall Bird and to deny her electoral victory. The widespread fear was that Brown had given the state's judicial "plum" to an inexperienced, liberal activist who also had the singular disadvantage of being female. Bird's nomination was confirmed, and she was sworn into office in 1977. She was the first woman to sit on the California Supreme Court and the first woman to hold the position of chief justice.

Did Bird become the liberal activist that her opponents feared? She was certainly liberal, and she took an active role in fulfilling her public duties. Her initial "activism" was most apparent in the area of judicial administration. She alienated the court staff by sending in a transition team to learn the essentials of her new role as administrator, rather than relying upon the staff to bring her up to speed once she took office. The director of the Administrative Office of the Courts, Ralph Kleps, quickly became an enemy. When Bird took office, Kleps asked her to sign papers delegating some administrative functions to him, as prior chief justices had done. To him, the request was routine, a detail necessary to the continued smooth functioning of the office. Bird refused to sign. Believing that she had fully to understand all of the duties before she could determine which should be delegated, Bird decided to delegate incrementally. As Bird explained:

Unless you understand what you're delegating, you're not fulfilling your proper responsibility. . . . Now, perhaps you ought to delegate a lot of duties which you simply can't do. And I have done that since. But at that point when I was coming in, I didn't know what delegations I was giving because I didn't know what the responsibilities were of the Chief in these areas, and I wasn't about to turn them over to someone that I didn't know very well. . . . I don't do things blindly. (Medsger 1983, 57)

Bird's sense of responsibility and her firm unwillingness to adapt to the existing structure and norms made her even more unpopular with the established staff. Even if she had opted to retain the established practices, it is unlikely that she could have "blended in." She was the first woman chief justice and had been brought in by the governor to "reform" the judiciary.

Bird instigated other reforms that angered those who had benefited from the old system. Rather than allowing justices to retain permanent clerks (who would often draft opinions for the justices), Bird shifted to a rotation of clerks and asked that justices do more of their own writing. Rather than asking retired justices to fill in for absent justices, she supplemented the ranks of substitutes with lower court judges, arguing that they needed an opportunity to learn the practices of the Supreme Court. She refused to allow those former justices who had lost retention elections to hold any temporary positions in the judiciary. These were not insignificant changes, and the discomfort with such change is understandable. Yet even the most minor alteration was the subject of public scrutiny. The replacement of the desk in the chief's office, the changing of locks, and recarpeting (most done at Bird's personal expense) were the subject of reporter questions and news stories.

Clearly, Bird was an activist as an administrator. Was she a liberal activist as a judge? To an extent, the answer to the question is "yes." As should be expected, she heard arguments in many controversial cases and wrote opinions that conservatives characterized as profoundly liberal and improper obstructions of legislative will. Yet Bird's opinions were soundly reasoned and well grounded in the law. Governor Reagan appointees who were openly ideological in their opinion writing did not receive the kind of scrutiny or criticism that was the norm for a Bird opinion.

One of Bird's controversial opinions concerned the constitutionality of Proposition 13, a voter initiative that allowed for a recalculation of property values for tax purposes only upon its transfer (Amador Valley Joint Union High Sch. Dist. v. State Bd. of Equalization, 22 Cal.3d 208 [1978]). The proposition was passed in response to the rapid increase of home values due to a booming real estate market in most of California's metropolitan areas. As a result of increases in market value, taxes (which are based on property value) increased, often to a level beyond the means of the homeowners. The court upheld the constitutionality of the measure, with Bird in dissent. Bird argued against the proposition on equal protection grounds— she contended that the measure would have the practical effect of taxing one homeowner at a much higher level than his/her neighbor, simply because he or she had acquired the property more recently and at a higher price. That effect, she contended, treated similarly situated individuals differently and thus violated the equal protection guarantee of the Fourteenth Amendment to the U.S. Constitution. Bird was correct in her assessment of the practical impact of Proposition 13—it did result in disproportionate taxation of recent buyers. Whether or not such inequality is violative of the Fourteenth Amendment is a matter of continuing legal debate.

Bird was branded as a "pro-criminal" justice for the position taken in the case of People v. Caudillo (21 Cal.3d 562 [1978]). Bird voted with the majority in deciding that rape did not constitute "great bodily injury" for the purpose of a statute designating "great bodily injury" as an aggravating factor for sentencing those convicted of a number of crimes, including rape. The majority's argument was that, if rape was the crime itself, rape could not also be an aggravating factor. Of course, the papers reported that the chief justice and her liberal colleagues believed that rape involved only insignificant injury to the victim.

In another "liberal" decision, Bird voted (again, with the majority) to overturn an appeals court ruling suspending a busing plan that was being used to desegregate the Los Angeles County schools (Crawford v. Los Angeles County Board of Education, 17 Cal.3d 280 [1976]). That decision was characterized as an imposition of busing, although it simply upheld the district's proposed solution to a degree of racial segregation that violated the U.S. Constitution.

Then came the election day disaster of 1978. Bird won retention, but barely, gaining only 51.7 percent of the vote. The Los Angeles Times, in the election day edition, ran a story alleging that the court had delayed release of a key decision on prison terms for criminals who used a gun during the commission of a violent crime. The delay was purportedly engineered by the chief justice and her allies to improve Bird's chances of winning retention.

It is certainly true that Bird's vote in the case of People v. Tanner (24 Cal.3d 514 [1979]) would have done her no good at the polls. The ruling allowed a judge to strike the "use of gun" portion of the charge in a particular case. In the instance in question, the defendant, a former security consultant claiming to be conducting a test, used an inoperable, unloaded weapon. The prosecutor supported the judge's decision, arguing that the mandatory sentence required if the weapons charge remained would be unreasonably lengthy. The decision could be regarded as another "pro-criminal" decision by a liberal chief justice.

After allegations of the delay appeared, Bird herself requested an investigation. The subsequent proceedings served to keep the matter firmly in the headlines, along with casting doubt on the integrity of the Commission on Judicial Performance. The only justice who gave testimony substantiating the allegations was William Clark, a Reagan appointee whose credibility was dubious. Considered an ideologically motivated justice, Clark was singularly unqualified—he failed to complete law school and passed the bar exam on the second try. Clark later became Reagan's national security adviser and was regarded by his colleagues as ill versed in the law and governed solely by political concerns in his judicial decisionmaking. He was certainly a Bird opponent. The commission found no evidence to support the allegations of delay.

Perhaps the most prevalent accusation against Bird was that she torpedoed the death penalty in California. Certainly, Jerry Brown was an opponent of capital punishment who knew that Bird's personal views coincided with his own. The Bird court overturned sixty-one of the sixty-four death sentences that came before it on automatic appeal. The chief justice voted to overturn the sentence in all sixty-four cases. Even the most minor flaw would induce Bird to vote against a death sentence—in her view, the penalty was too serious and too irrevocable to allow for toleration of any error, however minor or apparently harmless. This was the position Bird adopted in justifying her "no" votes. Bird was hardly the only justice, however, who had made decisions opposing the death penalty. The majority voted with her in sixty-one of those sixty-four appeals. Prior to her tenure on the court, in 1972, the court had declared the penalty unconstitutional under the California constitution. A subsequent legislative act was struck down in 1976, on the ground that the United States Supreme Court had declared mandatory death sentences similar to those the act required to be unconstitutional. The penalty was restored in California legislatively in 1977 and then replaced by an initiative passed in 1978.

The cumulative impact of controversy and unpopularity resulted in Bird's defeat in her 1986 retention election. Two other liberal justices, Justices Reynoso and Grodin, were also defeated. As Justice Reynoso noted at a memorial service for Bird,

During her tenure, the body politic of California changed. For decades, there had been an unstated agreement among the political parties that the judiciary would not be the subject of partisan political attack. I recall my own appointment to the Court of Appeal. . . . . Just over five years later, when I was named to this court, the change was dramatic, the hearing contentious, many witnesses appeared and the vote was divided. Partisan politics was in full bloom. During Chief Justice Rose Bird's tenure, she was subjected to several recall political campaigns and to two confirmation votes. She understood that court decisions that angered powerful groups or protected nonmajoritarian rights would jeopardize her position. She remained true to her oath of office; she enforced the Constitution and applied it equally to all. ("In Memoriam" 2000, 1310)

After her 1986 defeat, Bird retired to private life, as she was too controversial to be employable by most law firms. The University of California– Los Angeles (UCLA) offered her an academic post, but she declined it because it would not allow her to continue to care for her mother in San Francisco. Bird continued to do volunteer work and to care for her mother until the older Bird's death in 1991. Rose Bird's breast cancer recurred in 1996, and she underwent a second mastectomy. She lost her battle with cancer on 4 December 1999 and was cremated.