Russian Soprano Galina Vishnevskaya, 86, a Star on the Bolshoi Stage Who Found Acclaim in the West, Has Died

published 11/12/2012 at 20:13 by F. Paul Driscoll

Leningrad, Russia, October 25, 1926 — Moscow, Russia, December 10, 2012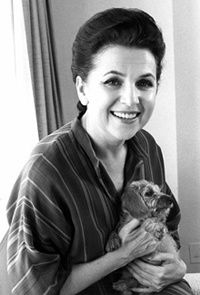 In the 1950s and '60s, when the Bolshoi was the cultural jewel of the U.S.S.R., Galina Vishnevskaya was the queen of its stage — a bold, daring performer whose blazing interpretations of Tatiana in Eugene Onegin, Lisa in Pique Dame and the song literature of Shostakovich and Mussorgsky set the standard for a generation. Vishnevskaya was an outspoken, uncompromising woman of formidable courage and impressive self-awareness — a true diva in every sense of the word. Unlike many divas, Vishnevskaya was also a superb musician — Britten and Shostakovich both composed works for her — and an imaginative actress, whose riveting performance as a widowed grandmother in Alexander Sokurov's 2007 film Alexandra brought her a new generation of admirers more than two decades after she had retired from the opera stage.

Galina Pavlovna Ivanova was born in Leningrad, as St. Petersburg was then known, and was raised principally by her paternal grandmother after her father, an alcoholic, tried to murder her mother. (Vishnevskaya's professional surname was taken from Gyorgi Vishnevsky, who was briefly her first husband.) Vishnevskaya survived the siege of her native city by the German army during World War II and as a teenager was awarded a Defense of Leningrad medal, an honor she often called the "most valuable" of her life. In 1944, she became a member of the Leningrad Operetta Theater, a troupe run by musician Mark Rubin, who became her second husband. Vishnevskaya auditioned successfully for the Bolshoi in 1952, beginning her career there in small roles and achieving significant professional recognition in 1953, when she sang her first Tatiana in Eugene Onegin for the Bolshoi. It was to be her signature role: she recorded it three times and made her farewell to opera in Eugene Onegin, in Paris, in 1982.

In 1955, Vishnevskaya left her husband to marry the incomparable cellist and pianist Mstislav Rostropovich. Their personal and artistic partnership, which produced two daughters and scores of memorable performances, ended with Rostropovich's death, in 2007, at the age of eighty.

Vishnevskaya was awarded the lioness's share of prize roles at the Bolshoi during her great years. In addition to standard-repertory assignments such as Aida, Tosca, Cio-Cio-San and Leonore in Fidelio, she took leading parts in the Bolshoi premieres of Vissarion Shebalin's The Taming of the Shrew (Caterina, 1957), Prokofiev's War and Peace (Nastasha Rostov, 1959), Vano Muradeli's October (Marina, 1964) and Prokofiev's Semyon Kotko (Sofiya, 1970). After news of Vishnevskaya's artistry reached the West, she began to perform outside of the Soviet Union, albeit on a limited basis, while she was very much in her vocal prime. In 1961, she made her Met debut, as Aida, as part of a forty-six-day North American tour arranged by impresario Sol Hurok. Vishnevskaya sang five Met performances — four Aidas, plus one Cio-Cio-San — and sang eleven solo concerts throughout the U.S. during the 1961–62 season. She made several important European debuts in the next few years as well, among them Covent Garden (as Aida, 1962) and La Scala (as Liù, 1964). Britten wrote the soprano part in his War Requiem for Vishnevskaya, but she was not allowed to travel to England for the world premiere in Coventry in 1962. Vishnevskaya was allowed to participate in the making of the Decca recording of the Requiem in 1963, one of her indispensable performances on disc. Other key events in her recorded legacy are her 1956 Onegin, with Boris Khaikin leading the Bolshoi Orchestra; the live 1960 Verdi Requiem paced by Igor Markevitch; and her 1979 recording of Shostakovich's Lady Macbeth of Mtsenksk, with Rostropovich conducting.

In the late 1960s, Vishnevskaya and Rostropovich became more vocal in their support of Soviet dissidents, such as the physicist and human-rights activist Andrei Sakharov and the Nobel-prize winning novelist Aleksandr Solzhenitsyn, who lived and worked in the couple's country home outside Moscow from 1969 to 1973. After the Rostropovichs, who were by then restricted from performing outside the U.S.S.R., left the Soviet Union in 1974, the soprano's name was removed from the official history of the Bolshoi and the soprano and her husband became "non-persons" in the U.S.S.R. They made their home in Paris and in Washington, where Rostropovich led the National Symphony. Vishnevsakaya continued to sing recitals and opera. She made her San Francisco Opera debut, as Lisa in The Queen of Spades, in 1975, the same year that she returned to the Met for a single performance of Tosca. Her voice had lost much of its luster, but at forty-nine Vishnevskaya was still a Tosca in the grand manner.  Her work in Act II was so ferocious that it seemed to many that her Scarpia, Ingvar Wixell, died of fright rather than his stab wounds.

In 1978, the pair were designated "ideological renegades" and stripped of their Soviet citizenship, which was not restored until 1990. Vishnevskaya did not reconcile with the Bolshoi until 1992, when the company telecast a three-hour gala marking the forty-fifth anniversary of her career. She retired from singing in 1988. She continued her humanitarian activities with the Rostropovich–Vishnevskaya Foundation, which works to improve the health of the world's children, and taught voice, chiefly at the Galina Vishnevskaya Center for Opera Singing, which opened in Moscow in 2002.

Vishnevskaya remained unafraid to speak her mind. In 2006, she was so angered by the Bolshoi's untraditional new staging of Eugene Onegin, directed by Dmitri Tcherniakov, that she termed the production "vandalism" and vowed never to set foot in the Bolshoi again. She canceled her planned eightieth-birthday celebrations at the theater that had been her artistic home and marked the occasion instead at Moscow's Tchaikovsky's Concert Hall.