Series of Blows Struck at Reich Jews Since Schacht Quit Economics Post
Berlin, Feb. 1 (JTA) – The significance of Dr. Hjalmar Schacht's resignation as Minister of Economics is being felt at present by German Jewry. Now that he is gone, the Jewish economic structure is suffering a series of unprecedented economic blows.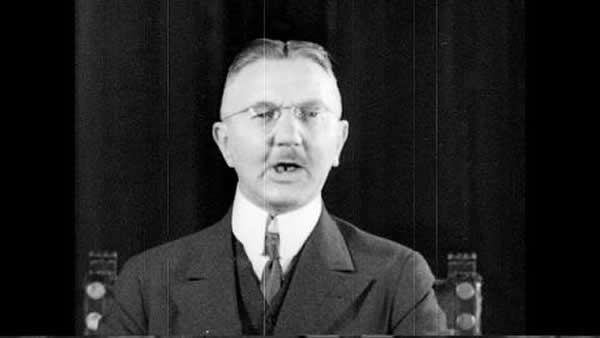 Anti-Jewish economic regulations are issued with such rapidity that it is impossible to keep track of them. The following four developments, none more than a few weeks old, indicate the direction and nature of the flood:
The creation of an "Aryan" organization known as "Adebe" in the clothing and leather industries, which eventually may oust an estimated 20,000 Jews from their jobs;
The slashing of raw material and foreign exchange quotas for Jewish enterprises in all industries;
A request sent to editors of all daily and weekly illustrated journals to refuse advertising of Jewish concerns;
Clarification of the procedure whereby Jewish stores are "Aryanized," in which it is set forth that the good will of an establishment should not be considered in determining the price to be paid for it.
Creation of "Adebe" strikes at the last industrial stronghold of Jewish capital -- the clothing industry. Membership is open to everyone in the clothing and leather industries who is not Jewish and does not employ Jews. The members pledge not to buy from and sell to Jews.
Ostensibly, "Adebe" is a private organization with membership voluntary. But it happens that Otto Jung, its director, is also general manager of the official State corporation for the clothing industry, to which all firms automatically belong. Jung, with his assistants, fixes quotas for all clothing concerns and regulates prices. The "Adebe" membership is growing at a tremendous rate.
For Jews there is the ironic note that if they feel unfairly treated, or if customers and suppliers are intimidated by the "Adebe," their only recourse is to complain to Jung.
The effect of the recent order to slash foreign exchange and raw material quotas in all industries is already being felt. It is known that in some instances the quotas were cut fifty per cent. In many instances, the worst effects will not be felt until later, when the present stocks of Jewish firms are exhausted.
Fears are being expressed in Jewish circles that the suspension of two leading Jewish newspapers may presage important anti-Jewish developments. It was pointed out that Jewish publications were similarly throttled before the issuance of the Nuremberg marriage and citizenship laws in 1935.
The fears were voiced after the authorities, striking the second blow within five days at the Jewish press, suspended the C.V. Zeitung, organ of the Central Union of Jews in Germany, until Feb. 24. Last Friday the Juedische Rundschau, Zionist organ, was similarly suspended until Feb. 26.
All Jewish organizations in Berlin have been ordered to remove from executive positions all foreign and "stateless" Jews. A similar decree regarding clerical and subordinate staffs was issued some time ago.