Son of dead mobster: He needed to be locked up

published 27/12/2012 at 22:06 PM by Bridget Doyle, Chicago Tribune reporter

Frank Calabrese Sr., whose lifetime of murder, extortion, bookmaking and brutality as a member of the Chicago Outfit was laid out in chilling detail in 2007's Family Secrets trial, died in federal prison on Christmas — "one of the few days out of the year he was a good person," according to his son.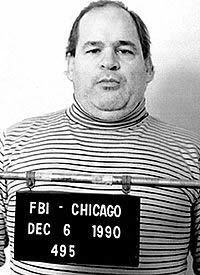 "I've never been comfortable that he was locked up the way he was — but he needed to be," Frank Calabrese Jr., who testified against his father, said Wednesday. "I am comfortable with the fact that he's not suffering in there anymore and that no one else has to suffer on the street."

Calabrese, 75, was an inmate at the Butner Federal Correctional Complex, where he died Tuesday, said a spokesman for the Federal Bureau of Prisons. An examination to determine a cause of death is scheduled for Thursday morning at the North Carolina office of the chief medical examiner, according to Kevin Gerity, autopsy manager for the office.

Calabrese's attorney, Joseph Lopez, said Calabrese had been in poor health during his last few years in prison.

"Last I spoke with him a little over a year ago, he was a sick man," Lopez said. "He was on about 17 different medications. But always a strong-willed individual."

In a sensational trial that captivated the city, Calabrese was found responsible for seven gangland slayings in the 1970s and '80s, racketeering, extortion and illegal gambling. Calabrese's son as well as his brother, Nick, provided key testimony during the long-running courtroom drama, which exposed the inner workings of organized crime in Chicago.

During closing arguments, Calabrese allegedly mouthed, "You are a (expletive) dead man" in the direction of federal prosecutor T. Markus Funk. Funk said Wednesday that those hurt by Calabrese's criminal actions would likely find it hard "to muster much regret" over his death behind bars.

"Calabrese reigned as one of the nation's most prolific and feared mob killers, only to die alone and far from home on Christmas Day," Funk wrote in an email Wednesday. "Whether this qualifies as poetic justice, or the sad final chapter of a largely squandered existence, is for others to decide."

Witnesses said Calabrese was known to strangle victims with a rope and then cut their throats to make sure they were dead. Calabrese Jr., who joined his father's 26th Street Crew as a teenager, testified that his father once "pulled out a gun and stuck it in my face and said, 'I'd rather have you dead than disobey me.'"

Calabrese Jr. said Wednesday that his feelings about his father's death were "not normal emotions of a son."

"There was a good side to my father, but my whole issue with him was he had multiple personalities," Calabrese Jr. said. "I'm thinking about the good after everything we've been through."

Found guilty along with four-co-defendants, Calabrese was sentenced to life in prison in 2009 by U.S. District Judge James Zagel. Also sent to prison as a result of Family Secrets were Outfit members including Joseph "Joey the Clown" Lombardo and James Marcello.

Even while locked away, Calabrese drew scrutiny from law enforcement. Prosecutors alleged earlier this year that he enlisted a prison chaplain to help retrieve a valuable violin hidden in the mobster's former Wisconsin home. The Rev. Eugene Klein, a Catholic priest, has denied the charges against him and awaits trial in the case.

And in 2010, federal agents found almost $750,000 in cash, 1,000 pieces of stolen jewelry and seven loaded firearms hidden behind a picture at Calabrese's Oak Brook home. Agents said they also found recording devices, suction cups used to monitor telephone calls and handwritten notes and ledgers detailing suspected extortion and gambling activities.

Calabrese grew up in the neighborhood around Grand and Ogden avenues, long a locus of organized crime in the city. His formal education ended after grammar school at Otis Elementary, and his entry into organized crime came almost naturally, his son said.

"He was a tough kid and he made money," his son said. "Those are the things (the mob) looked for. He grew up behind an old mob hangout. One day people were sent to the house. They whistled my father in and said, 'Now you work for us.' He was young, maybe late teens or early 20s."

Those who knew him said Calabrese was quick-tempered — no surprise to spectators at his trial, where he regularly glowered at witnesses and at one point blurted out, "Them are lies!" as prosecutors accused him of murder.

"If he heard something, if you shot your mouth off, you'd be having dinner and he'd ask you to come outside and he'd crack you in the head," said Frank Coconate, a friend of the Calabrese family. "He was a throwback gangster. He would fight with his fists and was strong as a bull. But that's the business they're in."

Lopez, who spent hundreds of hours with Calabrese during the Family Secrets affair, said his client "was quick-witted, smart and street-savvy."

"Sure he was difficult at times because he was used to getting his way, but I only saw one side of him, and that was the good side," Lopez said. "We'd talk about cooking, restaurants, history, you name it."

Lopez said Calabrese was very religious and "always talked about how much he loved spending Christmas with his family."

"It was his favorite holiday of the year," he said.

Calabrese Jr., who has severed his Outfit connections and has written a book about Family Secrets, said his father "manipulated religion" to get what he wanted out of people.

"He used religion as a way to get people to open up and trust him," Calabrese Jr. said. "The way he understood religion is different than the way religion is supposed to be understood."

Calabrese Jr. said he hadn't seen his father since the trial more than five years ago. Despite that, he said he was having a hard time dealing with his father's death.

"His passing on Christmas is his way of telling me he's made peace with God," Calabrese Jr. said. "He's with God, he's with heaven. He's over my shoulder making sure I don't make those mistakes again or go back to the person I was … or he was."

Calabrese's other survivors include his second wife, Diane Cimino; four other sons, Kurt, Nick, James and Dominick; and five grandchildren.

Services have not been planned, Calabrese Jr. said.

Tribune reporters Jeff Coen, Annie Sweeney and Rosemary Regina Sobol contributed.