Spitfire unveiled as memorial to WWII fighter pilots

published 09/05/2013 at 03:39 PM BST By Amy Willis and agencies

A full-sized Spitfire has been unveiled in a Scottish town as a memorial to a group of heroic World War II fighter pilots.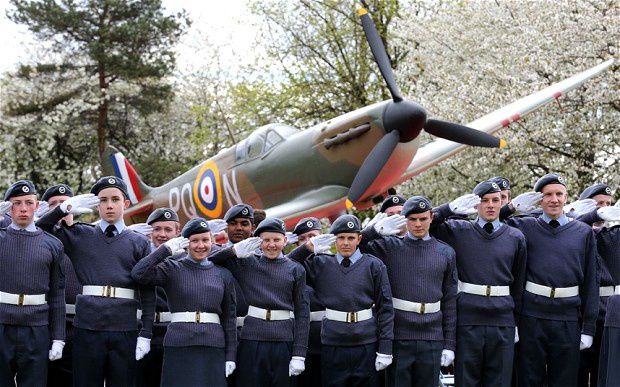 The aircraft will honour the Polish and other international pilots who were killed while serving with a Scottish unit at Grangemouth, Stirlingshire, during World War Two.

It faces a poignant memorial wall and garden which have already been established on the northern perimeter of the former RAF Grangemouth.

The Mk1 Supermarine Spitfire formed the final part of the spectacular £100,000 tribute to trainee pilots who learned to fly the legendary aircraft with 58 Operational Training Unit (OTU) at the beginning of World War II.

A total of 71 trainee pilots were killed while practising daring manoeuvres in the aircraft at RAF Grangemouth.

Iain Mitchell, chairman of the Grangemouth Spitfire Memorial Trust (GSMT), said: "The young men who trained at Grangemouth were among the bravest the world has ever seen, and it is a huge honour for us to be in a position to commemorate their sacrifice with this stunning memorial. It will be the first of its kind in Scotland."



Flying Officer Tom McMorrow, commanding officer of the 1333 (Grangemouth) Squadron of the Air Training Corps, which has organised and raised funds for the memorial, said: "It's been a huge project.

"The Spitfire will make this site a unique and very special memorial. There will be nothing like it anywhere. People will come from miles around to see it.

"It will be something everybody can be proud of."

He added: "Above all, it's been down to the cadets of the squadron who have raised funds for this. These are the best bunch of youngsters you could ever come across – a real tribute to where they come from."

The Spitfire has been built by the company which supplied full scale replicas for films such as Pearl Harbour and Battle of Britain.

It has been painted in Grangemouth RAF colours with the unit markings PQ-N added to it – in commemoration of a fighter flown by a Polish pilot Eugeniusz Lukomski.

Lukomski died when his aircraft crashed near the RAF Grangemouth aerodrome in 1941.

The Spitfire faces the memorial stone unveiled in September 2008, which features his name alongside those of all the other Polish pilots who died, and those from Canada, Australia, New Zealand and America.

Polish RAF airmen played a crucial part in the Battle of Britain against the Luftwaffe.

The highest scoring unit during the conflict was not British but the No 303 Polish Fighter Squadron, and Poles alone notched up more than 500 enemy "kills" by 1942.

But RAF Grangemouth, where many of them took off for battle, is now covered by the town's giant oil refinery and many Scots are unaware it even existed.

Men from Poland – every Polish Spitfire pilot between 1941-43 was trained at Grangemouth – Czechoslovakia, Holland, Belgium, Canada, USA, Australia, New Zealand, Ireland and India were amongst those who trained at the then state-of-the-art Grangemouth facility.