The wartime hero abandoned by MI6

The Observer published 22/05/2005 by Sarah Helm

Frank Chamier was tortured and killed by the Nazis after being caught as a spy, but his Gestapo interrogator never faced war crime charges. Sarah Helm investigates a 60-year-old cover-up.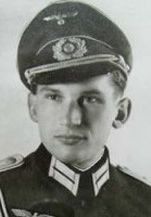 In an Essex bungalow a 69-year-old woman clutches a photograph of a striking young man in a major's uniform. It is of 'Frank of Upwey 282', the curious alias taken by the only MI6 agent ever known to have dropped into Nazi Germany. That alias was passed to Vera Atkins, a young woman war crimes investigator. Without this obscure clue, the fate of Frank Chamier might never have been uncovered.

Even today the woman holding the photograph, Frederica Chamier, knows nothing of what happened to her father. 'We were never told,' she said, almost whispering and looking towards the door, explaining that she did not want her mother, Georgina, aged 102, to hear us.

'She has never spoken to me about my father. All I remember is that she called me into her bedroom one night towards the end of the war and told me to get into the bed with her. Then she held me tight and said: "Daddy has been killed." I think she just felt it. Then she never spoke of him again.'

But Georgina Chamier does agree to say a few words about her husband. Blind and gasping for breath, she says he was 'very special' and 'very brave'. Courage was 'just part of his nature'. She has never believed what she was told about his disappearance. 'I always had my suspicions about what happened. But they never told me the truth. And I always expected he might come back.'

MI6 still denies any knowledge of Chamier, who volunteered for one of the most dangerous of missions. The intelligence service even refuses to confirm that his parachute drop took place. MI6 always carefully guards the identity of its agents, but the secrecy surrounding Chamier is exceptional.

Atkins, an intelligence officer with another wartime secret body, the Special Operations Executive (SOE), launched a full-blown war crimes investigation into Chamier's case, bringing charges against his murderers. But just as the senior Gestapo officer concerned was about to be tried for war crimes, MI6 halted the trial, sparing its own agent's killer in return for information about Russian communists. When MI6 closed Chamier's file, Atkins broke all the rules, keeping written details of the story, much of which has been corroborated by newly released documents in the National Archives.

Philip Frank Chamier, son of a German mother and English father, lived much of his young life in Germany, coming to England in the Thirties to look for his father, who he believed had abandoned him. While here he met his wife Georgina, a wealthy woman, and they lived on a farm in the village of Bradford Peverill, which was on the Upwey telephone exchange.

When war broke out Chamier volunteered for special operations, and with his flair for languages (including fluent Arabic) he was snapped up by MI6 and seconded to an intelligence unit in Cairo, by then swarming with spies.

But Chamier began to talk to colleagues about being dropped behind the lines. His half-brother, Peter Read, recalled: 'He was sure he could do anything. He had grown up in Germany and loved the country. Perhaps because of that he felt doubly anti-Nazi. I think because he could pass himself off as German he felt it was his duty to take on such a mission.'

In the summer of 1943 Chamier saw his chance. Interrogating PoWs in Egypt, he met Friedrich Reshke, a German deserter, who had walked into British lines offering himself for signals work. Chamier trusted Reshke, a sergeant in the French Foreign Legion before the war, and persuaded his superiors that he should drop into Germany with Reshke as his wireless operator.

Although hundreds of SOE agents had been parachuted into Nazi-occupied Europe by the spring of 1944 to organise the Resistance movement, no agents had been dropped into Germany itself. There was thought to be no resistance in Germany to organise and the risk of losing men parachuted in was deemed too high.

But on the night of 10-11 April, 1944, two months before D-Day, MI6 launched Operation Elm, and Chamier and Reshke took off from Tempsford near Cambridge to be dropped near Stuttgart. Chamier's mission was to secure information on German military movements ahead of D-Day. His information was to be radioed to London by Reshke, using secret codes. On landing, the men made their way to the nearest railway station, where Reshke deliberately missed the train and betrayed Chamier as a spy to station guards. He was arrested at the next stop and taken to Berlin, where he fell into the hands of the Gestapo's top spycatcher, Horst Kopkow.

By 1944 Kopkow had masterminded the penetration of a massive network of Soviet spies known as the Red Orchestra and captured more than 100 SOE agents. But Chamier was Kopkow's biggest British catch, the only MI6 agent to have fallen into Nazi hands. With Reshke's help, Kopkow's men cracked Chamier's codes and played back his wireless to London, passing false information to the British intelligence service and getting signals back.

How long MI6 was taken in, or what the damage was to British operations, is not known. It is clear, however, that for several weeks immediately before D-Day the Gestapo had a direct line to MI6 in London. Soon Chamier's handlers became suspicious and sent him test questions to see if he was caught. Even under the most brutal torture, Chamier refused to speak and the deception was exposed. Chamier, now useless to Kopkow, was sent to Sachsenhausen concentration camp, then to Ravensbrück men's sub camp, where the evidence suggests he was shot or hanged, probably early in 1945.

When war ended and PoWs flooded back, Georgina expected news, but there was nothing. On 5 November 1945, now distraught, she even thought of going to Germany to look for traces. She wrote to a relative: 'Frank, my husband, was in the intelligence service and is still missing. I am trying hard to find some way to get to Germany after the children's holidays to try to gather some scraps of information - no trace or records of him can be found anywhere.'

Meanwhile, Atkins, who had resolved that missing SOE agents should not be abandoned, was examining evidence from Ravensbrück, looking for four of her SOE women. It was then that she found the reference to Frank of Upwey 282.

Atkins also heard the name Horst Kopkow, a man who had apparently slipped the Allied net. It was not until September 1946 that she learnt Kopkow had been captured and held in secret for 13 months by her colleagues in MI6. Furthermore, Atkins discovered Kopkow had barely been interrogated about war crimes. Now bent on fighting the Cold War, the secret intelligence men were interested only in his knowledge about Soviet spies.

By 1947 war crimes charges against Chamier's murderer were drawn up. But by April 1948 Kopkow had been transferred to London and UK war crimes investigators in the British zone were told he had 'died.' In fact, as the Atkins papers reveal, Kopkow was 'released for special employment'. British security service papers in the National Archives contain detailed evidence of how Kopkow's death was faked by the British, who gave him a new identity and hired him to provide intelligence about communist networks for MI6.

In the living room of their home, Frederica Chamier rummages through drawers her mother has never let her look inside. She finds more photographs of her father and a bundle called 'Frank's secret papers'. And there is a letter, written by Chamier while in Cairo, pleading with his MI6 superiors for the chance to drop behind the lines.

'I am willing to undertake journeys into any country should you require me to do so,' he wrote, 'and you may be sure I should use my best endeavours in carrying out such missions to the best of my ability.' · 'A Life in Secrets, the story of Vera Atkins and The Lost Agents of SOE', by Sarah Helm, is published on 26 May by Little, Brown.