Tippi Hedren wings in to help promote 'Birds'
Frankfurt — Two years ago Tippi Hedren "never had aspirations to be an actress" but these days she is on a four-week swing through Europe to plug her first movie, "The Birds."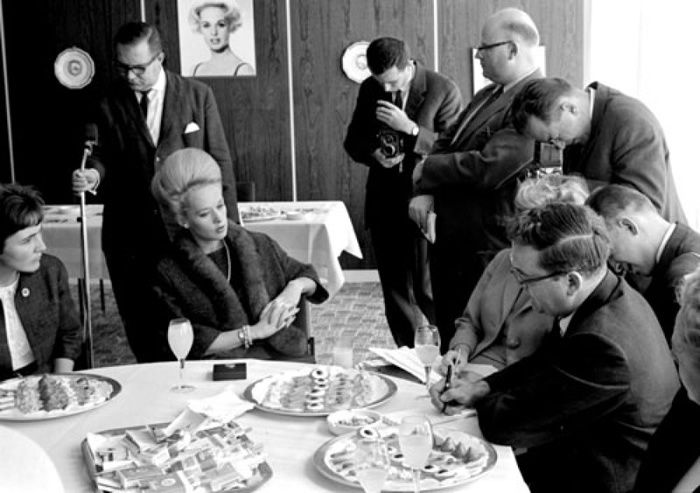 The rising young star, who flew into Frankfurt without her "guiding light" and director Alfred Hitchcock, has other stops planned in Berlin, Sweden, Denmark and Belgium before returning to the United States.
Hitchcock, who discovered the Minnesota-born beauty through a television commercial and quickly cast her in a starring role, remained in Hollywood to work on the script of their next production called "Marnie."
The 27-year-old beauty, who says "it's awfully flattering" to be called a new Grace Kelly, has nothing but praise and admiration for the famed director who took her away from TV and modeling to launch what critics call a promising career.
'I was terribly happy doing TV and modeling, and doing quite well financially," she explained. "But I was happy right from the start in the movies, too. It is more of a challenge."
Tippi is under an exclusive 7-year contract with Hitchcock and quips, "I am extremely fortunate in having him to guide my career." That career started oddly enough on a "Friday the 13th of October" two years ago when she got a phone call from the famed director.
Although a model since 13, Tippi explained that she had "never studied acting" and Hitchcock has been her only coach. "We just talked aver the role at lunch most of the time, and here we are."
Miss Hedren admitted to having used the expression "that's for the birds" on occasions, but it certainly didn't have any connection with "The Birds," another Hitchcock thriller built around the story of hundreds of birds attacking and destroying a community.
In fact, she has four of the birds (small finches) used in the movie as pets at her horns.
"The others were too large and too mean," she said while going into detail somewhat about the training involved on the crows, ravens and sea gulls used in the picture:
"At one time we had to use sign language because some of the birds started to take their cues from the words 'roll it.'"
As for hobbies and men, she has no preference in either. "I would never make a list of the qualities I like in men because that would eliminate everyone. Anyway, right now I am in between meeting men." She later admitted she had been married.
Decorating her home ("Switching everything around at least once a year"), riding, swimming and skin diving are varied hobbies, the same as eating habits, but she did label her favorite food simply as "onions."
Natalie is her real name, but she has been going under her father's pet name of Tippi — Swedish for little girl — "since 6 pounds, 7 ounces."