U.S. Jewish Organizations Mourn Death of Ex-chancellor Adenauer
New York, Apr. 19 (JTA) – Major Jewish organizations in this country mourned today the death of Dr. Konrad Adenauer, former chancellor of West Germany who was known as the most articulate advocate of German Jewish reconciliation and who taught that the German people must not forget what their country did to the Jews under the Nazi regime.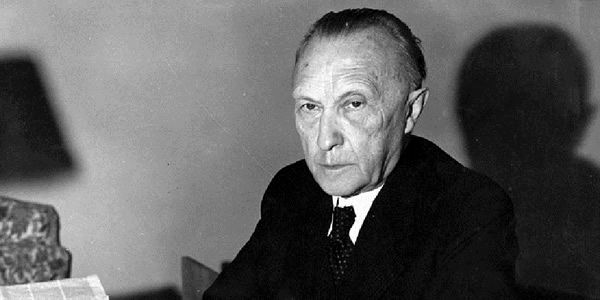 Dr. Adenauer, who died in Bonn today at the age of 91, was also the person who was determined to bring about the payment of reparations to Israel and to Nazi victims. Dr. Nahum Goldmann, president of the Conference on Jewish Material Claims Against Germany, who arrived here yesterday from Geneva, flew today to Germany to attend the Adenauer funeral.
Prior to his leaving New York, Dr. Goldmann issued a statement also in his capacity as president of the World Jewish Congress and president of the Jewish Agency for Israel, declaring:
"In Chancellor Konrad Adenauer, the Jewish people and Israel have lost one of their great friends. In the 16 years that I knew him, during which time I met him very often, he always manifested his unflinching determination to repair, at least in the material sphere, as far as possible, the crimes of the Nazis against the Jews and implemented this determination against many difficulties. The unique and unprecedented work of legislation on indemnification and restitution for Nazi victims, which found its expression in the Luxemburg Agreement and many German laws, would have been impossible in its present form, without his insistence and resolve to bring it about.
"I, who have known many leading statesmen of my generation, regard him as one of the greatest figures of the post-war period, a man who united admirable human qualities with unusual political and statesmanship talents. The Jewish people will never forget his attitude and his achievements in the sphere of repairing the Nazi crimes and his helpful cooperation and support on many questions of the greatest importance to Israel and to the Jewish people. This, and future generations, will hold dear his memory."
Similar statements were issued by the American Jewish Committee, American Jewish Congress, B'nai B'rith and other major Jewish organizations. (Israel's Prime Minister Levi Eshkol sent a cable today to West German Chancellor Kurt Kiesinger, expressing his deepest sympathy on the passing of Dr. Adenauer. Premier Eshkol recalled in his message that Dr. Adenauer had considered Germany's acceptance of responsibility for the Nazi crimes against the Jews "as one of the most important objects in his life and labored without respite for this end." The Premier also recalled that Dr. Adenauer saw in Israel's existence "the surest guarantee of Jewry's continued existence.")
Adenauer's role payment of reparation to Jews recalled
Dr. Adenauer was regarded as the most distinguished advocate of a reconciliation between the German people and of a policy of material compensation for victims of the Nazis. He also symbolized this attitude and policy in his person. From the very start of his chancellorship, he made reconciliation with the Jews one of his major goals.
He worked patiently and diligently to make the Germans recognize their guilt and responsibility and to make them experience a catharsis that would purge them of their enormous crime against the Jews. At the same time, he began a patient effort extending over many months to come to an agreement with the Jewish people, as represented by leading Jewish organizations and the Government of Israel, and to persuade the Jews that this agreement represented a sincere effort to acknowledge that crime and to make amends.
The German leader's odyssey of reconciliation was culminated by a pilgrimage to Israel by Dr. Adenauer in May 1966 after he stepped down as Chancellor. During that visit he restated his faith in the ultimate reconciliation between the Germans and the Jews. He bore with dignity, fortitude and understanding the inevitable anti-German demonstrations which his historic visit provoked in Israel.