'We Can Resume Our Common History': New Paper Covers Revival of German Jewish Life

published 04/01/2012 at 04:46 PM by David Crossland

A Jewish newspaper launched in Germany this week aims to portray the resurgence of Jewish life in the country to a still-skeptical international public. "I don't want Hitler to have the last word" on nearly 2,000 years of German-Jewish history, its founder Rafael Seligmann tells SPIEGEL ONLINE.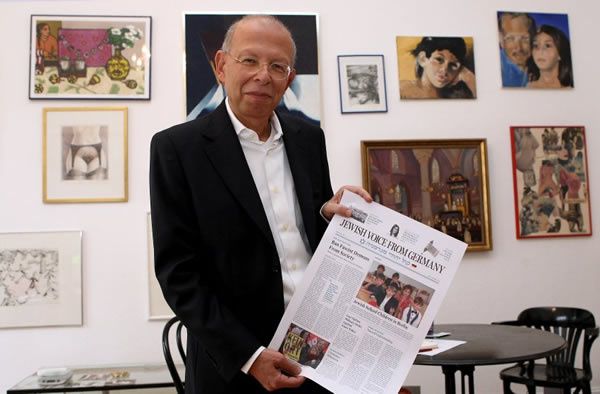 Rafael Seligmann, publisher and editor of Jewish Voice from Germany, shows a copy of the first issue of his paper.
An English-language Jewish newspaper was launched in Berlin this week with the aim of showing foreign audiences that Jewish life in Germany is starting to flourish.

Its editor, Rafael Seligmann, 64, a prominent author and journalist, says Jews in Germany are abandoning their self-image as victims of the Holocaust and becoming more confident. He wants his newspaper to promote that by portraying how the community has grown and changed since the fall of the Berlin Wall in 1989.

Then, there were fewer than 30,000 Jews in Germany. Most of them were survivors of the Holocaust, and their public role was largely confined to commemorating the genocide, making sure the Germans did likewise, and supporting Israel.

The big change came after German unification in 1990, when the government made it easier for Jews from the states of the disintegrating Soviet Union to move to Germany. Almost 200,000 came -- which didn't please Israel -- and Germany became home to the world's fastest-growing Jewish population.

Today, more than 100,000 Jews belong to religious communities, and the total population with a Jewish background is estimated at over 200,000, including some 20,000 Israelis who have moved to Germany. That compares to 600,000 before the Holocaust.

'We Can Resume Our Common History'

"I don't want Hitler to have the last word in German-Jewish history," Seligmann told SPIEGEL ONLINE. "I want to inform readers about what is happening to Jewish life in Germany. It's personally very important to me to cover the background of this German-Jewish communion that has grown over 1,700 years."

"I want to motivate people, and to show that we have this common history and we can resume it. Things are happening, we have Jewish writers again, of course not of the quality we had at the start of the 20th century, but things are starting to move. There are Jewish journalists, scientists, doctors, a resurging liberal Jewry."

The newspaper, called Jewish Voice From Germany will be published four times a year and its website will be updated every week. It has an editorial staff of 10 and an initial print run of 30,000, and was first published on New Year's Day. It says it has 150,000 readers in the United States, Canada, Britain and Germany.

It is financed from Seligmann's own funds as well as advertising revenue and subscription fees, and the editorial office is in Seligmann's Berlin home. Its website says its readers are "Jewish and non-Jewish disseminators and opinion leaders in the economy, politics, media, academic institutions, arts; global Jewish organizations."

Some 14,000 copies have been sent to the US and Canada. Recipients include all members of Congress in the US as well as parliaments in Britain and Germany, Jewish senators in Washington, rabbis in Britain and hotels in Berlin.

The paper contains articles written by guest commentators and outside journalists, including non-Jews. Many of the articles are heavily laced with opinion.

In the first edition, the front page story is written by the domestic affairs editor of center-left newspaper Süddeutsche Zeitung, Heribert Prantl, who is not Jewish. In it, he calls for a ban of the far-right NPD party.

Seligmann writes an essay calling on Israel to recognize Palestine. Other articles include stories about the euro, Iran's nuclear ambitions, the rising number of Israelis moving to Germany and a bagel shop in Berlin.

Community's Political Influence Still Minimal

Seligmann is determinedly optimistic about the revival of Jewish life, even though he admits that the community's political influence is minimal and that Germany has no Jewish members of parliament.

There are other challenges as well. Synagogues and many other Jewish sites across the country remain under round-the-clock police guard, not just due to the threat of Islamist terrorism, but also to protect them from neo-Nazis, especially in the former communist east of Germany.

Back in 2007, the first rabbi to be ordained in Germany since the Holocaust, Daniel Alter, said he was so worried about being identified as a Jew that he often wore a baseball hat over his skull cap. Alter told Reuters at the time that he felt unsafe as a Jew in several German cities, not just in the east.

Seligmann's own paper carries an opinion piece by an Israeli historian disagreeing with his positive stance. Moshe Zimmermann writes that "only few Jews in Germany today consider themselves German Jews."

"The majority of Jews in Germany today are immigrants from Eastern Europe: Jewish but not German," writes Zimmerman. "The prognosis is clear but frustrating: There will be no rebirth of German Jews."

The paper also contains a piece by Uwe-Karsten Heye, a Social Democrat journalist and former government spokesman, warning that right-wing extremism "is the toughest challenge facing Europe and, more particularly, Germany."

'Shame on You'

Seligmann, though, says Jewish sites are under guard not just in Germany but in many other countries as well, and that Jews live in relative safety in Germany.

The bigger challenge, he said, was to change the mindset in the US and Israel towards life in Germany.

"Up until 20 years ago, when one said one is moving from Israel to Germany, the response was 'shame on you,'" said Seligmann, who moved to Germany from Israel with his parents in 1957. "If someone in the US or in Israel says 'I don't want to have anything to do with Germany,' that may be so, but they should at least be informed about what is really going on here."

Seligmann also said that Jews in Germany feel freer to express themselves these days.

"For example, there was no contemporary Jewish literature in Germany until the end of the 1980s. The reason was that no one was really interested in the Jews and the Jews didn't dare to reveal their feelings. If they had, they would immediately have been told, 'if you don't like it here, why don't you go to Israel?'"

"So Jewish intellectuals pretended they had only come here for reconciliation. Today, they don't face this need to justify themselves. You no longer have to be a model Jew."

Seligmann said it was an encouraging sign that the younger generations of Jews in Germany were jettisoning their "victim's role."

"Defining oneself just as a victim is a negative definition. It lets others, anti-Semites, define your identity. I don't want that. I want Jews to be as self-confident as everyone else in their history, traditions and, if they can, their faith."

He said he was aiming for a "maximum degree of normality" in relations between Germans and Jews. "I think we're on the right track."