When a Skinny Singer Crooned to Knock Your Bobby Socks Off

published 28/11/2010 at 11:00 PM by Stephen Holden

In "Frank: The Voice," James Kaplan's riveting 786-page biography of Frank Sinatra's early years, the author pinpoints the moment in 1943 when the crooner's new publicist, George B. Evans, came up with his first defining sobriquet.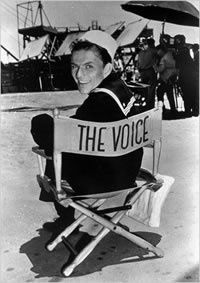 Fourth billed at the Paramount Theater in New York, below Benny Goodman and His Famous Orchestra, and two comedy duos — the Radio Rogues and Moke and Poke — Sinatra's name was accompanied by a slogan, "The Voice That Has Thrilled Millions." The creakiness and sexlessness of those words made Evans cringe.

Certain he could come up with something better, Evans closed his eyes and imagined what drove Sinatra's fans in bobby socks into a frenzy and suddenly realized he didn't have to add anything. "All he had to do was subtract. Frank was just ... the Voice."

If "the Voice" was later superseded by "the Chairman of the Board" and "Ol' Blue Eyes," it was the only major nickname to focus on the indispensable ingredient of Sinatra's success. "Chairman" connotes power and "Ol' Blue Eyes" longevity; "the Voice" evokes the intangible, mystical alchemy of sound, technique and emotion that fused when the skinny young Sinatra murmured tender endearments into a microphone.

The biography offers an almost day-by-day account of Sinatra's volatile life and times from his difficult birth in 1915 to the evening in 1954 when his comeback from a severe career downturn was secured, and he was handed an Oscar for best supporting actor in "From Here to Eternity."

The book does music history a huge favor by reminding us that from his days with Tommy Dorsey to the twilight of his Columbia years, Sinatra was a singularly incandescent vocal phenomenon.

Because in those years pop records were monaural, and the LP and commercial television arrived only in 1949 and '51 respectively, the considerable Sinatra legacy from the '40s and early '50s seems small beside the tonnage of material from his last three decades now inundating the marketplace. The newest addition is a seven-DVD "Concert Collection" that amasses 14 hours of concert and television performances from the late '50s through the '80s, when Sinatra the ardent crooner had given way to the imperial swinger.

Although Sinatra went on to make his greatest records for Capitol in the mid-1950s and early '60s — a period alluded to but not covered in the biography — even on the album widely regarded as his all-time masterpiece, "In the Wee Small Hours," his singing is tinged with a noirish worldliness and a slight huskiness that steadily coarsened into the hard, punchy sound of the later years.

The continuing deluge of material from a period when everything was recorded, filmed and videotaped explains why generations of younger listeners are mostly familiar with the combative Rat Pack cutup and arena performer and remain only dimly aware of the transcendently beautiful sound of Sinatra in his prime.

The Voice didn't emerge from nowhere. Sinatra, who had a prescient sense of his destiny along with unlimited ambition, immediately knew what he wanted when he encountered it and badgered fellow performers to teach him what he needed to know (Gene Kelly for dancing in the movie "Anchors Aweigh" and Montgomery Clift for acting in "From Here to Eternity").

Bing Crosby, his primary inspiration to become a crooner, Mr. Kaplan writes, possessed a "matchlessly rich baritone" that was "simultaneously romantic and (ever so slightly) ironic" and adds, "While Bing's power was his cool warmth, Frank's was his unabashed heat."

On a whim Sinatra attended a Jascha Heifetz concert at Carnegie Hall in 1940 and was captivated by the way "he could get to the end of the bow and continue without a perceptible missing beat in the motion."

But his most important role model and father figure was the autocratic bandleader and trombonist Tommy Dorsey, whose long-lined phrasing and velvety timbre he strove to emulate.

"Sinatra had heard other singers, even very good ones, take a breath in the middle of a phrase, and he thought it sounded lousy — it showed artifice," Mr. Kaplan writes. "Singing the phrase straight through showed he really understood, and meant, the words. He saw the way the girls stared at him as he sang. He was telling them something, a story of love, and they were listening."

The biography doubts the myth that Sinatra built up his lung power, as Dorsey had, by swimming laps underwater. It also debunks another myth that blames Mitch Miller, Columbia Records' head of artists and repertory, for sabotaging Sinatra's career during its downswing. Sinatra was not forced to record novelties like "Mama Will Bark," his notorious duet with the television personality Dagmar, in which he barked like a dog. Far from being Miller's persecuted victim, Sinatra, in his desperate search for hits, eagerly went along with such stunts.

Another crucial contribution to the magic was the refining of Sinatra's Hoboken diction with the aid of John Quinlan, a vocal coach and tenor who helped him to "stop sounding like a stevedore."

"Week in and week out, Frankie did the vocal exercise: 'Let us wander by the bay,' running up the scale and back down in all 12 keys." Quinlan "taught Sinatra that 'brother' had an 'r' at the end, a 'th' in middle. 'While' began with an exhalation, as if the 'h' came first."

Without all of these elements, and the gorgeous hearts-and-flowers settings by his steady Columbia arranger Axel Stordahl, the alchemy of his two- or three-dozen greatest sides would not have gelled. But when it does, you are transported to a realm in the neighborhood of heaven.

You have only to listen to his recording of "Laura," made on Oct. 22, 1947, to hear singing of surpassing beauty. Delivered as one long eloquent sigh of voice and strings, it is as intense a distillation of incorporeal yearning as pop music has produced.