Edith Carlmar (b. 1911 - d. 2003) started out at as dancer and an actress at the age of 15, and went on to become the first female director in Norwegian cinema - and one of Norwegian film history's most successful directors at that.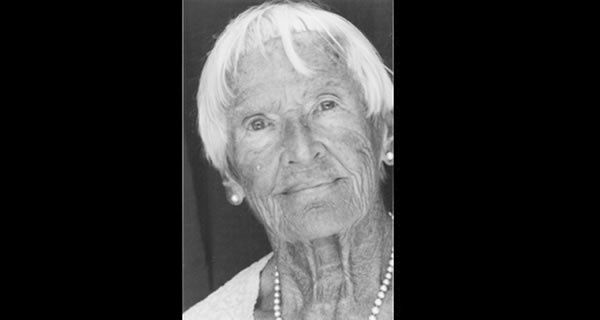 Born Edith Mathiesen to a single mother in Oslo, Edith grew up in poor conditions in a working class district on Oslo's east end, and at times even in foster-care, because her mother could not afford to have her daughter living at home. Despite this Edith managed to train as a dancer, and age fifteen she made her on-stage debut at the Kongshavn Bath variety stage. Four years later, in 1930, she also married the theater-, film- and business man Otto Carlmar. In 1936 she switched careers, from dancing to acting, and made her debut at Det Nye Teater in Oslo in 1936. While at the theater she became acquainted with Lillebil Ibsen, wife of noted film director Tancred Ibsen, who invited Carlmar to work as a script supervisor on his next film. This was to be the start of Carlmar's career in films, and by the next film she worked on she had already advanced to production secretary. Carlmar later stated that she always saw Ibsen as her great inspiration and mentor in the art of film.
The next few years Carlmar worked in both film and theater, but eventually withdrew from film-work during the war, on account of not wanting to work under the Nazi-controlled production environment in occupied Norway during WWII. However, in 1946 she returned, again working for Tancred Ibsen. In 1946 she was also awarded a grant by the National Federation of the Municipal Cinemas (Kommunale Kinematografers Landsforbund) to travel to Great Britian to study directing and production management. Carlmar went, and became a committed student, even being consulted on artistic evaluations of scenes and shots, as well as other aspects of the production she was to observe.
Inspired by her experiences in Great Britain she then established the production company Carlmar Film A/S with her husband Otto, in February of 1949. With herself as director, and Otto as producer, the company would produce ten feature films over the course of the next decade. Carlmar's debut, Death is a Caress, premiered in August of 1949, to favorable reviews and solid box-office numbers. Stylistically solid, and thematically refreshing in a Norwegian context, Death is a Caress was Norway's first - and some would argue; only - film noir, and from the get-go Carlmar showed her intent and desire to create something new in Norwegian cinema. Carlmar directed a further nine feature films, as well as several documentary shorts, before retiring from filmmaking. Her final film, The Wayward Girl (1959), introduced Liv Ullman, Norway's legendary, and internationally most recognized actress, to the silver screen. A trademark of Carlmars films were strong and independent female characters, more often than not the main character, contemporary settings and themes, as well as a keen sense of humor. Carlmar directed both dark, heavy drama, laden with social commentary, and cheerful, farce-like comedies with the same steady hand - rarely to negative reviews, and never to disappointing box-office performance. A rarity in Norwegian film history, Carlmar Film A/S never saw red numbers in their books, despite lack of economic support from the government - a testament to the width, appeal and popularity of Carlmar's body of work. Her 1957 comedy Fjols til Fjells still stands as one of the biggest box-office successes in Norwegian history, and still attracts high ratings when aired on television.
After directing ten feature films, Carlmar largely retired from film-work, and turned her attention more towards writing and working for various offices and, finally, the Oslo National Academy of The Arts until her final retirement at age 70. Somewhat "forgotten by history" during the seventies and eighties, Carlmar experienced a renewed interest in her films from the late eighties when film-journalists and academics alike took a new interest in her body of work, and revived her films through retrospectives and festival screenings of her films around the world.
Edith Carlmar passed away in 2003, respected and revered for her position as a true pioneer in Norwegian cinema, and for being the first female Norwegian film director.

Filmography, feature films only:
(international title where available)
Death is a Caress - 1949

Damage Shot - 1951

The Disappearance of a Young Wife - 1953

Aldri annet enn bråk - 1954

Bedre enn sitt rykte - 1955

På solsiden - 1956

Slalåm under himmelen - 1957

Fjols til Fjells - 1957

Lend me your Wife - 1958

The Wayward Girl - 1959
Filmography
1959 The Wayward Girl (Ung flukt) 

1958 Lend me your wife (Lån meg din kone) 

1953 The Disappearance of a Young Wife (Ung frue forsvunnet) 

1951 Damage Shot (Skadeskutt) 

1949 Death is a Caress (Døden er et kjærtegn)