Dunkirk Retreat to Victory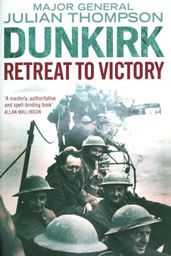 A gripping account, Dunkirk reveals the British Expeditionary Force's (BEF) brave stand against the German army and the dramatic rescue of 338,000 British troops from the beaches of Dunkirk in the midst of World War II. In May 1940, the small BEF was sent to help the Belgians and French against advancing German forces. Ill-equipped and under-trained, the Allied troops conducted a fighting withdrawal in the face of the formidable Germans. Winston Churchill feared that nearly all of the BEF would be killed or captured, but thankfully most were rescued and a defeat was turned into a victory—one that lives on in the annals of history.

General Julian Thompson draws from previously unpublished and rare materials to recreate the action on the beaches of the small town—from the misunderstandings between the British and French generals to the experiences of the ordinary soldier trying to fend for his life and return to his homeland. Unlike other books on the subject, Thompson's account gives full weight to the fighting inland as the BEF found itself in mortal danger due to the Belgian army's collapse on one flank and the French troop's failure on the other flank. Thompson aims to correct popular myths about the evacuation and set the history straight once and for all about the events that unfolded in May 1940.

Author : Julian Thompson
 ISBN-13 : 9781611453140
Publisher : Skyhorse Publishing
Publication date : 10/10/2011

Editorial Reviews

Library Journal - Library Journal

It's tempting to compare Thompson's book to Barbara W. Tuchman's great The Guns of August, but that misses the point. Each follows the British Expeditionary Force (BEF) at the start of a world war, relating the trials of a small, determined force outnumbered by the sledgehammer of a larger foe. While Guns focuses on the big picture, Thompson is focused on the tactical angles and a BEF that is much different from that fielded in 1914. As a former general, Thompson (The Royal Marines) has the rare ability to translate the importance of movements, tactics, and minutiae for the layperson and make it exciting. He unblinkingly examines the strengths and failings of all combatants. VERDICT It's a rare thing to know the outcome of an event yet still feel suspense, frustration, and the gaining of new insight. A brilliant book, perfect for informed readers looking for the next great World War II history.—B.D.

Meet the Author

Julian Thompson retired as a Major-General after thirty-four years of service in the Royal Marines. He has written eleven books on the Royal Marines, including Masters of the Battlefield and The Royal Marines. He lives in London, England.