Reading Jackie: Her Autobiography in Books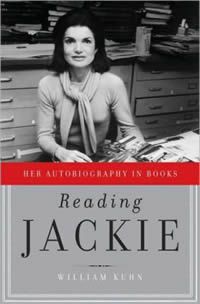 Jacqueline Kennedy Onassis never wrote a memoir, but she told her life story and revealed herself in intimate ways through the nearly 100 books she brought into print as an editor at Viking and Doubleday during the last two decades of her life. Many Americans regarded Jackie as the paragon of grace, but few knew her as the woman sitting on her office floor laying out illustrations, or flying to California to persuade Michael Jackson to write his autobiography.
William Kuhn provides a behind-the-scenes look at Jackie at work: commissioning books and nurturing authors, helping to shape stories that spoke to her. Based on archives and interviews with her authors, colleagues, and friends, Reading Jackie reveals the serious and the mischievous woman underneath the glamorous public image.

Fiche Technique
ISBN-13 : 9780385530996

Publisher : Knopf Doubleday Publishing Group

Publication date : 07/12/2010

Author : William Kuhn

Editorial Reviews

Publishers Weekly

During the last two decades of her life, Jacqueline Kennedy Onassis worked on nearly 100 books with varying degrees of responsibility as an editor, first at Viking--she resigned after being castigated by the New York Times about a Viking thriller with a Ted Kennedy–like protagonist as an assassination target--and then at Doubleday, which promised to avoid any similar embarrassments. Her love of dance led to Onassis publishing a biography of Fred Astaire and autobiographies of Martha Graham, Judith Jamison, and Gelsey Kirkland. Kuhn (The Politics of Pleasure: A Portrait of Benjamin Disraeli) is particularly dismissive of Kirkland and her then-husband/collaborator Greg Lawrence's bestselling tell-all accusing George Balanchine of cruelties; not coincidentally, Lawrence is the author of a competing book, Jackie as Editor. With biographies of Clara Bow and Jean Harlow, the quietly feminist Onassis insisted on getting beyond publicity photo images to tell a woman's true story, says Kuhn. Being seen as royalty herself as the widow of JFK, the often imperious Onassis commissioned more than a dozen books on the royalty of India, ancient Egypt, Versailles, and Romanov Russia. Although this lucid, amply detailed catalogue of Onassis's publishing projects offers a window into her passions and opaque personality, it is far from what Kuhn dubs "the only autobiography she ever wrote"--most readers will not find it revelatory. (Dec.)

Kirkus Reviews

A clever, surprisingly substantial take on the life of Jacqueline Onassis (1929 –1994). Kuhn (History/Carthage Coll; The Politics of Pleasure: A Portrait of Benjamin Disraeli, 2006, etc.) admiringly portrays this American icon as a bookish creature born to uncertain privilege who embraced her more wealthy, connected husbands for security rather than a meeting of artistic minds. "Jackie," as the author calls her throughout, came into her own as an editor only after second husband Aristotle Onassis died. Kuhn asserts that through her publishing list of nearly 100 books, first at Viking, then at Doubleday, this most private public person truly revealed what she cared passionately about. The author's brisk, officious, often repetitive narrative moves quickly over Jackie's early career, characterized by the thwarting of her earliest desires to be a ballet dancer and then a writer. Landing a job at Viking in 1975 fulfilled a kind of dream postponed—she had won Vogue's Prix de Paris for her essay as a 21-year-old college student, gaining her an internship at the magazine's Paris office, only to be forced by her mother to decline. She also found an important new mentor in formerVogueeditor Diana Vreeland. Through Vreeland, Martha Graham and Bill Moyers, she developed her first successful books. The author traces Jackie's professional development, from a "shy celebrity recruit" to a macher who could bring in big names via books by Michael Jackson, Naguib Mahfouz and Gelsey Kirkland. Kuhn argues that Jackie touched on forbidden themes in her own life—her husband's adultery, the humiliation of marriage, political machinations—only through her list, including such books as Barbara Chase-Riboud's controversial novelSally Hemings (1979) and Elizabeth Crook's novel about Sam Houston and Eliza Allen,The Raven's Bride (1991). In between chronicling the titles shepherded by Jackie, Kuhn offers delicious tidbits of gossip, such as Jackie's evident glee and pride at her salary increase and promotion to senior editor. Both respectful and scintillating.

Library Journal

Rather than diminishing her status as "American royalty," Jacqueline Kennedy Onassis's 1994 death enshrined her in immutable seclusion and mystery. Her reticence to grant interviews (the last was a full 30 years prior to her death), pen memoirs, or dish intimacies continues to fuel the public's hunger to know her. Biographer/historian Kuhn (The Politics of Pleasure) has sagely plumbed her editing career for insights, a fitting Rosetta Stone for decoding a woman afire with a lifelong love of reading, words, and books. Actress Susan Denaker's reading is appropriately invisible to the listener, never stealing the limelight from the true star of the tale. Recommended for all those who enjoy delving into the lives of fascinating personalities. ["A revealing, readable, and insightful book," read the review of the Nan A. Talese: Doubleday hc, LJ 11/15/10; the Anchor pb will publish in October 2011.—Ed.]—Judith Robinson, Dept. of Lib. & Information Studies, Univ. at Buffalo.

Read an Excerpt

chapter 1 - SSH! I'M READING. -Jackie to her roommate, Nancy Tuckerman, at Miss Porter's School

Miss Porter's School is a college prep school for girls arranged in a dozen historic houses on either side of a two-lane highway running through Farmington, a suburb of Hartford, Connecticut. Most of the girls are boarders, but a few are day students from the neighborhood. The most remarkable thing about the adolescent girls who go there is how utterly at ease they are with adults. They look you in the eye, smile, say hello, and are unafraid of strangers, as if to say, "If you are here, you must belong here, just like I do." Nancy Tuckerman's explanation of what made the school tick in the 1940s was that it was "very much a family school. My mother went there, her sister went there, my sister went there. Jackie's sister, Lee, went there, and their half-sister, Janet Auchincloss, went there too." All that was long ago, before the school started reaching out to nontraditional constituencies in hopes of increasing diversity and reducing its reputation for exclusivity, but even now the place has the feeling of educating polished, confident girls who will one day have a chance both to earn and to inherit everything good that life has to offer. Everybody thinks that Jacqueline Bouvier was the sort of girl who was made for Miss Porter's, but in fact an important part of her never entirely fit in there.

She was shy, something of a loner, and looked for ways to spend time by herself. At the end of the day, when the girls would gather in one another's dorm rooms before lights-out to talk and gossip about the day, Jackie preferred to stay alone in her room reading a book. "Often French literature," Nancy Tuckerman reminisced, distinctly pronouncing it "lit-ra-toor" and conveying the idea of the very proper school Miss Porter's was when she and Jackie were there together. One girl's mother wouldn't have her daughter rooming with Jackie because she thought one of the points of Miss Porter's was to socialize and meet people. Rooming with Jackie would mean rooming with someone who didn't much like to mix with the other girls. It wasn't that Jackie was unpopular or disliked by the other girls, but she was private, reserved, and aloof long before the paparazzi ever pointed a camera in her direction. She had friends, but books and literature were her real intimates.

Girls near graduation who had good academic records were allowed to spend study hall in their rooms. Jackie had this privilege. The room she shared with Tuckerman was at the top of a big Classical Revival house built in 1800, their two single beds wedged in under sloping eaves and their window looking out on old shade trees. Sometimes they would both be up there together, reading their books in bed. Tuckerman loved to laugh and was drawn to Jackie's sense of humor. The friendship Jackie extended to her was so rare a privilege, it would have been hard not to prize it, even when sometimes, late in the day, Tuckerman would think it was all right to raise some conversation, only to be interrupted by Jackie, who would say, "Ssh! I'm reading" and give her a look that made them both lie back laughing against the pillows.

Despite Jackie's love of books, she spent a lifetime trying to prevent people from writing them about her. Yet she did authorize one biography, written and published by Mary Van Rensselaer Thayer. Thayer was a member of one of New England's founding families. Her ancestors had settled in the Hudson River valley as far back as the days when New York was New Amsterdam. She was a friend of Jackie's mother, and her book, Jacqueline Bouvier Kennedy, was published in 1961...
Meet the Author

William Kuhn is a biographer and historian. He is the author of three previous books, including, most recently, a controversial biography, The Politics of Pleasure: A Portrait of Benjamin Disraeli. His Henry and Mary Ponsonby: Life at the Court of Queen Victoria was a BBC Radio Four Book of the Week read by actor Geoffrey Palmer.