Rose Kennedy: The Life and Times of a Political Matriarch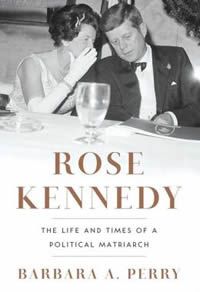 An unprecedented look at the life of Rose Kennedy reveals the private woman who became a political legend. In her compelling and intimate portrait, presidential historian Barbara A. Perry captures Rose Kennedy's essential contributions to the incomparable Kennedy dynasty. This biography—the first to draw on an invaluable cache of Rose's newly released diaries and letters—unearths the complexities behind the impeccable persona she showed the world.
The woman who emerges in these pages is a fascinating character: savvy about her family's reputation and resilient enough to persevere through the unfathomable tragedies that befell her. As a young woman, she defied her father, Boston mayor John Fitzgerald, by marrying ambitious businessman Joseph Kennedy. During Joe's diplomatic career, she began carefully calibrating her family's image, stage-managing photo shoots and interviews of her nine children and herself. After husband Joe's isolationist views on the eve of World War II made him a political liability, Rose took to the campaign trail for son Jack. Her perfectionism, initially a response to the strictures imposed on Catholic women, ultimately created a family portrait that resonated in modern politics and media.
Perry's account looks past the fanfare, poignantly revealing the matriarch's vulnerability. Rose sought solace from crushing personal tragedies and a philandering husband in prayer, habitual shopping, travel, and medication. Initially ashamed and afraid of daughter Rosemary's mental disability, Rose ultimately shined a light on the affliction, raising millions of dollars for disabled children. An indefatigable campaigner for Jack, Bobby, and Teddy, she had an unshakable Catholic faith that informed their compassionate social policies and her daughters' philanthropies.
The definitive biography, Rose Kennedy provides unequaled access to the life of a remarkable woman who witnessed a century of history and masked her family's more inconvenient truths while capturing the American imagination.

Fiche Technique
ISBN-13 : 9780393068955

Publisher : Norton, W. W. & Company, Inc.

Publication date : 07/15/2013

Author : Barbara A. Perry

Editorial Reviews

Publishers Weekly

Rose Fitzgerald Kennedy (1890–1995) was the daughter of a devoutly Catholic disciplinarian and an extroverted Boston mayor whose career was blighted by his affair with a cigarette girl nearly half his age. Sounds like a recipe for a dramatic life—and it is—but Perry's bio (after Jacqueline Kennedy), though interesting at times, is disappointingly whitewashed. When Rose married the son of her father's political rival, her lifelong pursuit of excellence melded with her husband's hunger for power. The profoundly religious mother of nine said that her great ambition was to have her children be as morally, physically, and mentally perfect as possible, and she expected the same of herself: a master of public composure, Rose was a svelte and smartly dressed compulsive shopper who "never publicly conceded" knowledge of her husband's womanizing, and put on a brave face after the violent deaths of four of her children. She proved an indefatigable campaigner for her sons, yet surprisingly never bothered herself with women's political issues (Pope Pius XII, however, granted her the title of countess in recognition of her prodigious charity work). To profile a Kennedy outshone by the men in her life is an admirable goal, but Perry uncovers little that Rose herself didn't reveal. 16 pages of photos. (July)

Douglas Brinkley

"Barbara Perry has done it again! Rose Kennedy is the much needed, balanced biography of the grand matriarch of American politics. Whether it was helping the disabled, raising children, or playing ward boss, Mrs. Kennedy was a force of nature."

Bob Graham

"At the core of most families, frequently out of the public spotlight, is the matriarch. She personifies and by example extends the values and mores that make that family unique. Mrs. Rose Kennedy was such a woman. Raised in a high profile political family, she nurtured one of America's most influential families. Her influence continues to be a force in American culture. Rose Kennedy captures the essence of this exceptional leader. It places her in the spotlight she avoided but richly deserves."

Julia M. Klein - Boston Globe

"Laudable… Perry employs a newly released trove of diaries and letters to add nuance and detail to an essentially familiar story."

Larry J. Sabato

"Rose Fitzgerald Kennedy was one of the most inspiring women of the twentieth century. Everyone knows her as the mother of President Kennedy, but her story is far richer—one for the ages. Barbara Perry brilliantly and sensitively shows us Rose's world, filled with almost unimaginable privilege yet scarred by terrible tragedies that would have been unbearable for most. You will be deeply moved by Perry's magnificently researched account of this remarkable centenarian, whose steely optimism and unshakeable religious faith overcame life's darkest detours."

Trey Grayson

"Barbara Perry's story of Rose Kennedy will likely become the definitive biography of one of the most important women of the 20th century. Perry utilizes newly released materials to tell a more complete story of the matriarch of the Kennedy family."

Betty Boyd Caroli

"Behind the public's image of an ineffectual icon, Barbara Perry uncovered a Rose Fitzgerald Kennedy far more complex, shrewd, and ambitious than most of us knew. This lively, thoughtful biography shows both the reach of the subject's influence and the stubbornness with which she guarded her own independence. Using newly opened archives, Perry reveals, for the first time, the important role that the matriarch of America's most glamorous political dynasty played in her family's remarkable story. It makes a superb read."

Lewis L. Gould

"Barbara Perry has crafted an insightful and fast-paced narrative, based on Rose Kennedy's own papers, that does full justice to the vital role Mrs. Kennedy played in the turbulent life of her influential family. Perry has set a high standard for biographies of presidential mothers and their impact on their children."

Library Journal

Perry (Jacqueline Kennedy: First Lady of the New Frontier) gained access to 300 boxes of Rose Kennedy's personal letters and journals, now held at the John F. Kennedy Library in Boston. From these, Perry dug out new information about the Kennedy clan and saw how Rose forged through a lifetime with much sorrow and loss. As a self-absorbed, distant young mother—whose frequent trips abroad, possibly to distance herself from a philandering husband, left her young children feeling abandoned—and later as a mature and politically active, media-savvy campaigner, Rose Kennedy knew how to play society and work connections to get what she wanted. Perry's biography is a finely crafted, comprehensive account of one of the most driven women in the shadows of American political history, who found solace in her Catholic faith to overcome the disappointments of her marriage, the deaths of her sons and daughter, and the burdens from a mentally challenged daughter. VERDICT While there are untold numbers of books on the Kennedys, Perry adds archival details and nuance to our understanding of Rose. Kennedy completists and novices alike are sure to find the book fascinating as it further reveals the perspective of the strong woman behind the dynasty.—Lisa Guardarini, Algonquin P.L., IL

Kirkus Reviews

Serviceable life of the matriarch of a storied--and notably tragic--political clan. As Perry (Presidential Oral History, Miller Center/Univ. of Virginia; Jacqueline Kennedy: First Lady of the New Frontier, 2004, etc.) observes, Rose Elizabeth Fitzgerald Kennedy (1890–1995) first visited the White House in 1897, under the presidency of William McKinley. She last visited it when Ronald Reagan was in office, more than 80 years later. In between, of course, she gave birth to fabled sons and less fabled daughters. She was almost more Catholic than the pope, insisting that His Holiness take time to attend Mass during Easter even as the fate of the West lay in the balance. Kennedy was stern enough, too, to give Barbara Bush a run for the money, though she was also forgiving. As Perry writes, "When her husband and children fell short of her Victorian standards, she simply strove harder to correct, or at least mask, their flaws while touting their genuine accomplishments." Tragedy marked her long life, with the deaths of three sons--Joe in combat, Bobby and John to assassins--and a daughter, Kathleen, in a plane crash. Perry capably charts Rose's life, always overshadowed by her husband and offspring, though a more comparative view would have been welcome (how does Rose stack up next to Barbara Bush?). The narrative occasionally takes on the cast of a singsong recitation of biographical convention ("Exploring Concord's environs, most happily with her gregarious father, Rose embraced history lessons permeating the cradle of American independence"), and some details are curious if perhaps of surpassing interest to scholars--the fact that "[o]nly occasionally did she breast feed her first several children," for instance. A mostly useful portrait of an overlooked figure in American political history.

Meet the Author

Barbara A. Perry, a well-known authority on the Kennedys, is a Senior Fellow in the Presidential Oral History Program at the University of Virginia's Miller Center. As part of her extensive research on the American presidency, she interviews prominent members of previous administrations. She is the author of Jacqueline Kennedy: First Lady of the New Frontier, among other works, and lives in Charlottesville, Virginia.