David Boies (born March 11, 1941) is an American lawyer and chairman of the law firm Boies, Schiller & Flexner. He has been involved in various high-profile cases in the United States.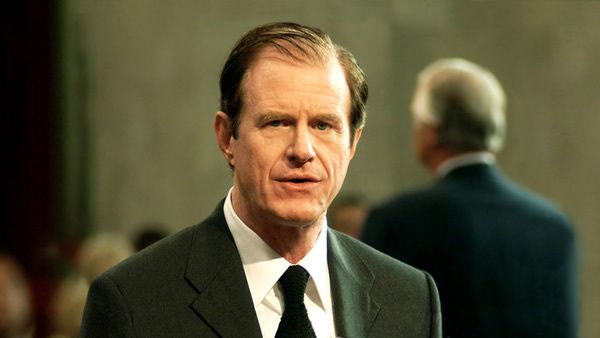 Boies was born in Sycamore, Illinois, to two teachers, and raised in a farming community. He has four siblings. His first job was when he was 10 years old—a paper route with 120 customers. Boies has dyslexia and he did not learn to read until the third grade. In 1954, the family moved to California. Boies graduated from Fullerton Union High School in Fullerton, California.
Boies attended the University of Redlands, received a B.S. from Northwestern University in 1964, a law degree magna cum laude from Yale Law School in 1966 and an LL.M. from New York University School of Law 1967; he was awarded an hononary LL.D. from the University of Redlands in 2000. He currently serves on the Board of Trustees of the National Constitution Center in Philadelphia, which is a museum dedicated to the U.S. Constitution.
Boies was an attorney at Cravath, Swaine & Moore, where he started upon law school graduation in 1966 and became a partner in 1973. He left Cravath in 1997 after a major client objected to his representation of the New York Yankees even though the firm itself had found no conflict. He left the firm within 48 hours of being informed of the client's objection and created his own firm, now known as Boies, Schiller & Flexner LLP.
It is currently rated 17th in "overall prestige" and 12th among New York law firms by Vault.com, a website on legal career information. Boies was also Chief Counsel and Staff Director of the United States Senate Antitrust Subcommittee in 1978, and served as Chief Counsel and Staff Director of the United States Senate Judiciary Committee in 1979. Boies has taught courses at New York University Law School and Cardozo School of Law.
Notable cases
David Boies speaking about the Microsoft antitrust case at the Berkman Center for Internet & Society.

At Cravath, Boies assisted top litigator Thomas D. Barr in defending IBM in the 13-year antitrust cases brought by the Justice Department and many private competitors.

Also at Cravath, he represented the Justice Department in the United States v. Microsoft case. Boies won a "victory" at trial, and the verdict was upheld on appeal. The appellate court overturned the relief ordered (breakup of the company) back to the trial court for further proceedings. Thereafter, the George W. Bush administration settled the case. Bill Gates said Boies was "out to destroy Microsoft." In 2001, the Washington Monthly called Boies "a brilliant trial lawyer", "a latter-day Clarence Darrow," and "a mad genius" for his work on the Microsoft case.

Boies represented New York Yankees owner George Steinbrenner in a suit against Major League Baseball. This involved an action against all the teams. The Atlanta Braves were owned by Time Warner, a longtime Cravath client, who objected to his representation of the Yankees.

He defended CBS in the action brought by General William Westmoreland. The general abandoned his case during the trial.

Following the 2000 U.S. presidential election, he represented Vice President Al Gore in Bush v. Gore.

Boies defended Napster when the company was sued by the RIAA for facilitating copyright infringement.

In November 2003, he represented Andrew Fastow, deposed Chief Financial Officer of Enron.

Boies was retained by the SCO Group, during the SCO-Linux controversies, in their pursuit of alleged infringement of their rights to the Unix intellectual properties.

In 2006, Boies, Schiller & Flexner LLP negotiated a major settlement with The American International Group on behalf of its client, C. V. Starr, a firm controlled by Maurice R. Greenberg, the former chairman and chief executive of A.I.G.

Boies negotiated on behalf of American Express two of the highest civil antitrust settlements ever for an individual company: $2.25 billion from Visa, and $1.8 billion from MasterCard.

Boies is representing filmmaker Michael Moore regarding a Treasury Department investigation into Moore's trip to Cuba while filming for Sicko.

On June 24, 2009, following the California Supreme Court ruling on Strauss v. Horton, Boies joined former Solicitor General Theodore Olson, the opposing attorney in Bush v. Gore, in the lawsuit Perry v. Schwarzenegger seeking to overturn the state of California's Proposition 8 ban on gay marriage. In August 2010, the District Court judge ruled in their clients' favor, finding Proposition 8 to be unconstitutional. On June 26, 2013, the Supreme Court of the United States ruled that the proponents of Proposition 8 did not have standing to challenge the ruling, allowing the District Court judgment to stand. Same-sex marriages resumed in California on June 28, 2013.

Boies, Schiller & Flexner LLP assisted the government in obtaining a $155 million settlement from Medco Health Solutions related to a qui tam complaint which alleged that Medco, "systematically and intentionally switched patients' prescriptions in an effort to increase the market share for certain pharmaceutical manufacturers, and thereby increased hidden rebate payments it received from pharmaceutical manufacturers." In response to the settlement, Mr. Boies said, "I am very happy that lawyers from Boies, Schiller & Flexner were able to contribute to the litigation and settlement of this qui tam case, which will result in important changes in the way pharmacy managers do business by increasing their level of accountability to their patients. We are also very happy we could help the government recover the money it was erroneously billed by Medco, and that Medco agreed to execute a Corporate Integrity Agreement which will govern their conduct in the future."

On August 20, 2009 the Golden Gate Yacht Club announced that he had been retained in their ongoing dispute with Société Nautique de Genève regarding the 33rd America's Cup.

In March, 2010, David Boies joined the team of attorneys representing Jamie McCourt in her divorce from Los Angeles Dodgers owner Frank McCourt.

Boies was part of the legal team representing the National Football League in their antitrust litigation, Brady v. NFL.

Boies represented the National Basketball Players Association during the 2011 NBA lockout. He joined sides with Jeffrey Kessler, who opposed Boies as a representative for the players in the 2011 NFL lockout.

Boies was the lead counsel for Oracle Corporation in its lawsuit against Google on the use of Java (programming language) technology in the Android (operating system). The case decided that Google did not infringe on Oracle's patents.

In 2012, Boies represented three tobacco companies, Philip Morris USA Inc., R.J. Reynolds Tobacco Co. and Liggett Group LLC in their appeal of a $2.5 million Tampa jury verdict in the death of smoker Charlotte Douglas.

In late 2012, Boies defended Gary Jackson, former President of Academi, (previously known as BlackWater) in a Federal prosecution which alleges he and his co-defendants illegally hid firearm purchases from the Bureau of Alcohol, Tobacco, Firearms and Explosives