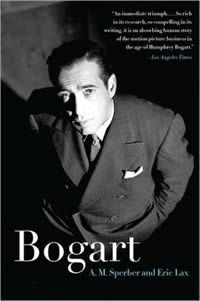 Bogart is not just a movie star biography. Perhaps no other book has ever provided a more graphic rendering of what life was like for a contract player when the big studios ruled Hollywood or has so dramatically captured what happened in the late 1940's as some of the biggest names in the industry pitted themselves against the excesses of the House Un-American Activities Committee in the early days of the Cold War.

Based on more than two hundred interviews with everyone from such famous co-workers as Katharine Hepburn and John Huston to behind-the-scenes publicists and makeup artists (even a bellman who served Bogart on one memorable night at the Beverly Hills Hotel), on a year and a half spent in the Warner Brothers archives at the University of Southern California poring over memos, letters, script reports, and contracts, and on Bogart's two-inch-thick FBI folder obtained under the Freedom of Information Act, Bogart finally tells the full story of a Hollywood legend while re-creating the history of both a Hollywood and a political era.



ISBN-13 : 9780062107367
Publisher : HarperCollins Publishers
Publication date : 11/29/2011
Author : Ann Sperber

Meet the Author

The late A. M. Sperber was born in Vienna, graduated from Barnard College, and was a Fulbright Scholar. She authored the critically acclaimed bestseller and Pulitzer Prize finalist Murrow: His Life and Times. Bogart is the culmination of the years of research she performed before her death in 1994.

Eric Lax's books include Faith, Interrupted: A Spiritual Journey; The Mold in Dr. Florey's Coat; and the international bestseller Woody Allen. His writing has appeared in The Atlantic, the New York Times, Vanity Fair, and Esquire.

Read an Excerpt

Chapter One - The House at Seneca Point

His earliest memories were of the estate where his family summered, and of a sailboat tied to the dock at the end of a stretch of manicured lawn. The elegant two-story Victorian house dominated a curve of land on the shoreline of Canandaigua Lake in western New York State. The spire on the tower room jutted above the treetops on the fifty-five acres of farmland, pasture, and woods, and large high windows stared out over the water. Broad awning-shaded steps led to the lawn that ended at a shale beach, where the long dock sliced into the lake. His father's champion-class yacht was moored there, and he would be a sailor all his life.

A carriage road swept over a little stone bridge to the back entrance of the house, but, like the other homes nearby, Willow Brook was best reached by water. Visitors arrived at a leafy landing on the long, narrow Finger Lake--deep blue in morning, turquoise in the afternoon--gouged out of the hills aeons before by an advancing glacier. The boathouse flanked one side of the four-hundred-foot beachfront. On the other, sheltered by tall stands of ash, oak, and poplar, were the clear-running brook and weeping willows that gave the property its name. It was a showplace, built in 1871 by the owners of the local brewery as testimony to their wealth.

In the last summer of the nineteenth century, Dr. Belmont DeForest Bogart bought the estate for his wife, Maud, then five months pregnant with their first child, a son. Two daughters would soon follow his birth. For the three offspring, Willow Brook was the summer home of their childhood, a place that would figure in both Humphrey Bogart's fondest recollections and his most nightmarish ones.

The Bogarts seemed the model of the solid, successful Victorian family--upper-middle-class New York City people whose comings and goings in the village of Canandaigua were regularly recorded in the local paper: Dr. and Mrs. Belmont D. Bogart had arrived with their little son and were waiting to occupy their summer "cottage"; Dr. B. D. Bogart and children had moved in for the summer and would shortly be joined by Mrs. Bogart; Mrs. B. DeForest Bogart had improvised a studio from an old cabin on the property and was giving much time to her art.

Like the other summer people, they had little to do with the daily life of the town. But as owners of property and householders of substance, they fit easily into Seneca Point, the exclusive lakeside enclave south of Canandaigua for leading locals and for professional families escaping the heat of Boston and New York--a mix of bankers and businessmen, old settlers, clergy, journalists, and academics. Show people were almost unheard of. The only Warner Brothers here were the local steamboat builders.

The colony, usually referred to as the Point, was a little more than halfway down the sixteen-mile-long lake--a secluded Arcadia surrounded on three sides by the grapevine-covered hills that caused the region to be compared with northern Italy. The 142-foot-long sidewheeled steamer Onnalinda ferried people from place to place, stopping at any of the sixty-six landings around the lake whenever a white flag was raised, its two decks redolent with the aroma of fresh grapes, peaches, and other fruit headed for the rail spur at the Canandaigua pier, then on to markets in New York, Philadelphia, and Washington, D.C.

The Point was self-contained, protected both by the cliffs and by the owners' corporation, which determined who could move in, and life there was paced to the easy elegance that prevailed for the privileged in those years before World War I. The residents visited, boated, and played tennis; in the evening they played bridge and attended uplifting lectures. On Sundays there were baseball games on the golf course--but only after church. For that, the families would travel by canoe or rowboat to the next point south, where the retired rector of St. John's Episcopal Church in Canandaigua had his cottage. Many of the children would congregate on the stairs, beneath the walls lined with rattlesnake skins. The old priest would recite the service faster than anyone but his wife, who beat everyone through the Apostles' Creed. He was in a hurry to go fishing, and she was in a hurry to fix his lunch so he could. On all days, children went easily between the houses, whose doors were always unlocked. It was a secure, prosperous, homogeneous world, staunchly Republican, though once visited by young Franklin Roosevelt, who developed a cramp while swimming and was pulled ashore by a resident. In later years when New Deal rulings offended local sensibilities, FDR's Good Samaritan was often heard to declare, "I should have let the son of a bitch drown!"

Even in that well-off community, the Bogarts were accorded a certain deference. Dr. Bogart ran a flourishing downstate practice and was known to have inherited wealth. His wife was the renowned illustrator and children's artist Maud Humphrey. It was said in hushed tones that they were DeForests--socially well connected and linked in some indefinable way with one of the oldest and most distinguished names in New York State.

And they looked it. For years afterward people would remember the family, up from Grand Central Station on the overnight Pullman, getting off the train at Canandaigua and boarding the Onnalinda, headed for their landing: the doctor, six feet tall and broad-shouldered, immaculate in his heavy suit, boiled shirt, and stiff collar; his handsome wife, nearly as tall, thin, fashionable in starched cottons or flowing silks of gray or mauve, with lavender-ribboned high-heeled high-button shoes that accentuated the tininess of her size-2 1/2 feet, of which she was so proud; the small, dark-eyed boy and his two little sisters Frances and Catherine, all three under the close watch of a nurse in a starched uniform. They swept aboard the steamer, a splendid caravan, the rear brought up by a sourfaced servant couple straining under the weight of abundant trunks and packages.

But there was an underside to the domestic portrait that was generally hidden, though not obscured from those who knew them well. Decades later, Humphrey Bogart would describe for his fans a meticulously proper view of his early life: a weak-willed but charming father; an undemonstrative yet wholly admirable mother; a home life lacking in affection but with plenty of character. "We were a career family," he told interviewers, "too busy to be intimate." Hardly the most comforting of descriptions, but perhaps the best available considering the recollections of his childhood friends. Theirs depict a far harsher reality.

"Dr. Bogart had a violent temper," said Grace Lansing, later Mrs. Gerard Lambert of Palm Beach and Princeton, and a cousin of Woodrow Wilson's secretary of state. She lived nearby with her mother and the shadow of an absentee father, Harry Lansing, the alcoholic scion of a New York railroad dynasty who had long since disappeared into the wilds of the Adirondacks. Harry Lansing and Belmont Bogart had been hunting friends, and the doctor was attracted to the plump and pretty Mrs. Lansing.

Grace Lambert pitied "those poor children. Humphrey was a month younger than I, very handsome. They were always sent up to the cottage for the summer, with the most awful servants. Common people, with loud voices, ignorant. Oh, they were tough! They used to beat them and shout at them, they were horrible. And the mother and father didn't seem to notice."

Perhaps because the doctor and his wife were part of the problem. They fought continuously, loudly, and publicly. Both were heavy drinkers, with Belmont, as were many physicians of his time, quietly acknowledged to be addicted to morphine. Maud, for her part, seemed constantly preoccupied with her deadlines, always under pressure and loudly impatient with the needs of her children and household. "She had a short temper," Grace Lambert said. "And she'd flare up--against her children, against anybody. She was always painting, under a set time, so anything that came across this deadline was upsetting to her." When the work was finally done, Dr. and Mrs. Bogart would gather up Mrs. Lansing, and the three would go off by motorboat for dinner in Canandaigua. Next morning, Grace would hear from her mother of how poor, dear Mrs. Bogart had had too much to drink and taken to her bed; but it was all right, Dr. Bogart had given her some pills.

Maud was a hostage to bad headaches, though no one really knew whether they or the drinking came first in a life replete with tension and anxiety. Her son, in his idealized recollections, would describe her as a near teetotaler, hardly venturing beyond a lady-like glass of champagne, a recollection considerably at odds with those of many others, including Grace Lambert: "She drank quite a lot."

Maud also fought a painful skin condition known as erysipelas, a streptococcal inflammation named for the hot, red skin that results. "When the pain began," her son once said, "it lashed her so terribly that her left eye closed and the side of her face flamed.... Then my father shot a quarter of a grain of morphine into her to keep her from going insane."

Eventually, erysipelas would be controllable by penicillin; at the time, however, the only relief was through narcotics, carrying with it the dangers of addiction. Belmont Bogart had been snared by drugs in the course of needed medication for a painful leg injury shortly before his marriage, and evidence suggests that Maud was caught as well.

Frank Hamlin, a grandson of the town banker and later chairman of the board of the Canandaigua National Bank, was at the time the smallest of the local boys. He would never forget one day when, in his words, bare-legged and runny-nosed, he stopped off to see his friend Hump Bogart.

Nobody ever bothered to knock on the open doors at the Point, least of all an eight-year-old in a hurry. What Hamlin saw in the hallway, however, made him stop and gape, his greeting locked in his throat.

Dr. and Mrs. Bogart stood on the front stairs, dressed for dinner, oblivious to the boy or to anything besides themselves. The doctor had a syringe in one hand, Mrs. Bogart's extended arm in the other, the summer sleeve pushed back. With the expertise of his profession, he inserted the needle into his wife's forearm, after which she took the syringe and injected him. There was nothing furtive about it, the whole procedure completed with the practiced nonchalance of sophisticates enjoying a pre-supper aperitif.

The scene confused and disturbed the boy. Dr. Bogart was a doctor, after all, and doctors used needles. But it also brought to mind bits and pieces of grownups' talk overheard before bedtime. As he stood there trying to make sense of what he'd seen, the couple swept out, unaware or perhaps simply not caring that they had an audience.

Addiction among medical practitioners was to some extent accepted at the time; if doctors liked a taste of their own medicine, it was entirely their business. And early-twentieth-century attitudes to drugs aside, the Bogarts' wealth seemed always to give them a cushioned remove from contemporary mores; they lived by their own rules as surely as Maud Humphrey wore white boots in the rain when custom dictated that one wear only black, a color she deemed "plebeian." Not so easily overlooked, however, was the treatment of the three children behind the lace curtains and the massive front door of Willow Brook.

To adults, Belmont Bogart, whom most everyone called Bogie, seemed a charming, civilized man with an easygoing nature, an outdoorsman who loved hunting and camping and always had time to talk with truck drivers and farmers. His son's contemporaries often saw someone else--a gruff, overbearing grownup who awed them with his physical presence and was quick to resort to corporal punishment for the least infraction. Mrs. Bogart was little better. Faced with a husband increasingly less inclined to work, which made her own deadlines more important, she released her short temper in shouts at her children when they annoyed her or got in her way. She was now in her forties and clinging to the remnants of her youthful good looks. One attempted augmentation, a newly introduced permanent wave, left her hair discolored, unruly, and the subject of unflattering conversation among the other ladies. To Humphrey's friends, she was an imperious, erratic presence, known as "Queen Maud" or "Lady Maud." Mercurial in mood, she was at times a pleasant grande dame paying youngsters the lavish rate of one dollar an hour to pose for her drawings, but at others a shrill, intimidating shrew whose scolding voice carried halfway across the lake.

She was the determining factor in her son's early life.

Maud Humphrey painted angelic children nestling up to Madonnalike mothers in a series of successful books that began in the 1890s with The Bride's Book. Her own children, however, seemed little more than biological evidence that she had done her duty as a wife. They knew their place; it was with the servants, to whom they were shunted off in the routine manner of the day, always secondary to her art. In a way, the closest she came to her children was when she had them sit for her. Humphrey was his mother's favorite model, although he was not the original Maud Humphrey baby, as so often later claimed. Her drawings depicted idealized children. And when her own child posed for her, he was removed from the realm of real person with real needs. It was as if in painting a picture of a perfect child, she made her own child, who was the subject, perfect, and therefore perfectly mothered.

"She was essentially a woman who loved work, loved her work, to the exclusion of everything else," Bogart would recall. "I don't think she honestly cared about anything but her work and her family. Yet she was totally incapable of showing affection to us."

To her children, she was always "Maud," never "Mother." It was easier, her son rationalized; it was unsentimental, as direct, business-like, and impersonal as Maud was. It also meant a childhood without a kiss or a hug. When she did show her approbation, it was conveyed in a masculine way; long after he was an adult, Bogart still did not know whether her manner was caused by shyness or a fear of seeming weak. "Her caress was a kind of blow," he said. "She clapped you on the shoulder, almost the way a man does."

Humphrey Bogart would eventually come to terms with the mother of his childhood, would even admire her. After all, she was a woman who was famous in her own right, an acknowledged talent in a man's world, and a high-income earner in an age that consigned women to the kitchen. But admiration was as far as he could go: "I can't say truthfully that I loved her." The relationship engendered a streak of distrust that bedeviled his later intimacies with women. Once he was established as a tough guy in films, he gave interviews with super-macho titles such as "I Hate Dames," confessions with more of a basis in reality than the studio flacks who placed them realized.

The classification of dysfunctional families was decades away, but the concept was no stranger to the Bogarts' neighbors on the Point, who were concerned for the welfare of the children. Humphrey's sisters, Frances and Catherine Elizabeth, known as Pat and Catty, were two and three years younger, respectively. (Frances was at first called "Fat" by Humphrey because she was, though she soon grew tall and slender and became Pat thereafter. As an adult, Catherine was called Kay.) Their gentle older brother with his sad dark eyes was protective of them but ill-equipped to cope with the rages of the servant couple who themselves were mistreated by Belmont and Maud, and who vented their resentment on their employers' helpless offspring.

"They were abused," said Grace Lambert. "Everyone worried so about them, but they couldn't do much about it. Those servants were awful."

The worst times were the extended periods, lasting anywhere from two weeks to a month, when the parents would return to the city, leaving the servants in total control. Even though sounds traveled on the Point, allowing others to hear the shouts and cries, Humphrey and his sisters never complained openly. "Wouldn't dare," Lambert said. "They were afraid."

But Grace wasn't. If he wasn't going to talk about it, she told Humphrey one day, she would. Anyway, she added, the grownups already were. He grew anxious, his eyes troubled beneath the fringe of dark hair: "Don't--don't say that. Don't."

She went ahead anyway--"And it got back to Mrs. Bogart that I was saying things about her servants."

A walkway ran along the lakeshore, a favorite promenade for local families on summer evenings, when neighbor called on neighbor. Grace and her mother were out walking one night when a tall, imperious figure bore down on them out of the gloaming, shouting at the top of her voice. Maud Humphrey Bogart, made even more towering by her high-heeled shoes with the little purple bows, railed at the embarrassed little girl: Oh, she knew what Grace was up to, spreading stories about her servants being cruel. Well, she didn't believe it--not a word of it! The eleven-year-old winced, shaken at the dressing-down in front of the grownups. But to Grace's surprise, she saw them turn instead on Maud and berate her. While this comforted Grace, she also knew what would happen to Humphrey.

On another summer's afternoon she had entered the cool, dark hallway of the Bogart house. She often came to pose for Maud, but that day she was just looking for her friend as she made her way up the stairway. The walls of the stairwell and landing were covered with murals, in which Mrs. Bogart, with a sardonic eye, had depicted the comings and goings of the colony.

The house was quiet, except for an odd sound she couldn't quite place: a dull snap at regular intervals that echoed in the stillness. A door on the landing was ajar. Drawn by curiosity, she moved quietly until she saw, outlined against the light from the windows, Humphrey, hunched over, and his father, who held the boy's neck with one arm while the razor strop in the hand of the other came down repeatedly on his back. There was no shouting, no sign of anger, no murmur or struggle from Humphrey, who slightly flinched as the blows landed, his face expressionless. Only the recurring snap as the leather found its target.

Grace quickly fled the house. As she hurried to the carriage road, she passed the little studio where Maud, a cool detached figure in mauve, sat painting one of her famous tableaux of angelic children.

Humphrey Bogart would make his career in film, a medium based on illusion. He was perfectly trained for it, for a good deal about the Bogarts was illusion: the solid Victorian facade that masked alcoholism and drug and child abuse; the distinguished doctor with needle tracks under his boiled shirt; the revered children's artist with no understanding of her own son and daughters. Just as illusory were the Bogarts' pretensions of being Old New York society. The fact was, Dr. Bogart's father had begun as a Canandaigua innkeeper.

Adam Watkins Bogart had always wanted more. With a single exception, his people had been farmers for generations, ever since Gisbert in den Bogart, "Gisbert in the Orchard," had arrived from Holland in the 1600s. They had lived first in Brooklyn--up to modern times there would be a Bogart Avenue there--then migrated in stages to the newly opened farmlands around the Finger Lakes in the lovely, hilly region of western New York known as the Southern Tier.

Adam was ambitious and he was tough, and one way to be freed from slavery to the soil was to run a tavern, a two-fisted job in an area only a generation or two removed from frontier days. By the 1850s, he had saved enough for a lease on the Franklin House, Canandaigua's one hotel, which doubled as the county seat. The town jail was in the basement, a tap room out front was the social hub. Here were farmers gathered on their infrequent visits to town, travelers passing through, politicians arguing and dealing amid clouds of cigar smoke. Adam was in his element as proprietor and host; the appropriate occupation and place for the grandfather of Casablanca's Rick Blaine.

He married a woman of property, like himself no longer young, and like himself eager for betterment. Julia Bogart had the money for the lease on the elegant three-story Jefferson House, the social center of what was then the village of Watkins on nearby Lake Seneca. The brick and stone hotel had been built by a distant cousin of Adam's, who had given his name to the town. Jefferson House had fourteen rooms, each with a fireplace, a two-story balustraded tower, and a spacious lobby with a floor of gleaming black and white Italian tile.

Julia held the lease, and the money, too. Adam minded the business. The younger of their two children, both boys, was given the grandiose name of Belmont DeForest, joining the names of two leading New York high-society families of no relation to each other or the Bogarts, but a clear statement of the parents' aspirations. Only naming the child Vanderbilt Rockefeller would have been more pretentious.

The older boy's name would be obliterated over the years, though not the story of his fate. He was six years old, sliding down the sleek, polished banister of the massive stairs that ascended two floors on one side of the high-ceilinged lobby. Perhaps the father had promised to keep an eye on him. Lost in the pleasure of descent, the boy failed to check his speed. Seconds later, he sailed off the railing and smashed against the bright, hard tiles, dying on impact.

Julia never forgave her husband, although whether because marital rights were not to be denied or, more likely, because she simply wanted another child, Belmont was born a year later. He was two when his mother died in November 1868, after five months on a sickbed, treated by a doctor who had come by every day with useless medications. Her body was interred at Glenwood Cemetery, but not her fury. In the will she wrote just two months before, Julia A. Bogart left her worldly goods to her only child, with specific instructions that the boy's upbringing and financial affairs be in the care of a legally appointed guardian. Adam was left with nothing, not even his son.

He contested the will, charging that his wife was not in her right mind. Local sympathies were with him, but hearings and conflicting family claims dragged on for two years, depleting the estate and embittering Adam. In March 1871, Adam traveled to Newark, New Jersey, to appeal directly to Julia's sisters. Whatever opposition they may formerly have had, they now petitioned the court on his behalf. Wrote one: "He has always thought I was opposed to his having his rights. Now I will say this to you in confidence--Brother Bogart has always been an honorable man with his family. I now think it the best way to let him have his own way and there is not a doubt [that he should be] with his own child." Another stated, "I know his whole mind is on the future welfare of the son" and asked that the money be released "in Brother Bogart's hands so he can go in business and make a living for self and boy.... I know [Adam] to be an affectionate father, ever watchful over the interest of the motherless son." Soon after, the court declared all accounts settled, leaving father and son free to go. Adam paid his debts and took his boy to New York City. He did not return to Watkins until he was shipped back in a casket twenty-one years later, to be buried near the wife who hated him.

He had never remarried. Belmont DeForest Bogart grew up alone, a confused, disoriented child who was the object of a custody battle in which one of the litigants was his dead mother.

Not that the boy lacked for material comforts. In the boomtown of 1870s New York, Adam Bogart invested Julia's remaining money well. He made a fortune as a pioneer manufacturer of lithographed tin advertising signs and was determined that Belmont would have not only the name of a rich man's son, but all the advantages as well. He would not have to endure the taproom of the Franklin House, the farmers with their muddy boots smelling of cow dung, and the country politicians with their tobacco plugs and cheap cigars; neither would he have to cater to the patrons of the Jefferson. Instead, he would go to Andover, like the sons of the landed gentry of Canandaigua and Rochester, and then to Yale. He would know the right people. He would be a gentleman.

Belmont learned this lesson all too well. Tall and good-looking, with a thatch of thick, dark hair, he was popular with women and the sons of the best families, an avid huntsman and skilled sailor at the fashionable summer resorts. In a social world attuned to the "Gentleman's C," he made his way easily through Andover and Yale, then the Columbia College of Physicians and Surgeons in New York City; later he was on the staffs of Bellevue, St. Luke's, and Sloan hospitals. Following his graduation from Columbia in 1896 and eased by the right entrees, he launched a prosperous practice that never intruded on the pleasures of a gentleman. He had, on the surface anyway, an ideal life. And perhaps if it hadn't been for the ambulance accident, his son's life would have been very different.

According to newspaper accounts, Dr. Bogart, just months out of medical school, was waiting alongside a city street when a horse-drawn ambulance, top-heavy and balanced precariously on large, spindly wheels, came by. Possibly the horse turned skittish, but without warning the ambulance tipped over and fell on the young doctor, leaving him with massive cuts and bruises, and a fractured leg. The bone, badly set, refused to heal and had to be rebroken and reset. Eventually he learned to walk again, but from then on his health would always be unstable. The use of drugs, prescribed at the outset to alleviate the excruciating pain, became a daily ritual; he would be addicted for the rest of his life.

The accident had a secondary, equally fateful outcome. Two years earlier at an art studio party, Belmont Bogart had met the beautiful, spirited Maud Humphrey, two years younger than he and already famous. Their instantaneous attraction that led to a quick near-engagement was reinforced by the proper social attributes--he had money and position, she was tall and slender with fine features and an independent air that excited him, though not so bohemian as to preclude a good income. But she was also an outspoken conservative as well as a suffragist--her son would call her a laboring Tory--who worked hard for her earnings and for women's rights. Their differences soon led to a break in the relationship.

Now, two years later, she walked into the hospital room and back into Belmont's life. Their reconciliation was as instantaneous as their initial attraction. From that point on, Maud took over. In view of "the impending sufferings" of her fiance, she told a reporter from upstate, she had decided that she would rather nurse her husband through his trial than visit a fiance with the chaperons required for a single lady. They were married within a week, a few Humphrey cousins on hand to stand for the bride. "The honeymoon," reported the Ontario County Times of Canandaigua, "will be spent in a hospital." They married in June 1898, the bridegroom thirty-two, old for those times, the bride thirty, an age considered well into spinsterhood.

But labels seldom concerned Maud. In her case, moreover, the usual social pressures to marry had been inoperative. Her parents were dead, as were Belmont's; financially, she was independent. Even so, the doctor was a catch; he was rich, he was good-looking, and marriage was still the ultimate success, especially for a woman of thirty.

She was the daughter of a comfortable middle-class family from Rochester's Third Ward, known locally as the Ruffled Shirt District. The Humphreys were proud of their English roots and their lateral connections to the Churchills, connections that make Maud and her children distant relations of Winston Churchill and of Princess Diana. One of Maud's uncles was a prominent lawyer, another the owner of Humphrey's Bookstore, for years a city landmark. Her father John had been a prosperous Rochester merchant.

Maud's determination had sustained her through a bout of near blindness that inexplicably began when she was fourteen and just as inexplicably reversed itself two years later. Her parents died not long after, and she left Rochester at eighteen, going first to New York City to enroll at the Art Students League, and then to Paris, where one of her teachers was James McNeill Whistler. She returned a skilled painter, only to find that men of large affairs, who controlled the fat commissions, weren't about to have their portraits painted by a woman. Children, however, were another matter; the nursery was after all a woman's place. Her best work in any case was in watercolors and in the strong, sure charcoal drawings that would include some of the most insightful likenesses of her son. "The Maud Humphrey baby," he later said, was painted in "water color worked so dry the painting seemed to have been etched."

Maud mined her niche. Her paintings appeared on the covers of such magazines as the Delineator and Buttrick's as well as in ads and sewing patterns. Soon her work caught the attention of such color printers as Louis Prang of Boston and Frederick A. Stokes of Rochester, who quickly bought exclusive rights to all her color work and kept her under contract until 1900, illustrating popular books of the publisher's invention. It was a lucrative arrangement for them both. Her artworks were printed on finer paper than the text, and were signed and copyrighted so that they could be resold as prints or reproduced as calendars and postcards by other publishers who had made agreements with Stokes. She also illustrated calendars for upstate New York newspapers, generally given to subscribers by their paper boys. A particularly beautiful one, done for the Buffalo Evening News, could be cut to form a jigsaw puzzle.