Mary Grace Canfield (September 3, 1924 – February 15, 2014) was an American theatre, film and television actress.
Early life and career
Mary Grace Canfield was born in Rochester, New York, the second child of Hildegard (née Jacobson) and Hubert Canfield. She grew up in Pittsford, New York. She had a sister, Constance, who was two years older. Acting mostly in small theatre companies and regional theatre between 1952 and 1964, she appeared in several Broadway plays, but most ran for no more than a month. Her Broadway credits include The Waltz of the Toreadors and The Frogs of Spring. Canfield's first credited performance on television was in March 1954 when she portrayed Frances in the episode "Native Dancer" on Goodyear Playhouse. After making additional television appearances, she played housekeeper Amanda Allison on the sitcom The Hathaways during the 1961-1962 season. As Thelma Lou's "ugly" cousin in an episode of The Andy Griffith Show, she had an arranged blind date with Gomer Pyle, played by Jim Nabors. Her name on this episode was her actual name, Mary Grace. The episode was originally scheduled to air on November 25, 1963, but it was preempted by the coverage of the assassination of President John F. Kennedy three days earlier.
Green Acres
Canfield was best known for her recurring role on the hit comedy series Green Acres as Ralph Monroe, the all-thumbs carpenter who greeted her fellow Hootervillians with her signature "Howdy Doody!" She appeared in more than 40 episodes of the show during its six-season run from 1965 to 1971. She reprised the role in the 1990 TV movie Return to Green Acres. Recalling the Ralph character in a 2006 interview, she said "To be remembered for Ralph kind of upsets me—only in the sense that it was so easy and undemanding." She added "It's being known for something easy to do instead of something you worked hard to achieve."
Other roles
She guest-starred on The Eleventh Hour. In 1966, Canfield played Abner Kravitz's sister Harriet on four episodes of Bewitched. Actress Alice Pearce, who played Abner's wife, Gladys Kravitz, had died from ovarian cancer, and her successor as Mrs. Kravitz (Sandra Gould) had yet to be hired. During the early 1970s, Canfield and actress Lucille Wall shared the role of Lucille March on General Hospital. Canfield appeared in feature films such as Pollyanna (as "Angelica"), The St. Valentine's Day Massacre and Something Wicked This Way Comes.
Later life and death
Canfield made her last public appearance in 2005 when she attended Eddie Albert's funeral with Green Acres co-stars Sid Melton and Frank Cady. Canfield died at age 89 from lung cancer on February 15, 2014 in Santa Barbara, California.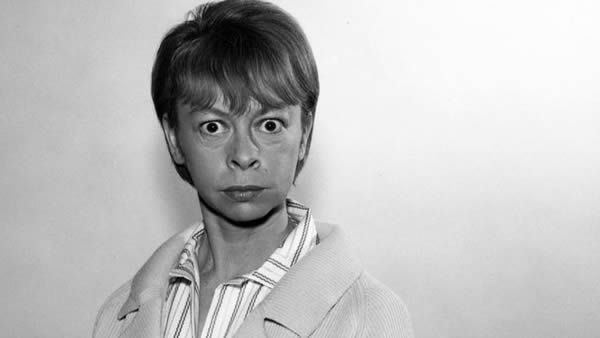 Filmography
1959 : That Kind of Woman : WAC on Train : Uncredited
1960 : Pollyanna : Angelica
1962 : The Interns : Pharmacy Nurse : Uncredited
1963 : Come Blow Your Horn : Mildred - Looking for JFK at Party : Uncredited
1967 : Don't Make Waves : Seamstress
1967 : The St. Valentine's Day Massacre : Mrs. Doody : Uncredited
1975 : Half a House : Thelma
1983 : Something Wicked This Way Comes : Miss Foley
1988 : South of Reno : Motel Manager
1993 : Young Goodman Brown : Goody Cloyse : (final film role)
Television
1954 : Goodyear Television Playhouse : Frances : Episode: "Native Dancer"
1955 : The Best of Broadway : Liesl : Episode: "The Guardsman"
1956 : Robert Montgomery Presents : Abigail Lewis : Episode: "Goodbye, Grey Flannel"
1959 : The Play of the Week : Sidonia : Episode: "The Waltz of the Toreadors"
1961 : Thriller : Celia Perry : Episode: "A Good Imagination"
1961–1962 : The Hathaways : Amanda Allison : Episodes: "Elinor's Guilt", "TV or Not TV", "The Paint Job", "A Man for Amanda"
1962 : Thriller : Ally Rose : Episode: "The Hollow Watcher"
1962 : Hazel : Miss Simmons : Episode: "Rock-A-Bye Baby"
1962 : Poor Mr. Campbell : Grindl : TV movie
1963 : The Joey Bishop Show : Mrs. Bennett : Episode: "The Baby Formula"
1963 : The Eleventh Hour : Mrs. Dobkin : Episode: "The Middle Child Gets All the Aches"
1963 : The Andy Griffith Show : Mary Grace Gossage : Episode: "A Date for Gomer"
1964 : Bob Hope Presents the Chrysler Theatre : Juliet : Episode: "Wake Up, Darling"
1965–1971 : Green Acres : Ralph Monroe : Recurring role (41 episodes)
1966 : The Farmer's Daughter : Alice Goodall : Episode: "Twelve Angry Women"
1966 : Bewitched : Harriet Kravitz : Episodes: "Follow That Witch: Parts 1 & 2", "A Bum Raps", "Man's Best Friend"
1967 : Vacation Playhouse : Mildred : Episode: "Heaven Help Us"
1970 : Adam-12 : Susie Fisher : Episode: "Log 135: Arson"
1973 : Love, American Style : Bridgette : Episode: "Love and the Games People Play"
1973 : General Hospital : Lucille March : TV series, replacement for Lucille Wall
1976 : Family : Mrs. Hanley : Episodes: "Coming Apart", "Home Movie"
1978 : Tabitha : Dr. Morrison : Episode: "Paul Goes to New York"
1984 : Burning Rage : Nettie McFadden : TV movie
1985 : Alice : Ruthie : Episode: "The Night They Raided Debbie's"
1990 : Return to Green Acres : Ralph Monroe : TV movie
1993 : The Jackie Thomas Show : Jane : Episode: "Aloha, Io-wahu"