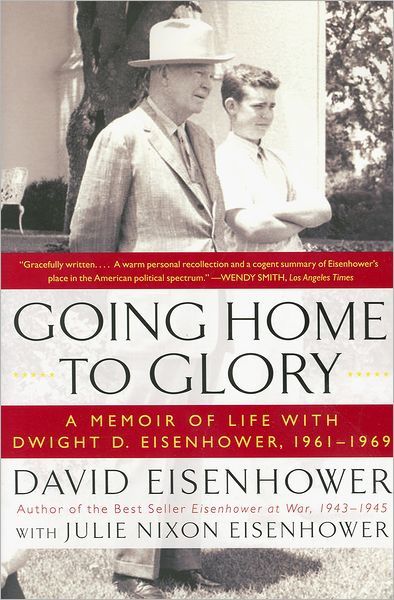 When President Dwight Eisenhower left Washington, D.C., at the end of his second term, he retired to a farm in historic Gettysburg, Pennsylvania, that he had bought a decade earlier. Living on the farm with the former president and his wife, Mamie, were his son, daughter-in-law, and four grandchildren, the oldest of whom, David, was just entering his teens. In this engaging and fascinating memoir, David Eisenhower—whose previous book about his grandfather, Eisenhower at War, 1943–1945, was a finalist for the Pulitzer Prize—provides a uniquely intimate account of the final years of the former president and general, one of the giants of the twentieth century.
In Going Home to Glory, Dwight Eisenhower emerges as both a beloved and forbidding figure. He was eager to advise, instruct, and assist his young grandson, but as a general of the army and president, he held to the highest imaginable standards. At the same time, Eisenhower was trying to define a new political role for himself. Ostensibly the leader of the Republican party, he was prepared to counsel his successor, John F. Kennedy, who sought instead to break with Eisenhower's policies. (In contrast, Kennedy's successor, Lyndon Johnson, would eagerly seek Eisenhower's advice.) As the tumultuous 1960s dawned, with assassinations, riots, and the deeply divisive war in Vietnam, plus a Republican nominee for president in 1964 whom Eisenhower considered unqualified, the former president tried to chart the correct course for himself, his party, and the country. Meanwhile, the past continued to pull on him as he wrote his memoirs, and publishers and broadcasters asked him to reminisce about his wartime experiences.
When his grandfather took him on a post-presidential tour of Europe, David saw firsthand the esteem with which monarchs, prime ministers, and the people of Europe held the wartime hero. Then as later, David was under the watchful eye of a grandfather who had little understanding of or patience with the emerging rock 'n' roll generation. But even as David went off to boarding school and college, grandfather and grandson remained close, visiting and corresponding frequently. David and Julie Nixon's romance brought the two families together, and Eisenhower strongly endorsed his former vice-president's successful run for the presidency in 1968.
With a grandson's love and devotion but with a historian's candor and insight, David Eisenhower has written a remarkable book about the final years of a great American whose stature continues to grow.

Fiche Technique
ISBN-13: 9781439190913

Author : David Eisenhower

Publisher: Simon & Schuster

Publication date: 10/11/2011

Read an Excerpt - GETTYSBURG - GOING HOME

In the late afternoon of Inauguration Day, January 20, 1961, Dwight and Mamie Eisenhower drove north to Gettysburg, Pennsylvania, in the 1955 Chrysler Imperial that Mamie had purchased for Ike on his sixty-fifth birthday. The outgoing President and First Lady, their personal servants, Sergeant John Moaney and Rosie Woods, and chauffeur, Leonard Dry, sat together in the roomy car. There was an eerie loneliness about the absence of motorcycle escorts and caravans of Secret Service and press cars. A single Secret Service vehicle with driver and agent led the Chrysler. When the Eisenhowers approached the entrance to their Gettysburg farm, the Secret Service honked the horn and made a U-turn, heading back to Washington.

The Eisenhowers' itinerary had been published in newspapers. Despite a blizzard the night before and below-freezing temperatures, friendly groups in twos and threes lined the road between Washington and Frederick, Maryland. Near Emmitsburg, on Route 15, the crowds grew larger. The nuns, priests, and students of Mount St. Mary's and St. Joseph's colleges, bundled in overcoats and scarves, congregated along the road bearing "Welcome Home" signs.

In Gettysburg, a festive mood reigned. Over sixty civic organizations prepared for celebrations scheduled the following evening in the town square welcoming the Eisenhowers home as private citizens. Henry Scharf, owner of the Gettysburg Hotel and host of the "Welcome Home Day" celebration, was pleased that Eisenhower had selected Gettysburg to retire. The Eisenhowers would not only mean tourism, but also add to the historical stature of the community. Scharf, like the majority of the townspeople, had a sense of history about Gettysburg. His study at home was packed with books on the Civil War, World War II, and the American Revolution. By the untidy appearance of his study, one judged he used those references constantly, and he did. He was convinced Eisenhower's decision to retire to Gettysburg was an affirmation of the town's historical uniqueness.

As Scharf said to his wife, Peggy, "This is the greatest thing to happen to this town since the battle. This man is beloved by everyone, including his opponents. He is the best-loved president since Lincoln."

But there was a difference. While in office, Lincoln had been one of the most maligned presidents in American history. His stature had grown with the passage of time and he was linked to Gettysburg by his unforgettable address at the dedication of the National Cemetery. Eisenhower, on the other hand, was perhaps the most popular president while in office, but his reputation might not grow like Lincoln's, might in fact diminish.

Earlier that morning, Scharf's daughter, Elise, scurried about her Alexandria, Virginia, apartment collecting a few necessities for the journey to Gettysburg along the precise route the Eisenhower party would take. Not only was Elise needed at home to assist with the multicourse dinner arrangements; she also eagerly anticipated a chance to see the Eisenhowers close-up and perhaps even to chat. Elise admired President Eisenhower and had seen him from a distance on the few occasions her father's staff had been involved in catering functions on the grounds of the Gettysburg farm. She had gone along as a member of the kitchen or grounds crew, just for a glimpse. Now, as far as she and several thousand other Gettysburgians were concerned, the Eisenhowers were becoming neighbors. Nobody planned to bother them or to ask them to appear at social gatherings and club functions. Everyone expected that eventually the Eisenhowers would take some active part in the community, but no one would impose.

The weather was ominous. Elise worried that she would be blocked by the accumulating snowdrifts, which were paralyzing the capital city and the roads leading to southern Pennsylvania. Snow had fallen heavily the night before, and the entire Potomac Basin was frozen. Temperatures had plummeted. As the ceremonies inaugurating John Kennedy as the thirty-fifth president drew to a conclusion, Elise called the Maryland State Police to learn the status of the northbound roads. She found out that nothing could be guaranteed after three o'clock but that if she left immediately, she had a reasonable chance of getting home.

Additionally, she reasoned, if she could reach Route 15 at Frederick, the remainder of the road running through Thurmont and Emmitsburg would be kept open for the Eisenhower motorcade. Elise set off on her uncertain trek and eventually joined up five minutes behind the bittersweet Eisenhower procession.

Every mile, Elise saw evidence that the Eisenhower motorcade had passed through minutes before. She saw discarded signs reading "Welcome Home," and the dispersing throngs who moments earlier had braved the cold to ease Eisenhower's transition to private life. In Emmitsburg, Peggy passed the congregation of nuns packing up blankets and signs outside of St. Joseph's College. Upon arriving in Gettysburg, she learned of improving forecasts for the 21st, calling for frigid weather but gradually diminishing snowfall. The ceremonies set for the next day were on.
———

At dinnertime, my grandparents drove directly to our home, a former schoolhouse that stood on the corner of their farm. My three younger sisters, Anne, eleven, Susan, nine, Mary Jean, five, and I, now a grown-up twelve years old, had watched the inauguration at home in Gettysburg. I remembered thinking that it should have been the Nixons moving into the White House—and then thinking that being twelve and fourteen years old, the ages of Julie and Tricia Nixon, would be a terrible time to have Secret Service agents. I would miss the men on my detail, but not their constant guarding of Gran One, Gran Two, Gran Three, and Gran Four, the official Secret Service names for my sisters and me.

Everyone now seemed animated and happy, in sharp contrast to the air of numbing tension in the White House several weeks earlier. Relaxed, Granddad listened intently to every word spoken and seemed to say less than usual. He basked in the attention, joking lightly. Characteristically, he wandered frequently into the kitchen to supervise dinner preparations by Sergeant Moaney and his wife, Delores, who had arrived at the farm earlier in the day. Moaney had joined Granddad's staff as his orderly in the early months of the war in Europe and Delores had become my grandparents' cook after the war.

My father, John, broke the spell of gaiety toward the end of the evening, standing up from the dinner table to speak. He reviewed briefly Granddad's accomplishments and then spoke of the years before the fame. As a small, tight-knit family of three, the Eisenhowers had seen much of the world. They had lived in Paris and in Washington both before and during the Depression. They then went on to the Philippines and four years of service under General Douglas MacArthur. The war had dispersed the family, John going to West Point, Mamie returning to Washington, and Dwight Eisenhower going on, in Douglas MacArthur's words, to "write his name in history." Dad recalled that the decision to run for president had been difficult, but in the end, Dwight Eisenhower had returned from his NATO command to lead the country through eight years of peace and prosperity. Dad spoke of the experience of a lifetime he had had serving his father in the West Wing.

"Leaving the White House will not be easy at first," Dad said. "But we are reunited as a family, and this"—Dad gestured to all of us seated, and outside toward the farm—"is what we have wanted. I suppose that tonight, we welcome back a member of this clan who has done us proud." Dad raised his glass in a toast.

Too moved to reply, Granddad simply held his glass high and joined in the "hear, hear."
———

It had been a long day. Earlier, Eisenhower had transferred power to John F. Kennedy. That morning, after coffee at the White House and a brief pause at the North Portico for the benefit of newsmen, photographers, and television cameras, Eisenhower and Kennedy had driven off to the Capitol wearing top hats in place of the homburgs that Eisenhower had sought to install as a tradition at his inaugural in 1953. The tradition, Time noted, "will end with his [Eisenhower's] administration."

Slowly the black limousine bearing the oldest and second-youngest presidents in U.S. history had rolled toward the gleaming Capitol building, past the crowd estimated at nearly a million people lining Washington's broad boulevards and gradually filling the newly installed tiers of spectator's stands. In December, Eisenhower had ruefully likened the stands appearing around the White House and along the inaugural parade route to "scaffolds." By that comment Eisenhower might have been mindful of his inauguration eight years earlier. After he and Harry Truman exchanged only a few words during the entire ceremony, Truman's departure, in Eisenhower's mind, had taken on the character of a hanging. But in January 1961, Harry Truman, busy making the rounds of inaugural parties, appeared to have forgotten the affair. On the 19th, Truman told reporters he had "no advice" regarding Eisenhower's retirement, adding that as far as he was concerned, Eisenhower was "a very nice person."

Eisenhower was being handled gently, even affectionately, as he went through the ritual of laying down power. Since November, Kennedy had been at his cordial best. Before the inaugural ceremony, Eisenhower and Kennedy had chatted amicably in the Red Room. For his part, Kennedy was almost alight with the intense media excitement over his ascension to power.

Eisenhower had been busy in January preparing his final messages to the American people. In his eighth State of the Union address, he declared the state of the union to be sound. He reminded the country that for eight years Americans had "lived in peace." Eisenhower listed his administration's measures that had ensured the peace: the ballistic missile program, strong support for foreign aid, a series of alliances ringing the Sino-Soviet landmass, and efforts to open talks between East and West. Two weeks later, in his farewell address to the nation, Eisenhower had expressed forebodings about the domestic implications of a permanent state of mobilization without war, warning that a "military industrial complex" could undermine democratic self-rule.

But Eisenhower's message fell on deaf ears. The inaugural coincided with a period of turmoil. Nikita Khrushchev in early January issued an ominous declaration. Aimed partly at China, partly at the United States, he endorsed "wars of national liberation," a program of Soviet support for insurgencies and sabotage worldwide against the remnants of Western colonialism. In Laos, North Vietnamese battalions operated with Pathet Lao units in a battle against pro-Western forces for control of the strategic Plain of Jars. In Cuba, Fidel Castro paraded Soviet-built tanks and Cuban militiamen through downtown Havana, proclaiming his preparedness against a rumored invasion from the north. In France, voters approved a referendum endorsing Charles de Gaulle's program to end the war in Algeria, setting the stage for France's capitulation to the rebel forces. Throughout Belgium, half a million workers, teachers, and businessmen protested the government's austerity program, enacted because of the wrenching loss of the Congo and the end of colonialism in Africa.

Kennedy disagreed with Eisenhower's optimism about the state of the union and now it was his turn to speak. In January, the president-elect had proclaimed before the Massachusetts legislature that his government would "always consider that we shall be as a city upon a hill—the eyes of all the people are upon us." Now center stage, on the threshold of assuming the presidency, Kennedy wanted to convey a sense of urgency, to "rekindle the spirit of the American revolution," and to ask for greater exertions by the American people. In New York on September 14, he had declared his presidency would be "a hazardous experience," predicting, "We will live on the edge of danger."

Minor mishaps enriched the pageantry of the Kennedy inaugural. Cardinal Cushing's invocation was interrupted by a short circuit in the electric motor powering the heating system that warmed the seated dignitaries. Mamie Eisenhower first noticed the smoke and for several awkward moments the assembled officials on the platform scurried about in confusion. The winter sun's glare temporarily blinded poet Robert Frost at the lectern, and forced him to recite from memory a poem he had published in 1942 titled "The Gift Outright," rather than the poem he had written for the inaugural.

Following the administration of the oath, Kennedy delivered the most memorable inaugural speech since Franklin Delano Roosevelt's in 1933. The young president achieved eloquence, an inspirational quality, a tone of defiance and resolve. He repudiated the confident premise of the Eisenhower administration. "Only a few generations," he declared, "have been granted the role of defending freedom in its hour of maximum danger. I welcome this responsibility."

Kennedy drew attention to his youth and to his awareness that this was a moment of transition from wartime to postwar leadership.

    We dare not forget today that we are the heirs of that first revolution. Let the word go forth from this time and place, to friend and foe alike, that the torch is passed to a new generation of Americans—born in this century, tempered by war, disciplined by a hard and bitter peace, proud of our ancient heritage—and unwilling to witness or permit the slow undoing of those human rights to which this nation has always been committed, and to which we are committed today, at home and around the world.

To Khrushchev's promise to subsidize "wars of national liberation," Kennedy replied:

    Let every nation know whether it wishes us well or ill, that we shall pay any price, bear any burden, meet any hardship, support any friend or oppose any foe to assure the survival and success of liberty. This much we pledge and more.

Implying years of inaction under Eisenhower, he cried: "But let us begin . . . let us begin anew."

The Los Angeles Times noted about Kennedy: "He is wrong in implying the beginning came with him, but he is right in suggesting that the perfecting of mankind is tedious and unpredictable." But Time magazine had applauded Kennedy's "lean, lucid phrases," noting his message had "profound meaning for the US future."

Fourteen years later, author Robert Nisbet, criticizing the liberals' fondness for crisis, wrote that "crisis is always an opportunity for a break with the despised present, liberation from the kinds of authority which are most repugnant to bold, creative and utopian minds." Kennedy was now president. The "despised present" was the Eisenhower administration and the "liberation" from constraints had been accomplished by the inaugural ceremony.

Naturally, feelings about the speech ran high and negative among Eisenhower's associates, friends, and family. From the Capitol, Eisenhower motored to a farewell reception at the F Street Club hosted by former chairman of the Atomic Energy Commission Admiral Lewis Strauss and attended by the Nixons, my parents, John and Barbara Eisenhower, and former members of the cabinet. During one of the toasts that dwelled sentimentally on Eisenhower and the departed administration, my mother whispered to Nixon seated to her right, "Wasn't it sad?" Nixon shrugged.

Milton Eisenhower, Eisenhower's youngest brother and closest confidant, lacking the heart to attend either the inauguration or the F Street farewell, watched the ceremonies on television in his home on the Johns Hopkins University campus, where he was president. Once a delegate to UNESCO, he had long believed the United States could "change history" by working toward mutual understanding among peoples. As Milton later recalled, the unilateral character of Kennedy's speech "hit me like bricks."

At Washington's Jefferson Hotel, Eisenhower staff members, including appointments secretary Tom Stephens, Mamie's aide Mary Jane McCaffrey, the President's secretary Ann Whitman, and White House speech-writer Kevin McCann, watched the speech and parade on television. They drowned their sorrow and remorse with martinis. As McCann recalled, "The world was coming to an end."
———

On January 21, the Eisenhower family packed suitcases and drove the several miles from our home into Gettysburg for the welcome ceremony. The severe weather might force us to stay at the Gettysburg Hotel.

In the frigid (14 degrees) night, more than two thousand people crammed into floodlit Lincoln Square to witness the remarks. Judge W. C. Sheely delivered the welcome on behalf of Gettysburg, Cumberland Township, and Adams County. The Gettysburg High School Band played "The Battle Hymn of the Republic." An honor guard comprised of one Army and one Air Force ROTC detachment from Gettysburg College rendered the ceremonial salute.

My sisters and I had taken places among a crowd of grade school classmates. I had seen my grandfather many times on television, as he returned from trips overseas, or addressed Congress or the United Nations. I had seen documentaries about his role during World War II, and I had ridden with him in the presidential limousine through parades and motorcades, but I had never watched him as part of a crowd. The connection between the man on a television screen and the man I knew had always been somewhat abstract. I had never comprehended the barriers between Granddad and others, or experienced them as others had. I realized that if I ran forward that night to the podium, a policeman would restrain me and that I would wreck the decorum of the ceremony. This tugged at me slightly. Yet looking around me, all the people I knew seemed to regard the sight of Granddad on the platform addressing the crowd, waving, being blinded by cameras, ringed by police, as perfectly natural. This, I thought, either set me apart from my friends or set me apart from my grandfather. It occurred to me I had not fully appreciated that familiar and now suddenly distant bald, silhouetted figure being serenaded and honored by my friends.

After the speeches, minutes before the banquet was scheduled to begin, Elise Scharf slipped into the second-floor suite where the Eisenhowers were due to arrive for a cocktail with her parents and a few of the local sponsors of the event.

Mamie Eisenhower was the first person to enter the room. Elise was startled. The former First Lady seemed surprised to see Elise and said nothing. Suddenly Dwight Eisenhower stood a foot away. "Hi! I'm General Eisenhower," he said, extending his hand. Eisenhower's face was ruddy and smiling.

Elise froze. She was speechless. After shaking his hand in confusion, she wandered back into an old kitchen, then a bedroom, where she found a solitary and forlorn-looking Secret Service agent standing watch. He was Dick Flohr, dispatched by President Kennedy as a courtesy to stay for several days in Gettysburg to ward off the curious who might attempt to disturb the Eisenhowers in their isolation on the farm.

Flohr had been among the handful of agents with Granddad during his heart attack in 1955, and had protected him on the campaign trail in 1956. In time Flohr had accumulated a number of intimate experiences with the Eisenhower family. And after eight years of protecting President Eisenhower, agent Flohr's loyalty had become personal. He had traveled everywhere with the President and he loved him. In time he would serve President Kennedy loyally and faithfully, as he had Eisenhower.

"Why are you talking to me?" he asked Elise. She confessed that she did not know what to say to anyone if she were to go back in. "Young lady," he said reproachfully, "the greatest man you will ever meet is standing out there in the next room. You are wasting your time here. Go talk to him."

Elise still hesitated. In the adjoining living room, the gales of laughter and rapid conversation were deafening. But several minutes later she was standing next to Eisenhower. He turned and stunned her with his question: "You're in education aren't you?"

"I almost called you to hitch a ride; the snow was awful," she bubbled. There, she had broken the ice. It was a start.

"Well," he said laughing, "they disconnected me at noon!" He became serious and the two began to discuss one of Eisenhower's pet concerns, federal aid to education. As they talked on for what seemed to Elise to be ten minutes or more, she learned Eisenhower was skeptical of the clamor for federal aid to education. When the federal government begins to fund education, he argued, educational institutions will find they cannot live without the assistance they receive. Then, he added with dark emphasis, the government eventually tells educators what to do. Elise agreed. Whether for good purposes or for evil purposes, Eisenhower continued, the ability to control education has the potential to be used to promote mind control and that should be enough to recommend against letting any such thing take root. She agreed again. This man is wonderful, she thought.

"Driving up here I knew you were just ahead of me. I could see the nuns at St. Joseph's, the signs," she said.

"Wasn't that wonderful," Eisenhower said smiling.

As new friends, Granddad and Elise strolled together downstairs for the presentations, the dinner music, and songs by members of the Gettysburg College Choir. Henry Scharf served as toastmaster. At the end of the dinner he presented the Eisenhowers with a sterling silver wall plaque. Engraved on it was Eisenhower's response to the question of what he wanted Soviet premier Khrushchev to see in America during his historic 1959 visit: "I want him to see a happy people . . . doing exactly as they choose, within the limits that they must not transgress the rights of others."

AN ECCENTRIC REQUEST

On January 24, with an improvement in the weather, Eisenhower was able to fly to Albany, Georgia, for a stag vacation starting at the plantation belonging to W. Alton "Pete" Jones, his future partner in the Eisenhower Farms. Granddad loved to hunt and he was a good shot. In Gettysburg during the pheasant and hunting season, he used to complain to his farm manager and lifelong Army colleague Brigadier General Arthur Nevins that as soon as the season opened, "the pheasants got news of it" and all the cocks took refuge in the adjoining national battlefield, where hunting was prohibited. But at the Jones plantation, for ten days he could shoot quail to his heart's content.

While Eisenhower vacationed in Georgia, the skeletal staff that had accompanied him to Gettysburg began collecting materials for the memoir Eisenhower planned to write on the presidency. Dad began gathering back issues of the Sunday editions of the New York Times and organizing presidential secretary Ann Whitman's files, which included Eisenhower's sporadic dictations in office diary form, important correspondence, and classified memoranda. For a month Dad would be working on his own, collecting news summaries and outlining chapters.

When Eisenhower returned from Georgia, he left promptly with Mamie for Palm Desert, California, and the extended vacation he had planned the month before. A number of Eisenhower's friends arranged to be in California. Longtime friend and partner in the Eisenhower farm operation George Allen flew in to be nearby at his home at La Quinta. Ellis "Slats" Slater, retired President of Frankfort Distillers, flew to California from New York to join the crowd berthing five miles north at the exclusive Thunderbird Country Club. Radio personality Freeman Gosden played host at the Eldorado Country Club, where Texas oilman Robert McCulloch was constructing a home on the eleventh fairway for the Eisenhowers' lifetime winter use.

Every day, Eisenhower and his friends rose early to play golf at Eldorado, Thunderbird, or a neighboring club in matching foursomes. At noon the group broke up for lunch and naps and later assembled for shopping at neighboring stores during the late afternoon. In the evenings the friends assembled for dinner and bridge marathons. For days Eisenhower and his friends donned the uniforms of leisure and relaxed furiously with infrequent intrusions from the outside world.

After a complete rest lasting several weeks, Eisenhower gradually began to open the door to visitors and old government colleagues. In March, former secretary of state Christian Herter visited for dinner and a long conversation. Subsequently former labor secretary James Mitchell paid a call on Eisenhower, as did former vice president Richard Nixon, who drove from Los Angeles to Palm Desert for an afternoon and evening of talks. Five months after the fact, Eisenhower and Nixon were still smarting from the razor-thin loss of the White House to Kennedy. The almost too-close-to-call election had been a referendum on the Eisenhower administration as much as it had been about Nixon and his campaign. Eisenhower had been disheartened by the loss and was still questioning why Nixon had not used him more in the final days of the campaign. At the same time, he knew his vice president had had much more at stake and had taken the defeat hard, especially in view of the disputed returns in Chicago and Texas. The morning after the election, Eisenhower had written from the White House:

    Dear Dick and Pat:

    . . . I want to express to you both the fervent hope that the two of you will not be too greatly disappointed by yesterday's election returns. I know that whatever disappointment you do feel will not be for yourselves but for our country and for the jeopardy in which our great hopes and aims for the future have been placed.

    On the personal side, you will unquestionably have a happier life during these next four years, especially because of your closer contact with your two beautiful daughters. Of course I have no indication of what your future plans may be—possibly you do not know yourselves. But wherever you go or whatever activities in which you may be engaged, you will have my best wishes.

    I assure you that my official confidence in you, Dick, has not been shaken for a moment, and of course all four of you may be certain that the affection that Mamie and I feel for you will never grow less.

    With warm regard,

    As ever,

    Dwight D. Eisenhower

Eisenhower surfaced for newsmen at the Palm Springs training camp of the newly formed Los Angeles Angels baseball team. He remained topical. On March 3, to his amusement, the ZengaKuren radical organizations, which had succeeded in forcing cancellation of his planned 1960 trip to Japan, announced a pledge not to demonstrate in the event Eisenhower returned, provided that he visit in the capacity of former president of Columbia University. On March 31, Che Guevara, Cuba's leading "banker," swaggeringly boasted at a press conference that he could beat Eisenhower at golf. In late March, Eisenhower and several friends flew to Baja for a few days of hunting and fishing in La Paz.

While in California, Eisenhower was not altogether free of the White House. Since the law regarding presidential papers vested him with full ownership, Eisenhower had ordered packed and removed every memorandum, letter, and minute of meetings even remotely connected with his conduct of office, and had had the materials sent to the site of his future presidential library in Abilene, Kansas. The classified materials he shipped to nearby Fort Ritchie, Maryland, for safe storage. Consequently, the Kennedy administration found itself lacking memoranda and wires on holdover matters, particularly in the field of atomic energy, where limited copies of the draft policies and memoranda existed. Back in Gettysburg, Dad took on the job of clearing Kennedy administration requests for documents through Granddad, and then locating them in the files stored at Fort Ritchie.

Pursuant to an understanding reached between Eisenhower and Kennedy after their December 6 meeting, General Andrew Goodpaster, who had served Eisenhower as staff secretary, remained temporarily in his job, providing a daily presidential intelligence briefing. In time he would transfer his duties to General Ted Clifton and depart for Germany and the field command Eisenhower had promised him.

Meanwhile, Goodpaster remained in steady contact with Dad and other former White House staffers. He reported that he got along quite well with McGeorge Bundy, Walt Rostow, and other Kennedy appointees. As for the President, Goodpaster told my father that he would find John Kennedy a "fine fellow" to work with, cordial, intelligent, and humorous.

But Goodpaster had adjustments to make during his short tenure in the Kennedy White House. Working for Eisenhower, Goodpaster had arrived each morning prepared to deliver concise, military-style oral briefings to the President. In contrast, Kennedy, a voracious reader, asked Goodpaster to devise a digest format that enabled the President to read daily intelligence developments as if he were scanning a newspaper.

Upon assuming office, Kennedy made clear to Ted Clifton that there was "nothing Eisenhower wants that we will not provide." Kennedy offered helicopter transportation, limousine service when Eisenhower visited Washington, the use of Walter Reed Army Medical Center, and of Air Force One to transport him to California when Eisenhower left for his February vacation. Eisenhower accepted Walter Reed but declined the helicopter and limousine with thanks, as well as the Air Force transportation to California, which he felt would be "misunderstood."

Eisenhower had promised Kennedy at both the December 6, 1960, and January 19, 1961, meetings that he would support Kennedy on foreign policy with two caveats. He would oppose any move to recognize Red China and he would stop any efforts to rename Dulles International Airport, then under construction in the northern Virginia suburbs. Eisenhower also had a personal favor to ask of Kennedy. Through intermediaries, he requested that the Kennedy administration expedite a bill through Congress, drafted during the final days of the Eisenhower administration by congressional liaison Bryce Harlow, that would restore his five-star rank. Since five-star status brought with it certain perquisites in addition to those of former presidents, Eisenhower agreed to live within the budgetary limits of a former president. The arrangement permitted Eisenhower to retain the services of his chauffeur Leonard Dry, his valet Sergeant Moaney, and his principal office assistant, Colonel Robert Schulz.

In March, Kennedy summoned Ted Clifton to the Oval Office to review Eisenhower's "eccentric request." Kennedy observed at the outset that the restoration of rank involved forfeiting Eisenhower's title as "Mr. President." Kennedy could not conceive any hidden benefit Eisenhower might gain by becoming a five-star general and declining the presidential title. There would be neither monetary nor power gains.

Clifton suggested that perhaps simply the matter of the title was important to Eisenhower. After all, he explained, "Mr. President" placed Eisenhower in company with Kennedy, Truman, and Hoover. "General" was an independent title, unassociated with Kennedy, something of Eisenhower's very own. Clifton concluded, "Well sir, and if he is a five-star general, he needs no favors from you or the White House."

Enlightened, Kennedy ordered Clifton to go ahead. When the bill was passed without opposition in March, Kennedy directed Clifton that the announcement be made "without fanfare" and "on background" at the daily presidential press briefing. "Hold it up," Kennedy gestured in a reference to the commissioning documents, "but downplay it, no story."

On March 22, 1961, Clifton called Robert Schulz at the new Eisenhower offices at Gettysburg College to inform him that his boss was once again a general of the Army. As he signed the bill a day later, Kennedy penned a brief note to Eisenhower in Palm Desert officially informing him of the appointment. A day later, a red five-star pennant was run up the flagpole on the east grounds of the farm, marking Eisenhower's return to the ranks of the Army.

A quick check of history would have explained everything. Years earlier Truman's secretary of state, General George Marshall, had also puzzled friends and Truman by wishing to be known as "General" instead of "Mr. Secretary" after retiring from the cabinet. Marshall, reflecting Eisenhower's sentiment, explained that the military title meant more to him than any civilian title. "I worked all my life to be 'General,'" Marshall explained. So had Eisenhower.

For several months, Eisenhower and Kennedy would exchange correspondence on a variety of routine items—the restoration of rank, the transition, a note of thanks from Kennedy for Eisenhower's strong statement pledging bipartisan support in foreign policy. But there was little possibility of a warm, personal, even advisory relationship. Despite the surface cordiality and the holdover of many familiar faces from the Eisenhower years, including John A. McCone at the Atomic Energy Commission, C. Douglas Dillon at Treasury, Allen Dulles at CIA, and J. Edgar Hoover at FBI, there was a natural antagonism between the administrations.

The Kennedy administration swept boldly into Washington "eager to be tried" and persuaded that the Eisenhower presidency had been a "great postponement." The elaborate organizational staff reforms of the Eisenhower White House were stripped away with an almost evangelical glee, in particular the downgrading of Eisenhower's cherished National Security Council (NSC), described in Arthur Schlesinger, Jr.'s chapter "The Hour of Euphoria" in his book A Thousand Days:

    Mac [McGeorge Bundy] was presently engaged in dismantling the elaborate national security apparatus built up by the Eisenhower administration. . . . Richard Neustadt had taken great pleasure during the interregnum in introducing Bundy to the Eisenhower White House as the equivalent of five officers on the Eisenhower staff. After the inauguration, Bundy promptly slaughtered committees right and left and collapsed what was left of the inherited apparatus into a compact and flexible National Security Council staff. With Walt Rostow as his deputy, and Bromley Smith, a remarkable civil servant as the NSC's secretary, he was shaping a supple instrument to meet the new President's distinctive needs.

———

One of Kennedy's "distinctive needs" would be the counsel of an elder statesman. Because of the lack of rapport between Kennedy and Eisenhower, the role of elder statesman naturally fell to Harry S. Truman, although he, like Eisenhower, had difficulty warming up to the president whom he had snidely called a "spoiled young man." Nonetheless, Kennedy made an early gesture of goodwill, inviting Truman to stay overnight at the White House not long after the inauguration. As the story goes, after dinner the two men took a stroll along the ground floor of the mansion past the Diplomatic Reception Room and toward the movie theater. At the massive doorway leading to the East Wing, the two men paused at the spot where the White House renovation during the Truman years is officially recorded in gold-bronze lettering on the wall. A member of the mansion staff overheard Kennedy remark wryly to Truman, "The S.O.B. [Eisenhower] had a painting over it."

The story is a reminder that changes of administration in those days always touched off a remodeling of the White House to reflect the style and preferences of the new president. Paintings of presidents and first ladies adorn the White House on the ground floor, the first floor, and the presidential offices in the West Wing. The positioning of these portraits revealed the favorites of the current president. The least favored presidents and first ladies were banished to oblivion: at the very top of the Grand Staircase descending from the family quarters to the first floor, outside the doctor's office on the ground floor, or outside the library behind a partition that is drawn as tourists walk through.

The Eisenhower years highlighted Lincoln and Washington. The Kennedy-Johnson years would highlight Franklin and Eleanor Roosevelt, and Truman. The circle would come around again during the Nixon years when the Tom Stephens portrait of Eisenhower dominated the Cabinet Room and the J. Anthony Wills portrait of Eisenhower hung at the entrance to the East Room.

Certain concessions are made for the sake of avoiding pettiness. Eisenhower had inadvertently scarred the Oval Office floor with his golf cleats. He often wore golf shoes in the Oval Office so he could slip out for a quick session of putting and sand practice on the South Lawn. Kennedy decided not to repair the floor, as did Johnson. Nixon, however, had no fears about being accused of obliterating Eisenhower's mark in the Oval Office. At Pat Nixon's insistence, the floor was replaced soon after the 1969 inauguration, but the sentimental Nixon had the scarred portions of the old floor cut up into two-inch square pieces, mounted on small plaques, and mailed to Eisenhower's friends as mementos.

In the 1950s, Eisenhower had felt less need for the advice of his predecessor. Throughout his presidency, Eisenhower's relationship with Truman had been frozen in mutual antagonism. Truman never forgave Eisenhower's decision to run as a Republican in 1952 and Eisenhower had never forgiven Truman for certain statements Truman made in the campaign, which ended a long-standing and friendly partnership. By 1961, Truman no longer cared to remember that in 1947 he suggested to Eisenhower that he would serve as vice president if Eisenhower headed the ticket in 1948. The offer, which Truman now denied, is recorded in Truman's diary, which he presumably thought was destroyed. It was discovered in the Truman Library in 2003 in an obscure stack of books. In his diary entry dated July 25, 1947, Truman wrote, "Ike and I think MacArthur expects to make a Roman triumphal return to the U.S. a short time before the Republican convention meets in Philadelphia. I told Ike that if he did that," then Eisenhower should "announce for the nomination for president on the Democratic ticket and that I'd be glad to be in second place, or vice president."

In his own diary, Eisenhower had described the day:

    Astounding talk at the White House at 3:30 this afternoon. I stick on my determination to have nothing to do with politics—but I can well understand the calamity that might overtake us if some utterly ruthless and ambitious person [a draft Douglas MacArthur for president headquarters had just opened in Washington] should capture public imagination at the critical moment.—

    A cabin in the woods looms up daily as the perfect haven.

    I wonder whether five years from now HT will (or will want to) remember his amazing suggestion!!

Five months later, on New Year's Eve, December 31, 1947, Eisenhower, mulling over the pressures on him to accept the Democratic nomination, wrote:

    My amazing conversation in July with President T, while I realize he may have been talking under conditions as he then saw them—yet the suggestion that he might want to take the lead to ensure the defeat of one particular danger [Douglas MacArthur] he saw on the horizon was, to say the least, extraordinary. . . .

    We end the year on a somber note—but battles are not won by pessimism! We should cultivate the spirit of "Onward Christian Soldiers." . . .

A few hours later, he recorded:

    January 1. This morning I called the President to wish him a happy New Year.

    Only a few days ago, he said to me "Ike, no matter what you do or whatever your plans, let us both resolve that nothing shall ever mar our personal friendship. . . ."

SETTLING IN

In early April, the Eisenhowers returned from California to Gettysburg. Granddad and Mamie loved the farm, which they had purchased in late 1950. The residence they built on the property and moved into in 1955 was the first home they had owned after thirty-three Army moves. As often as possible in White House years, they had spent weekends at the farm.

It had been Granddad's dream for years to own a piece of land. As his farm manager, Brigadier General Arthur Nevins, recalled, Ike simply wanted the chance "to improve the fertility of the soil" of his 190 acres. He had chosen Gettysburg because he felt a connection to the area. His ancestors had settled near the Susquehanna in 1753. Young officer Ike Eisenhower and Mamie also had strong memories of their life in Gettysburg with their first-born son in 1917—18, when Eisenhower commanded a tank-training battalion on the southern edge of town. But perhaps the strongest draw to Gettysburg was that longtime friends, the high-spirited George Allen and his wife, Mary, owned a farm in Gettysburg and had been urging the Eisenhowers to join them.

Allen was an intimate friend of Roosevelt and Truman and author of the humorous book Presidents Who Have Known Me, published in 1950. My grandparents loved his yarns about Mississippi politics, football, and Washington. Like the Eisenhowers, he was drawn to Gettsyburg as a Civil War site. His father, who died when Allen was eight, had been a scout for General Nathan Bedford Forrest during the Civil War. His uncle, John M. Allen, had been an eight-term congressman from Tupelo, Mississippi, during Reconstruction. A plaque at the Allen homestead in Mississippi read: "This house gave nine souls to the Confederacy."

During the presidency, Eisenhower had left the day-to-day workings of the farm to others. Eisenhower arranged to lease his farmlands to Allen and businessman B. G. Byars of Tyler, Texas, in return for a nominal rental fee for use of the arable acres, while paying the Allen-Byars partnership to maintain his growing Angus herd. Under the direction of General Nevins, the farm had been transformed. When Eisenhower purchased it in 1950, the farmland had poor fertility and drainage, inadequate fencing, and had been suitable only for dairy farming and eggs for shipment to Baltimore. By 1961, the Eisenhower farm was a humming cattle-breeding complex equipped with corrals, cattle chutes, a platform scale, feed lots, and seventy-six head of Angus. Now, with the Allen-Byars partnership about to expire, Eisenhower looked forward to finalizing new business arrangements and to immersing himself in the farm operation.

Indeed, by spring of 1961, new acquisitions on the farm property had converted the sleepy dairy farm into an estate worthy of Eisenhower's earliest dreams as a boy. "Pete" Jones donated a skeet and trap shoot range, landscaped so that it was hidden behind a cluster of trees adjoining Confederate Avenue and the battlefield. A putting green was nestled below the residence next to beds of roses, daffodils, begonias, and gladiolas. Granddad had a small brick hut and patio constructed for his ritual steak barbeques, served up for large parties and special family gatherings. Gifts of trees and shrubbery comprised some of southern Pennsylvania's most unusual landscaping. Near the residence, there were rose bushes, a davidia tree, walnut and pecan trees, and two pink dogwoods. There was also a peach orchard near the horse corral and a cherry tree orchard near the barbeque pit. Fifty evergreens lined the avenue from Waterworks Road to the farm residence, a gift of the Republican state committees. My grandparents' prize object was an artifact of the Civil War—a rusty old pump near Sergeant Moaney's kitchen garden that, according to legend, had been used by General John Bell Hood's brigade encamped on the grounds during the Battle of Gettysburg.

I had been working on the farm since the age of ten. My tenth birthday, March 31, 1958, had been a grand occasion. Delores Moaney used to say, "Master David, when you are ten years old, you'll be all grown up." Birthdays and Christmases had in the past brought forth a cornucopia of toy soldiers, model airplanes, Davy Crockett rifles, and coonskin caps. But on my tenth birthday, when we gathered on the sunporch to open presents Granddad had presented me with a large, wine-colored family Bible with ten parchment pages to enter births, deaths, and marriages of my sons and daughters, their children, and their children's children. My parents, who knew I was an aspiring short story writer, presented me with a leather-bound folder engraved DDE.

In 1958, it was decided that I would start work as a farmhand for thirty cents an hour. My daily chore would be to weed and tend the large vegetable garden below the residence; my summer-long project was to paint the seemingly endless white corral-style fences on the farm property, beginning first in the barnyard, near the Quonset-hut shed and dog kennel. Because we were living in Alexandria at the time, Granddad arranged for me to stay with Navy Chief Petty Officer Walter West, who was supervisor of the fourteen acres surrounding the Gettysburg residence. He lived in a small, two-story frame house near Thurmont just off old Route 15, the main highway to Gettysburg.

In early June I had packed a duffel bag, hopped in the Secret Service sedan, and jauntily took off to begin my career. Each day, Chief West and I were up by six for a hearty breakfast cooked by his wife, who worked at nearby Fort Ritchie. By sunup, the Chief and I were rumbling along in his pickup at fifty miles an hour. It was a fine drive—past Cunningham Falls and Camp David, then past the sprawling snake farm, a tourist attraction north of Frederick filled with exotic cobras and rattlesnakes. By seven, we were beyond Mount St. Mary's College and crossing the Mason-Dixon Line. Entering the heart of the Union, we left behind us the crumbling Maryland state roads and picked up speed on Pennsylvania's smooth and modern highways.

The workday began over coffee in the Quonset hut with the staff reviewing the assignments. We had one hour for lunch. At 2:30, a Secret Service agent and I exercised the horses Sporty Miss and Doodle de Doo. On these daily rides, we explored the Eisenhower and adjacent Alton Jones farm and occasionally ventured onto the bridle paths in the battlefield. By 4:30, after the horses were brushed and the farm tools packed, Chief West and I were in the pickup and headed back to Thurmont.

The Chief was a native Floridian with a deep tan, a military flattop, and forearms swathed with gaily decorative tattoos acquired during his years in the Navy. The Chief knew how to make hands "turn to." He was a hard worker and an undisputed authority at the farm.

The Chief talked a mile a minute, punctuating his vivid tales with expressive gestures. His favorite subject in late afternoon was fishing and returning to the St. Johns River in Duval County, Florida, which he claimed was the best bass and perch stream in the world. He had his retirement planned to the minute and hour. It would be June 1964, a year after the interstate under construction near Thurmont, two miles away from his front porch, would be complete. The Chief figured it would take about forty-eight hours to pack all of his belongings in the pickup truck, another twenty hours to reach Jacksonville and his small cottage on the St. Johns River. Chief West ventured only one opinion about politics that summer, saying once en route to the farm, "Shoot, David, a man's just gotta be crazy to want to be president, just crazy."

Every two weeks Granddad arrived at the farm and the place swarmed with aides, limousines, and police. We had a day's notice so all the equipment could be properly stored and projects rushed to completion before the Chief conducted a rigid inspection of the garden and fences. I trailed him with a notepad. Finding sloppy work or weeds, the Chief would stop and call out "holiday." All holidays were to be squared away by quitting time.

The next day, when Granddad swept in, he carried out the same inspection. I usually awaited him at the garden. At attention, I answered questions about rainfall and the appearance of pests and certain kinds of weeds. Then I led him and Chief West through the rows of corn, peas, and tomatoes, then on to the corral and the north pasture to check the painting. Three years later, in 1961, I would be returning to work for fifty cents an hour and the routine would be much the same, but with two changes. First, the Chief was now working part-time, and second, the Secret Service had left.

Granddad's return to private life meant other changes for our family. My parents had moved into the house on the corner of the Gettysburg farm two years before, anxious for their children to be out of the glare of publicity permeating the White House. My father, still an aide to Granddad, had stayed in Washington during the week and commuted home on weekends. But now that Granddad was living next door to us, most of his prodigious energy would be unleashed around the farmhouse and inevitably radiate out toward his family. The most directly affected would be Mamie.

Since "the Great Divide," defined by Mamie as Granddad's fiftieth birthday, in 1940, she had experienced the gradual loss of power over her husband's affairs. Originally Mamie had handled all the family correspondence. Granddad's growing prominence, however, required secretaries, and eventually Granddad took over the entire burden of corresponding with the outside world except for items sent directly to Mamie.

Mamie entered her marriage with the money in the family, her father having semiretired at the age of thirty-six from his profitable meatpacking business. For the first thirty years of her marriage, Mamie had written the checks and balanced the books except for a small secret account Dwight Eisenhower kept, which consisted of poker and gambling winnings that he drew on to buy anniversary and birthday gifts for Mamie. As recently as their Columbia University years, Mamie had filled a pinchpenny purse with small change for Granddad's weekly lunch and incidental expenses. Now, thanks to a large income from Eisenhower's Crusade in Europe, his best-selling account of his war years, lawyers wrote the checks and balanced the accounts. Stubbornly, almost from force of habit, Mamie kept a small account of her own for incidentals, and nightly recorded the checks and withdrawals. Now, a dozen years later, Mamie was reclaiming responsibility for many matters pertaining to the household.

Another change in Mamie's life was that during the presidency, the affairs of state had absorbed her husband's energies, freeing Mamie to see friends, watch television, play solitaire, and read. Now, in retirement, they spent evenings together. "Complicating things," Mamie recalled, "was that Ike never had the slightest notion how to live with women." She explained: "His mother would have been a good celibate. Ike grew up with six boys and no feminine influence. His idea of affection was a pinch and a kick."

Mamie's support system was Rosie Woods. Mamie recalled first seeing her future personal maid the way one remembers a first date. When Granddad was chief of staff after World War II, Mamie frequented a hairdressing shop called Ogilvie's, where the wives of official Washington gossiped and chatted in brocade satin surroundings over tea and coffee. The proprietor suggested to Mamie that she was in need of a companion.

With Ike's triumphal return from the war, most of her friends had gravitated toward the war hero, leaving Mamie somewhat adrift in a sea of courtiers pursuing her husband. Almost in self-defense, Mamie decided Mrs. Ogilvie was right. She needed a companion to look after her, fix her tea, lay out her clothes, and be on hand.

"Fine," replied Mrs. Ogilvie. "I have the right person."

Rosie Woods, a wispy, bespectacled, soft-spoken Irishwoman in her sixties, had been "in service" for fifty years. Rosie's parents had migrated to the United States in 1880, bringing their children along one by one. Rosie began to work at fourteen in the purple velvet uniform of the governess—ladies' maid.

When Rosie and Mamie were introduced, they fell in love. Mamie thought instantly how much Rosie reminded her of her own governess as a child. Rosie later related that upon setting eyes on Mrs. Eisenhower, she knew instantly, "That's my madame."

Mamie prized Rosie's discretion and her ability to keep a confidence nurtured over long years of domestic service. Rosie was sweet, gentle, and deferential. When Rosie brought Mamie tea, often while Mamie sat in bed writing letters and watching television, Mamie would ask her to sit down with her. "Madame," she invariably replied, "I would rather stand."

Rosie became not only a confidante, but also an adviser. She was "hoity-toity," in Mamie's words, constantly on the lookout for people who might harm Mamie with malicious gossip or intrigue. More than once, she warned, "Mrs. Eisenhower, don't go with her—she's not a lady."

When Mamie was ill, which was quite frequently, Rosie would stay up all night within earshot should Mamie need tea. Mamie used to insist Rosie get some sleep. "Quite all right," Rosie would whisper. "Quite all right."

Now, during evenings on the farm, Rosie was always nearby to anticipate Mamie's every wish, be it a handkerchief or a chocolate.

Like the Moaneys, Rosie was a part of the family. Routinely, she, Sergeant Moaney, and Delores joined all of us on the sunporch to watch television.

One night that spring, as we watched, I was slightly startled by a low hum from Rosie's corner. The singers were rendering a version of "Danny Boy," a sentimental Irish folk song. As Rosie hummed the tune along with the singers, tears ran down her cheeks. Soon my grandparents turned and noticed.

"David," Mamie said gaily, "this is one of the wonderful songs of Ireland and it reminds Rosie of home." At that moment, Mamie and Granddad joined with Rosie in humming and singing the song, Granddad's atonal bass rumbling rather off-key, but adding resonance to the song.

Granddad adored Rosie almost as much as my grandmother did. At bedtime, Rosie tucked my grandparents under the sheets, drew back, and asked if all was well and anything more was needed. My grandfather would select the western he planned to read until dozing off into loud snores. When he wiggled his toes, Rosie would lift up the sheet and let it settle over his legs, sending a slight breeze over his face.

"Thank you, Rosie," he would chime.

"You're welcome, sir," she would reply, always blushing, and quickly she would slip off to her own room two doors down the hall.

Rosie would not stay for a long time in Gettysburg. She had suffered from cataracts for over sixteen years, and by 1961 she was nearly blind. Within the year, Rosie announced that she would not allow herself to be a burden, nor would she work any longer when she felt she could not earn her pay. Breaking Mamie's heart, she retired to the home of a nephew in Arlington, Virginia, where she spent her days fussing over her grandnephews, buying them clothes, and enriching her clan with many stories of all the places she had been with the Eisenhowers in Europe and throughout America. Her life's greatest honor had been in 1951, when she met Pope Pius XII. She spoke endlessly about him.

A change for the grandchildren was the departure of the Secret Service detail. For eight years my sisters and I had been guarded by a group of men who had become friends. The Secret Service command post was a 1953 Pontiac station wagon, parked in front of whatever house we lived in at the time. In heat, rain, and snow, the Pontiac sat out front cluttered with coffee cups, radio equipment, newspapers, sports publications, and mysterious magazines with women in bathing suits—stored under the front seat. A sleek black government Ford sedan was the vehicle the agents used to tail us at a distance as we roamed through the neighborhood with our friends. In Alexandria, our home before Dad went to work at the White House, my sister Anne decided one evening at dusk to "run away." She left the dinner table and marched out the front door, down the flagstone walkway, past the Pontiac, then turned left at the first intersection. She pressed on for several blocks, casting frustrated looks backward at the agents trailing behind at forty yards in the black Ford, radioing information to the Pontiac. After twenty minutes she gave up and climbed into the front seat of the Secret Service car. My parents tactfully were waiting at the window, and gratefully welcomed her home.

Now our lives revolved around Granddad and Mamie at the farm. We joined them for dinner at least once a week. Whereas Granddad had always been a remote, though important figure in our lives, he now became a third parent, quizzing us about what we had learned at school, slipping out unannounced to sit in the bleachers at Little League games, attending Anne's piano recitals and Susan's horse shows. Granddad instituted an incentive system for school grades. He paid each of us five dollars for A's brought home on our report cards, three dollars for B's, and deducted one dollar for C's. My parents observed this with misgiving: on payday, our earnings were taken to be placed in a savings account.

Often we fished at a pond stocked with bluegills and perch. Occasionally before dinner, Granddad, my father, and I would shoot skeet or step out into the fields facing the Blue Ridge Mountains to the west to shoot target practice at tomato paste cans that Sergeant Moaney rigged on a cardboard plank.

That spring I found myself on a "marble regimen." It was an exercise designed to strengthen flat feet by picking up marbles with the big toe and index toe and depositing them into plastic cans. Flat feet were disqualification at West Point. Dad told me that Granddad had drilled him endlessly with marbles as a child to overcome his flat feet. It worked and he was accepted to the Class of 1944 at the U.S. Military Academy. The marbles regimen was simply "giving me the choice" should I decide to apply to West Point.

Life otherwise settled into a routine and the Eisenhowers found themselves adjusting to a relaxed pace and many quiet hours together on the sunporch. Typically, after dinner Granddad and Mamie settled down to television, which invariably brought on arguments. Mamie preferred romance and dramas with "grown-up" themes. Granddad liked westerns and musical comedies. When Granddad had his way, Mamie would play solitaire in an alcove on the southern end of the sunporch and listen to a large portable radio with the volume turned low.


Meet the Author

David Eisenhower is the Director of the Institute for Public Service at the Annenberg School of Communication at the University of Pennsylvania. He is the author of Eisenhower at War: 1943-1945, which was a finalist for the Pulitzer Prize in history in 1987. Educated at Philips Exeter Academy, Amherst College, and George Washington University Law School, he is the son of John and Barbara Eisenhower, and the grandson of President Dwight D. Eisenhower. He is married to the former Julie Nixon, younger daughter of President Richard Nixon. David and Julie Eisenhower are the parents of three adult children and live in suburban Philadelphia.

Julie Nixon Eisenhower is the author of two previous books, Special People and Pat Nixon: The Untold Story.