These Few Precious Days: The Final Year of Jack with Jackie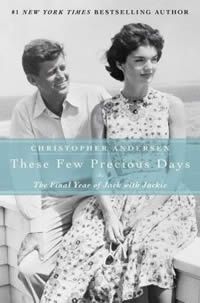 "The days dwindle down, to a precious few . . ." —from "September Song," JFK's favorite. They were the original power couple— outlandishly rich, impossibly attractive, and endlessly fascinating. Now, in this rare, behind-the-scenes portrait of the Kenne­dys in their final year together, #1 New York Times bestselling biographer Christopher Andersen shows us a side of JFK and Jackie we've never seen before.
Tender, intimate, complex, and, at times, explosive, theirs is a love story unlike any other—filled with secrets, scandals, and bomb­shells that could never be fully revealed . . . until now. Including: Stunning new details about the Kennedys' rumored affairs—hers as well as his—and how they ultimately overcame all odds to save their marriage. · The president's many premonitions of his own death, and how he repeatedly tried to pull out of his last fateful trip to Dallas. Shocking revelations about how the couple, unaware of the dangers, became dependent on amphetamine injections, the real reason— according to his longtime personal physician— for JFK's notorious libido, and how the White House hid his many serious medical problems from the public.
How the tragic death of their infant son Patrick led to an emotional outpouring from the president that surprised even their closest friends—and brought JFK and Jackie closer than they had ever been. Touching firsthand accounts of the family's most private moments, before and after the assassination.
Drawing on hundreds of interviews conducted with the Kennedys' inner circle—from family members and lifelong friends to key advisors and political confidantes—Andersen takes us deeper inside the world of the president and his first lady than ever before. Unsparing yet sym­pathetic, bigger than life but all too real, These Few Precious Days captures the ups and downs of a marriage, a man, and a woman, the memories of which will continue to fascinate and inspire for generations to come.

Fiche Technique
ISBN-13 : 9781476732329

Publisher : Gallery Books

Publication date : 08/06/2013

Author : Christopher Andersen

Editorial Reviews

Library Journal

Longtime senior editor of People magazine, Andersen has a real track record when it comes to celebrity bios; he's written 15 New York Times best sellers, with subjects ranging from Mick Jagger to Bill and Hillary Clinton; The Day Diana Died and The Day John Died hit the top spot. Here, as we approach the 50th anniversary of Kennedy's assassination, Andersen looks at Jack and Jackie Kennedy during their final year, pondering aloud whether after all the triumphs and betrayals they still loved each other. With a 100,000-copy first printing; I'm not convinced about that top spot, but readers will swarm.

Meet the Author

Christopher Andersen is the critically acclaimed author of fifteen New York Times bestsellers which have been translated into more than twenty-five languages worldwide. Two of his books—The Day Diana Died and The Day John Died (about JFK Jr.)—reached #1. Andersen's other bestselling titles include Mick: The Wild Life and Mad Genius of Jagger, William and Kate: A Royal Love Story, An Affair to Remember, Jackie After Jack, Bill and Hillary, Diana's Boys, George and Laura, Sweet Caroline, American Evita, Madonna Unauthorized, Barbra: The Way She Is, and Somewhere in Heaven.
A former contributing editor of Time magazine and longtime senior editor of People magazine, Andersen has also written hundreds of articles for a wide range of publications, including The New York Times, Life, and Vanity Fair. Andersen has appeared frequently on such programs as the Today show, Good Morning America, NBC Nightly News, Entertainment Tonight, CBS This Morning, Extra, Access Hollywood, The O'Reilly Factor, Fox & Friends, Hardball, Larry King Live, "E" Entertainment, Inside Edition, and more.